Ronan "Dream" Swingler, bot lane player for professional League of Legends team Order, deserves his own Netflix series.
His Leaguepedia page may paint a fairly ordinary picture– ostensibly an easy progression from Oceanic Challenger series teams to Oceanic Pro League teams. However, the neat timeline belies a colourful and challenging journey.
Throughout his one and a half years as a professional player, Dream has spent two months living in a Korean Gositel, called Kim "Malrang" Geun-seong (then of LCK team Ever8 Winners) his roommate, and been a few dollars away from having to give up on his esports career – twice.
He has experienced the highest of highs, and the lowest of lows, and has not yet turned nineteen. You don't see any of that on Leaguepedia.
Move over Marie Kondo. This story may not spark joy but, hopefully, will spark inspiration.
The Pilot
The tale of Dream and League of Legends does not begin with love at first blood. In fact, Dream describes his first taste of League as "awful" and "not fun at all". However, being a Bronze 5 player in a friendship group filled with high Diamond-ranked Summoners was not an option for Dream. His competitive nature, resilience, and a strong work ethic drove him up the Oceania solo queue ladder and into the top 20 of Challenger – on a consistent ping of 80-100.
And yet, this success in solo queue wasn't the catalyst for pursuing a career as a professional player. "I was actually inspired by a story that I read about Doublelift," Dream explained. "It was about how he went from having nothing to something, and what drove him. I found it really inspiring that someone could make something of themselves just through pure determination and the ability to never give up. I knew then that professional League was something that I had to pursue, even if it was just for a year or two. To dedicate myself and give 100% – there was no question."
"I didn't know if I had enough money to buy things, no-one spoke English, and I didn't know any Korean"
Naturally, Dream's parents did have questions… especially since Dream made this decision during a particularly important milestone – his final year of high school. "My parents would remind me that there are a million kids out there who want to play esports professionally," Dream recalled. "These kinds of reminders really encouraged me to make sure that the way I approached my goal was different to what the rest of the crowd were doing. I had to stand out."
Practicing against the best players in the world, typically considered to be those on the Korean server, seemed like an attractive option for Dream. However, a few barriers presented themselves. "I had never been overseas by myself, I was a bit shaken from some personal circumstances, I didn't know if I had enough money to buy things, no-one spoke English, and I didn't know any Korean," Dream said. Nevertheless, at the end of 2017, Dream boarded a plane to Korea to start a two month bootcamp.
Episode 1: Korea, Part 1 – Culture Shock
Unsure about his financial situation, Dream chose not to "do it the expensive way" i.e. staying in a hotel room during his trip. Instead, he stayed with an LCK team – Ever8 Winners. "To practice, I was sharing a space in the corner of the scrim room with the coaches of the challenger team. In terms of living, I was sharing a bedroom with jungler 'Malrang'."
To many players, being surrounded by some of the world's best players would seem like a gift. For Dream, it was a challenge. "We were barely able to communicate, so it was a pretty isolating experience."
Unfortunately, the rift also offered little refuge. "I was playing against Korean players who were from lower ranks, but who were a lot better than me. So I went from an inflated ego of top 20 in Oceania to being destroyed by Diamond players. It was a difficult thing to come to terms with, thinking my understanding of the game was satisfactory when it absolutely was not."

Episode 2: The Cross Roads
Upon returning to Australia, Dream felt that he was again at a crossroads. On one side of the country was the comfort and stability of his home life. On the other were the bright lights of the Oceania Pro League. Keen to take his first official step in to the competitive scene and to show off what he had learned in Korea, Dream messaged teams in the OPL looking for a place to stay. All he needed was for one team to take a chance on him as an in-house sub.
It was the Chiefs who struck a deal with Dream, allowing him to live and practice in their gaming house. In contrast to his trip to Korea, this experience was filled with connections. "I was staying at the Chiefs house during the time that guys like Swip3rR, Spookz and Swiffer were on the team," Dream said. He points to Swip3rR, in particular, as a positive role model. "I was just a kid practicing in the house. [Swip3rR] was very kind to me when there was no incentive to be. He encouraged me to go to the gym regularly and to keep a positive mind set."
The structure offered by the Chiefs' house, and the ability to learn from the experiences of seasoned OPL players, allowed Dream to improve rapidly. In Split 1 of 2018, Dream was offered a place on the Sin Gaming OPL team. Finally, he was reaping the rewards of dedication and hard work.
However, SIN Dream was not to last. The team finished the regular season in 6th place with a record of 2-8, and Dream moved on. Reflecting on the experience, Dream recognises a move to the OPL might have been a step too far too soon.
"I don't think I was good enough to play on Sin at that time. Or maybe I wasn't in the right mindset."
Episode 3: The Oceanic Challenger Series
Having had a taste of what the Oceanic competitive scene had to offer, Dream could not step away. He was hungrier than ever. Fortunately, Richard "Phantiks" Su saw that hunger and offered Dream a meal he couldn't refuse – a place on Intuition, a team in the Oceanic Challenger Series. It was an opportunity Dream relished, but like everything else, nothing came easy. A few weeks in to the OCS season, his accommodation dried up.
"I was at the point where I didn't have enough money to stay somewhere, eat and play," Dream said. Once again, Dream reached out to the esports community, searching for accommodation or work. In the end, it was Riot Games who pulled through. "I ended up working for Riot, just doing entry level stuff – I was like an usher and an admin. If it wasn't for Riot's support, I probably wouldn't be playing."
"I was at the point where I didn't have enough money to stay somewhere, eat and play,"
Intuition dominated the 2018 OCS season, achieving a perfect 13-0 record. Then, once again, Dream's resilience was tested. In the final of the OCS, with a chance to qualify for the OPL on the line, Intuition was defeated by Chiefs Academy. It was a result that Dream describes as "devastating".
Prior to the conclusion of the OCS in 2018, Dream moved in to the Avant Gaming house. It was here that he first connected with Jayke "Jayke" Paulsen (the current Order support). Dream speaks highly of the time he spent with the Avant team. "I learned a huge amount from Charlie [Pinch] Wraith and Jayke. They taught me how to do my laundry properly and cook for myself – a lot of basic stuff." Between cooking and washing, Dream even found time to practice his on-Rift skills. He secured 2nd place on the Oceania solo queue ladder, only one win behind the player in 1st.
At the end of 2018, equipped with these new skills, new found confidence, and with very little money in his bank account, Dream went back to Korea.

Episode 4: Korea, Part 2 – Gositel
"I stayed in a Gositel for two months, at a cost of about $250 per month," Dream explained. "My room had a bed, a desk and a shower all in one small space. I was in there for two months, just playing in my room. I had a friend who hooked me up with a computer from the last time I was in Korea, so it would have been twice as much to play at an internet café.
"It was two months not doing much other than 16-17 hours of solo queue. It was pretty intense mentally. Unable to find results daily led to results based on emotional feeling, and that was possibly the most unhealthy control League of Legends had over my mind.
"There were days and weeks that I got lost in the grind. It wasn't good. It was awful. At the time, I didn't really understand that it was a bad thing. Days being blurred together, not having much to break my day up was incredibly hard to take my learnings into the next day consciously.
"The one thing I remember most vividly was when I was eating corn rice Kimchi for dinner – the worst meal you could ever think of – and I was scrolling through a page of 15-20 solo queue games that I had lost in a row.
"I just kept thinking that this needs to get better. Taking a holistic view on my situation at the time was pretty difficult, as an 18 year old kid stuck in Korea with no one to turn to. It's one of those moments that I hope I'll look back on when I'm eating caviar and blue cheese in my penthouse apartment.
"Having read about sports psychology, I now know that it is important to be smarter and more efficient in the way I practice. I used to think that time put in equated to effort. I now know that's not quite right."
Episode 5: Finally, some Order
After two months in Korea, Dream was contacted by a member of the OPL team, Order. He chatted with their executive officer, general manager, and the players – including former housemates Simon "Swiffer" Papamarkos and Samuel "Spookz" Broadley – and subsequently trained with the team in Korea for a month.
He now competes for Order in the OPL.
Finale
Dream has some words of advice for anyone thinking about pursuing a career as a professional League of Legends player:
"I would not recommend doing the things that I did to get where I am. The highs are insanely euphoric, and the lows were so incredibly depressing. For the things that I have done and for it to all work out, and for me to not lose my mind… the stars aligned. If you're in a position to chase it, chase it by all means,
but if you want to do this then you might have to be prepared to give up everything."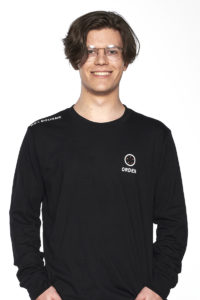 You can see Dream's resilience and determination on display as he competes for Order in the final week of Split 2 of the 2019 OPL regular season. Catch all the action on the RiotGamesOCE Twitch channel.
Follow Dream's journey on Twitter at @DreamOuO or on Twitch at twitch.tv/dreamovo.