Avant Gaming have moved into clear second in the Oceanic Pro League, after the squad scored one of just two 2-0 weekends in Round 2.
The Avant roster has had to overcome the three-game bans of bot lane duo Vincent "gunkrab" Lin and Ryan "Aladoric" Richardson in the opening two rounds to score their 3-1 record.
In their first three fixtures, when they faced Gravitas, Bombers, and Legacy, Korean solo-queue star Park "Miru" Mi-reu played in the bot lane alongside substitute support Jonah "Isles" Rosario.
Despite the hamstringing of missing their starting marksman and support due to the suspensions, Avant has emerged with the second best record in Oceania.
Their most recent two were both successes. First, top laner Ryan "Chippys" Short led on Renekton, delivering a 7/1/6 performance as he steamrolled his way through the solo lane. He and substitute jungler Lachlan "Sybol" Civil combined for first blood on Legacy's Daniel "Papryze" Francis on Pyke, before Chippys was unleashed for first turret.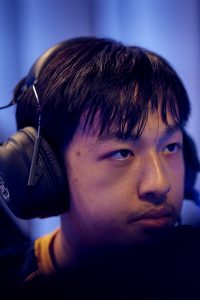 On Saturday, Avant loaded into Summoner's Rift with their Split 2 roster finally intact. With Miru finally in his preferred jungle role, Chippys and the imported star once again took over the map. Avant bowled over the Split 1 runners-up Order 15-5 in 36 minutes, and Chippys had a heavy hand in 14 of the 15 total kills.
Miru also shone in his first outing in the roaming jungle position. The Korean import collected a 4/2/7 statline, as well as breaking open the game with first blood. He also ran the map in terms of neutral objectives, securing Rift Herald earlier and guiding his team to the two Baron Nashor secures that eventually ended the game against Order.
Their 3-1 start to the Pro League is impressive, especially considering how many teams recruited heavily in the offseason, but Chippys believes it could have been "even better."
"There's a bit of regret about our loss to Bombers, since we won't know if we could have taken the game off them with our full roster. We'll have to wait and see on that front," Chippys said.
After a surging start to Split 1 earlier in the year, Chippys also knows his squad must be wary of getting too far ahead of themselves. With an upgrade in the jungle, however, Avant have once again become the boogey team for teams across the league.
"In the first split of the year there was a lot of disagreements [in the squad] about how we wanted to play the game, and how to draft, so we were never really on the same page. That's why a lot of games looked sloppy," Chippys revealed to Snowball Esports.
"This split with the addition of Miru as our jungler we're finding a lot more synergy in how we play this split so we just have to maintain that"

Ryan "Chippys" Short
According to Avant's solo laner, the roster head coach Zack "Rusty" Pye has assembled for the second split of the year is absolutely a playoff team. If the squad can settle together quickly, Short said, there's a chance for even more too.
"I think the top five teams right now will almost certainly be the teams in the gauntlet," Chippys said. Currently Mammoth, Avant, Bombers, Chiefs, and the Dire Wolves make up the Pro League's top five. "They're the teams with the best individual skills, so they have the most room to improve. I'm hoping our team improves fastest so we can secure first seed.
"I think the main reason we beat Legacy and Order so decisively is that – in my opinion – the individual skills of our five players is much higher, so all the little things our players do better than their counterparts make it hard for them to get a big enough lead to beat us."
Avant next have a major challenge ahead of them in Week 3 of the Pro League – the refreshed Dire Wolves roster (2-2) and undefeated league leaders Mammoth (4-0) await them on Friday and Saturday evenings respectively.
---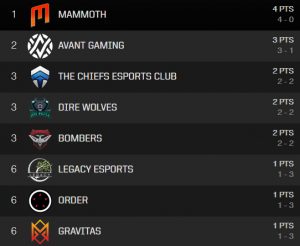 Also in the second round, Mammoth have kept their undefeated start to the split alive with a 22-7 victory over defending champions the Bombers, before Stephen "Triple" Li led the roster to a 34-minute win over Legacy as Lissandra.
The Dire Wolves continued their mixed start to the season with a win over Order, before falling to the previously winless Gravitas on Saturday evening. Gravitas now sit on a 1-3 record, level with Legacy and Order.
Chiefs and Bombers have also found themselves on average records to begin their league runs. Each has collected two wins from four games, though the Bombers downed their title-race rivals from Split 1 in a 16-12 battle that lasted more than 40 minutes on the Rift on Saturday.
---
The OPL returns on Friday, when Avant Gaming kick-off the Friday evening fixtures against the Dire Wolves. Watch all the action live at RiotGamesOCE on Twitch.tv, and find the full schedule at oce.lolesports.com.