It takes a certain je ne sais quoi to master an activity, to be recognised as one of the best in your field, and to rise above the jack of all trades. But what does it take to become a specialist in two pursuits? Perhaps something more than the ability to speak French. 
There is precedence. John Surtees won multiple Grand Prix motorcycle racing world championships before earning another in Formula One. Ellyse Perry represented Australia at the Cricket and Soccer World Cups. In League of Legends, there is Luka "Perkz" Perkovic. He dominated Europe from the mid lane, and continues to do so from a new lane. So talented is Perkz in his new role that he and teammate Rasmus "Caps" Winther have earned themselves a nickname- the artists of EU.
The Oceanic Pro League has its own example. This one features not one, but two players – teammates, even – making names as a dual specialists. One was called Crazyee, the other prefers Mark. Let me paint you their picture.

Our story begins in Split 1 2019. Legacy Esports turned heads when they reveal their starting line-up would feature Mark "Praedyth" Lewis – an established top laner – in the ADC position. A week later, they raised eyebrows when his lane partner turned out to be William "Crazyee" Dobie – a first time support – of ADC origin. Question marks hung over the suitability of these players. Legacy's power ranking plummeted.
Behind the scenes, Praedyth was unfazed.
"The role swap was not a huge problem for me. I have been playing off-role as an ADC since I was practicing in Korea in the middle of season 8," explains Praedyth.
"I thought it would be awesome to commit to the bot lane because it is a lane in which you have someone else to learn and grow with. If you were both good enough, you could become a pair that is feared and respected like FBI and Rogue."
Crayzee was definitely the partner to learn and grow with.
"I was signed to be Legacy Genesis' ADC and the OPL team's sub for 2019. One or two weeks before the start of the split, I was informed that I would be needed to play the first week of the OPL. When I heard that, I swapped to playing support in solo queue. After a couple of scrims, I was asked if I wanted to role swap permanently and be the starting support for the OPL team."

Where Praedyth had played on numerous OPL teams from the age of 17, Crayzee's resume featured far less on-stage experience, and nothing from the support role. His last taste of the OPL was a winless split with Exile 5 back in 2017.
However, it was not all doom and gloom bots for Crayzee.
"I already had knowledge of the laning aspects for Support because I was swapping from AD," he explains. "On top of that, our coach [James "Denian" Goddard] was able to guide me, as he has done the swap too.
"In general, we have a great set up at Legacy Esports and we put in a lot of work to make sure that we have the best chance to win. So, outside of the normal pressure that any player feels, I didn't feel there was any added."

Mark "Praedyth" Lewis
If Praedyth feels any pressure to perform, he doesn't show it. In post-match interviews, he appears to walk the thin line between confidence and arrogance.
"I normally try to make my interviews a little more interesting by making bold, confident statements. I do believe that if you're playing anything competitively, you should believe that you can be the best. But I do respect the good ADCs in our league. Last season, Raes and FBI definitely outperformed me."
He is keenly aware that belief is not everything. "Most of my focus while practicing for the new ADC role went into learning how to set up minion waves properly, and positioning well for team fights. It was quite strange to play as the most influential member in a team fight, and that took a lot of practice and research to become good at.
"Switching roles and remaining in the OPL is highly unlikely, so being able to do that and not having to go back through the OCS feels like a pretty big success to me."

Mark "Praedyth" Lewis
A lane duo that both Praedyth and Crayzee respect and take their inspiration from is Team Liquid's Yilliang "Doublelift" Peng and Jo "CoreJJ" Yong-in.
"They are the duo that I would compare us to," says Crayzee. "It's because, like them, we go in confident, we can win any lane, and I know Praedyth can carry any game if he is given the tools to do so."
Despite all the confidence, Legacy Esports finished the first split of 2019 in 7th place. However, the standing belied a strong final third of the split that saw close matches between Legacy and teams at the top of the table.
Off the back of these performances, they were unarguably the most improved team of the split, with the title of most improved player firmly in Praedyth's grasp.
This split they look to continue this upward trajectory. "Going in to this season, I expect no excuses from anyone. We continue to work hard. Either we win, or we're not good enough."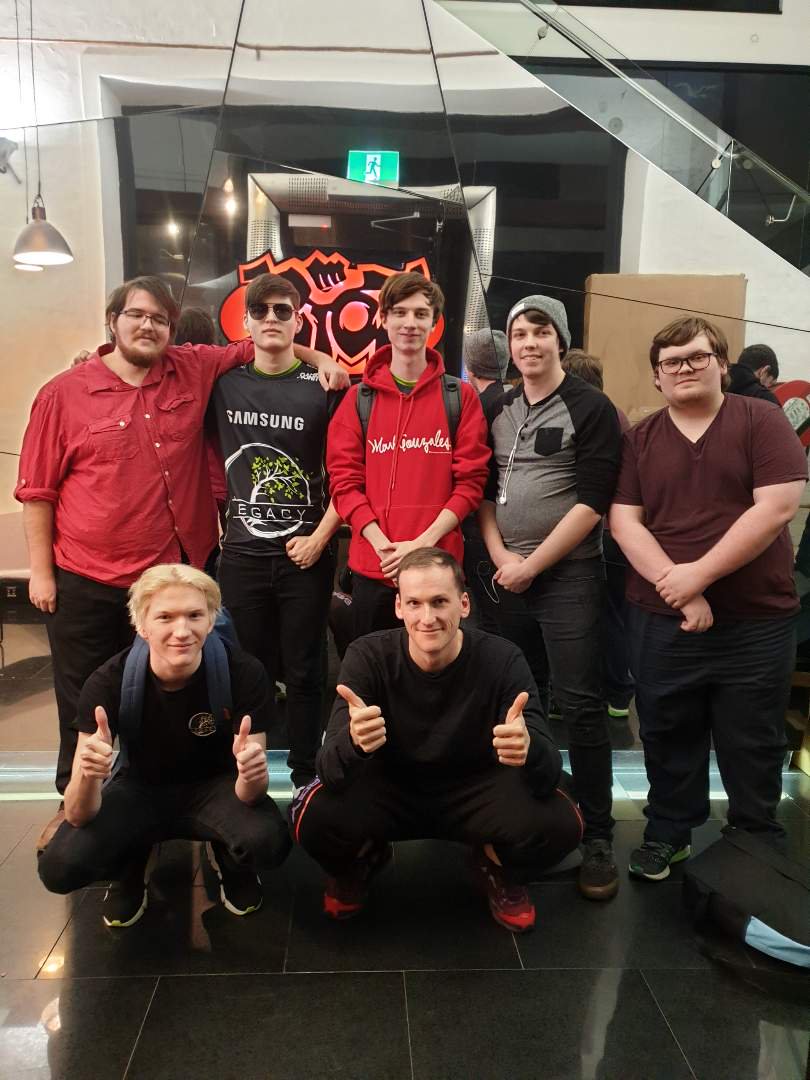 So we are closer to an answer. To specialize in two fields, we need equal parts confidence and hard work. Using this combination, will Praedyth and Crayzee create a Rembrandt on the rift? Or a faux Bob Ross Gragas? 
---
Shoutouts
Praedyth: I want to thank my parents, who have always been supportive of me. I also want to thank my friends who watched all my games.
Crayzee: Shoutout to all my former teammates, in particular Seb, FivetoEight, Chrismastrees and my old coach, Jordy. Also, to Tim [Carbon] for picking me up and being nothing but supportive the whole time. Last but not least, my girlfriend Eva and my parents who have also been nothing but supportive.