As the Oceanic Pro League's postseason pinch looms alongside the extended Super Week, the Bombers sit in third. While most splits would have meant their campaign was all but over ahead of the playoffs, the defending champions still sit in a strong position.
The Bombers don't exactly have their fate in their hands, with frontrunners the Chiefs (15-3) facing eighth-placed Legacy Esports and sixth-placed Order on Friday. They do, however, have a final fixture showdown with the Chiefs that could decide their entire split's finish.
Since Week 6, the Bombers have been on a tear results-wise. Only marred by a 48-minute defeat at the hands of Order, the roster has chalked up a 7-1 run to storm into third place over Avant Gaming (now 8-10), and the Dire Wolves (9-9).
This weekend, their domination on the Rift continued. The team opened their round with a 29-minute win over playoff challengers Avant, before storming over last-placed Legacy in a game that clocked in just ten seconds longer.
The team were at their unified best as they clinched the win over Avant, collecting fourteen kills spread across four of the team members.
Then the squad's solo lanes took control against Legacy, with Spring most valuable player Min "Mimic" Ju-seong (8/2/5 on Irelia) and Tommy "Ryoma" Le (3/2/9 on Azir) dealing 33.6k damage to champions to keep Legacy pinned down in the 16-8 win.
After the two 29-minute wins, Isaac "Everin" McIntyre spoke to Ryoma about the squad's success, and how important defending their Spring title is for the new-look champion roster.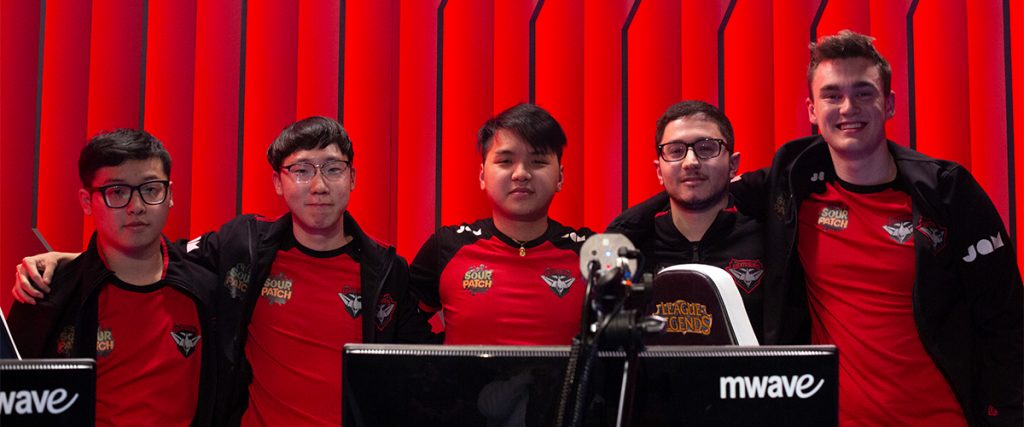 So, another 2-0 weekend has put you guys right behind Mammoth and Chiefs as Super Week appears on the horizon. How do you think the season has gone so far for you guys?
The season has gone pretty well for us I think, so far I think we're all happy with where we are on the ladder. Obviously, even though it's not optimal, it's not the worst either. I feel like even though we are behind Mammoth and the Chiefs, I feel like we shouldn't be underestimated, especially because we have now found the style we like to play.
Were there changes that you had to make to find that new style of play?
Yeah, things have definitely changed. We're working harder since the split is just about to end. We're all working hard towards what is going to give us the best way to win.
From a personal perspective, what's it been like to be a defending champion in the OPL after your Split 1 win? Do you think it's added pressure to your play at all?
I haven't really thought about it too much. I've only just thought about playing internationally again. My performance wasn't good on an individual level, so I really just want to go back and show that I was better than what was shown [at the 2019 Mid-Season Invitational].
With you, Mammoth, and Chiefs basically dubbed the "Big Three" of OPL 2019 Split 2, do you think they're the teams you have to beat if you want to get to Melbourne?
Yeah, they're definitely the teams we have to beat. They both look pretty good when it comes to playing as a team. I think that's what they have over every other team at 20 to 25 minutes onwards. They all just switch on and work together. That's why lower teams fail to close out games against both Chiefs and Mammoth.
Do you believe you guys have what it takes to win the title? What kind of positives do you think your team has, and why do you think you're better than Mammoth and Chiefs?
I think we're all good individuals, it's just that I think Mammoth and Chiefs are better as five-man units. They work really well together, so that's been one of our goals by the end of the split – we want to work better together as a team, and control the game.
Positives for us overall as we work towards that is that our individual skill across the board is great, I think if we all play at our heights then we can definitely beat the Chiefs and Mammoth.
And finally, what would it mean to you and the rest of the guys that went to MSI to get back to the international stage with a win in Melbourne, and potentially head to Worlds Play-Ins off the back of your second title?
It would mean a lot for all of us. I think for me individually I just always think about my poor performance at the Mid-Season Invitational. I just really want to play internationally again.
---
The OPL returns on Friday, when the Dire Wolves and Avant Gaming kick off the league's season-ending Super Week at 4pm. Watch all the action live at RiotGamesOCE on Twitch.tv, and find the full schedule at oce.lolesports.com.