After a miracle run through the Spring gauntlet, and a runners-up spot in the Oceanic Pro League grand final last time around, many expected Order to join the fight at the top of the table as the Summer season began in earnest.
Since joining the Oceanic Pro League, Gravitas have never lost five games in a row. They first suffered an 0-4 streak between Weeks 2 and 4 of Split 1 this year. A similar fate awaited them across the Super Week that saw them miss the playoffs in March.
Yet, as the OPL's last round Super Week rolled around, Order found themselves in a similar position to Spring. Their playoff fate had been left to the last minute, and a three-way scrap between Avant Gaming, Gravitas, and themselves was coming down to the wire.
This time, Order had a little more control in their own destiny. Avant had to lose their games to the Dire Wolves and Mammoth, and Gravitas similarly had to cop defeats in two of their three games over the weekend. Both happened.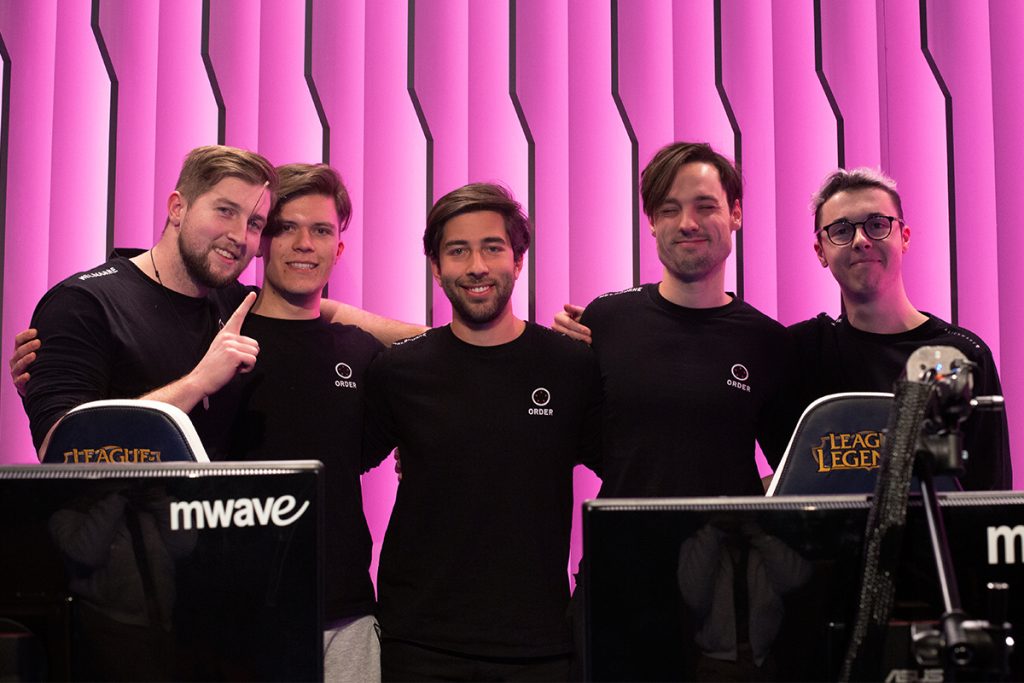 In Order's camp, however, things weren't smooth sailing either. The Melbourne team had won three of their last eight games. The fight had turned from a mid-table tussle, into a fight for survival in Summer. They needed two wins, against Avant and one of the league's top two.
Add onto the make-or-break situation that Order had found themselves, veteran jungler Samuel "Spookz" Broadley was battling laryngitis heading into crunch time.
It was a poor place for the team to be. Their future for the year hung in the balance, and while Spookz could speak in the team's 29-minute loss to second-placed Mammoth, his voice abandoned him completely as they braced for their second Friday game against the Chiefs.
"Yeah I could get a few words out against Mammoth and I was trying to talk and communicate but it was pretty tough, and then as we were preparing for the evening game my voice just kind of went completely and I could only croak out noises," Spookz told Snowball Esports.
For the four-time OPL champion, combining with his solo laners Simon "Swiffer" Papamarkos and James "Tally" Shute is key. To lose the chance to speak to them from minute one on the Rift to the Nexus explosion was near-debilitating.
Luckily, Aaron "ChuChuz" Bland had been practicing another strategy with the team. One that put Spookz on AP-power carry Karthus. With his death passive, and a global ultimate to help out the team no matter if he could speak or not, Spookz went to work against his old team.
Spookz finished the 32-minute battle 8/5/7. He had survived the brutal early game pressure of Jordan "Only" Middleton on Xin Zhao, assisted his team, and dealt a game-high 18.3k damage.
"We had been practicing picks like that mid-week and in the lead-up, so it was lucky that I could jump on Karthus and just kind of struggle along while I was feeling so sick," Spookz said.
"It was a pretty horrible early game, but my teammates played so well and got me through, and then we were able to get to where we needed to be. It was such a good game. After we won, I remember just thinking "This is why I play," as everyone celebrated.
"We're an emotional team, and we tapped into that. We knew that we had to get the job done and we wanted nothing more than to be back in gauntlet. It felt good to win that game."
Order – who have long admitted they are an "emotionally charged roster" at the best of times – carried that momentum into their single Saturday game. Swiffer shone on Qiyanna, finishing 9/3/6 and earning himself the top spot on Riot Games' promotional The Penta video.
This week on #ThePenta we've got Mikyx barreling into Baron, Uzi shows off his flashy feathers, and Swiffer living up to his name by cleaning up the enemy team. Let us know what's your favorite play! pic.twitter.com/GgARwInLD5

— lolesports (@lolesports) August 20, 2019
The 22-11 victory, which lasted nearly 34 minutes, went Order's way. The team that had dipped as low as tenth in the second and third weeks of the Pro League, had once again climbed back into the postseason. Now they sit ready for the gauntlet once more.
This time, however, everyone else may be ready for an Order miracle.
"It's a funny feeling coming into the gauntlet this time around, because it feels like everything is just happening all over again. It feels the same as Spring," Order's jungler, now recovered from his laryngitis, explained.
"I think this time people will be a bit more ready for us, yeah, but we are approaching things the same way. Because it all feels the same, we feel like we have it in us to potentially put up a repeat performance. We want to show that we have it in us."
The prize at the end of the gauntlet this time shines even brighter for Order. As one of the league's Melbourne-based squads, the live grand final at the Melbourne Esports Open is a tantalising opportunity for the fifth-placed team.
"That's a big part of why I play, it's so amazing to have that feeling in front of big crowds and the fans. In Melbourne would be amazing. We definitely want to get there, it would mean so much."
"It's such a great thing to play for, and I know especially for me, Simon, and James, we want to show the young guys – Dream [Ronan "Dream" Swingler] and Jayke [Jayke "Jayke" Paulsen] – what it's like to play with the roar of the crowd," Spookz said.
Also in Super Week, Chiefs locked the top spot with their Friday afternoon victory over long-time Pro League rivals Legacy, before falling to Order and the Bombers. The Bombers earned their third place with 2-1 weekend, while the Dire Wolves finished fourth with a 3-0 round.
Gravitas, Avant Gaming, and Legacy Esports have all been eliminated from OPL 2019 Split 2.
---
The postseason gauntlet begins this Thursday when Order faces Avant Gaming at 4pm. Watch all the action live at RiotGamesOCE on Twitch.tv, and find the full schedule at oce.lolesports.com.