Emil "eMIL" Sandgren and Ludvig "Luddee" Håkansson are the Gladiators Legion bright and bubbly Swedish duo, but they're here to prove that they are fearsome on the battlefield in Korea.
There's been some talk about Gladiators Legion making it over to Korea for the Overwatch Contenders Gauntlet. They are the fourth seed from North America – a seed won by Fusion University at the Atlantic Showdown – leading for critics to say that they didn't really earn their spot.
However, if anything, the fact that they edged in has made them hungrier to win.
Luddee made the jump over to North America in March after two second place finishes in seasons two and three with Europe's Angry Titans. He was also a part of the Swedish World Cup team that went to the hotly-contested Bangkok Qualifier in 2018, where Australia managed to eek out a spot at BlizzCon over Scandinavian rivals Denmark.
His counterpart was a bit slower on the jump, but he tasted success. eMIL joined Angry Titans just after Luddee's departure, and ended up taking home the organisation's first Contenders crown in season one 2019. He managed to get a third-place finish at the Pacific Showdown, but he was yearning for more.
That led to the Los Angeles Gladiators academy team assembling the best possible roster they could have for season two, and giving them the best possible environment to climb. They managed to get by in Contenders NA East, losing to ATL Academy in the final, but still securing a spot here at the Gauntlet.
The team has been on a five-week bootcamp in Korea, scrimming at the top of their game and improving like they've never done before. They've lived the Korean lifestyle, bonded over searing hot plates of Samgyeopsal, only getting to see the sights of Korea from the window of their fifth floor hotel room in Insadong.
The journey has been tough, but unforgettable.
"The bootcamp was very nice," said Luddee. "I don't think we've improved this much this fast ever, and it's been amazing. The Gladiators put us in the best possible situation we could have asked for."
"I feel like the experience of scrimming here has been so good," added eMIL. "There's a massive difference to scrimming NA and Korean teams, and us being together has only made it better.
"Individually, the players are the same, but the Koreans really focus on teamwork. If you want to work on your team work or your ults, you know you are going to be practicing against other teams working on that, rather than the random stuff you get back in NA."
Even just playing Korean ranked is a much better experience. While they can choose to VPN over and play with 200 ping, it's a whole different ball game when everyone is on a level playing field.
"In ranked, the teamwork in ranked is amazing. I don't want to leave because of ranked," said Luddee. "If I go alone somewhere for a boop and I die, they yell at me "play with team, don't go alone," they really focus on teamwork."
"If you play an off-meta pick, they'll literally throw," added eMIL. "They say "you don't play with team," and so you don't deserve to win. That's how it is – it's respect, you have to respect your team, even in ranked."
The duo's reunion at Gladiators Legion was unexpected too. They first played with each other on b0nkers, a Swedish team during the early days of Overwatch. That team eventually went on to become Red Reserve, but they were separated after eMIL accepted a new offer to play with Gale Force eSports in NA, just one month after the move.
They had a brief stint together on Mosaic eSports before the start of Contenders, before always pitting their forces against each other in Europe. They look back on those early days fondly.
"We got separated because some members of the team went their own ways, and I never thought I'd get the chance to play with Luddee again," said eMIL. "Then, two years later, we played together on Mosaic, and now we are at the Gauntlet with Gladiators.
"It's kind of like this redemption story for me – it's the simple moments that I remember the most."

Emil "eMIL" Sandgren
"B0nkers was fun," said Luddee. "We were a full Swedish team, and it was just good times. It was just a bunch of friends playing together – simple times."
From those small-time days in Europe, they now find themselves on one of Overwatch's most historic stages at the OGN Giga Arena. It's hallowed turf, fourteen storeys up in the air, with hundreds more stories living inside of the walls.
Most Overwatch League players shone in this very building back in 2017, when APEX was at its peak. Names like LW Blue, Lunatic Hai, Runaway, Team Envy, and many more from across the world stormed the house down in their refurbished five-man League booths, chucking the extra sixth man in the back, acting like a commander positioning his men.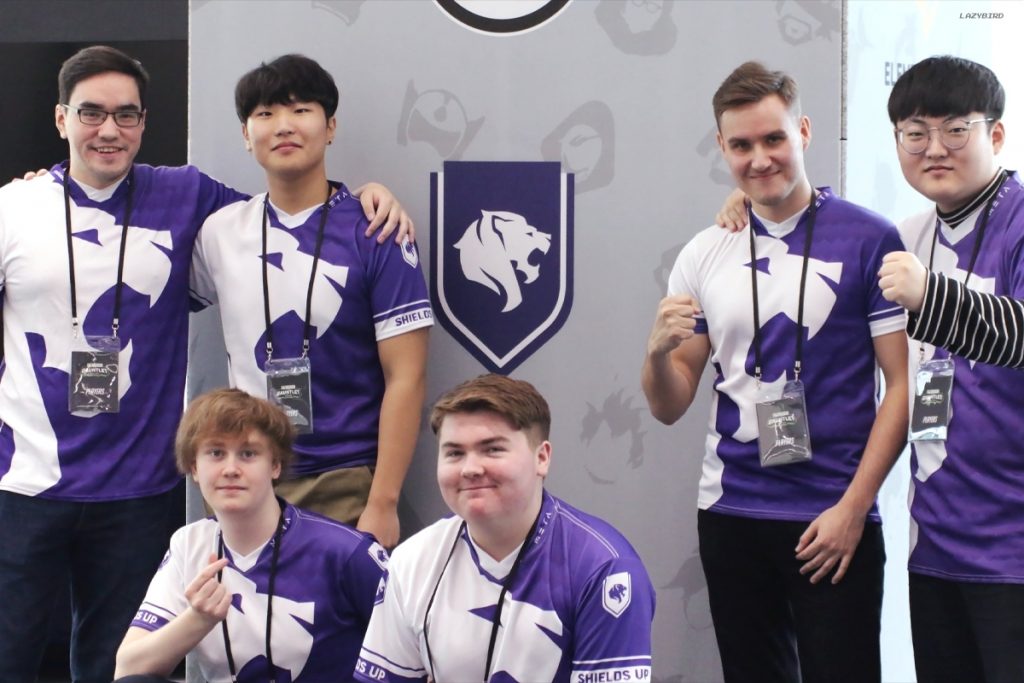 eMIL and Luddee used to watch on in their bedrooms back home, dreaming of the day they'll perform on such a stage. Now they are here, and it's a bit surreal.
"It's like a dream," described eMIL. "As an EU player, where the scene lacks funding or support, to wake up one day and you're in Korea, playing where APEX once played, it's like a dream.
"We have to remember that we are here to win though, we aren't just here to sightsee. Our mindset is on winning, and then after that we can be amazed."
"I never imagined playing on the APEX stage two years ago, but we've both been grinding our way up here so it's great," Luddee added.
But there's only one thing on their mind, and that's taking the trophy home. Their run isn't going to be easy – they've got North America's Team Envy, Korea's Gen.G, and China's LGE.Huya on their side of the bracket, before titans like RunAway and Element Mystic await them if they make the top eight.
They aren't focusing on anyone else but themselves, and making sure their months of preparation pay off.
"We made it, despite all the circumstances, and we beat the other teams so we deserve this spot," said Luddee." We are focused on winning. We don't have to prove anything to anyone but ourselves."
"I don't care about what any other team cares or thinks, all I care about is performing well," added eMIL. "I don't care if anyone thinks we are the fourth seed or anything, we will just show up, play our game, and what happens happens."
---
The Gladiators Legion start their Gauntlet journeys here in Korea at 12pm AEST today against Team Envy. Catch the action live on the Overwatch Contenders Twitch channel.