Chris "Emagine" Rowlands may have left the competitive CS:GO server for the last time, but his legacy is eternal.
The Australian IGL was an integral part of the Oceanic Counter-Strike community. With a storied history dating back to the days of Source, Emagine departs as one of the region's most consistent players, and one of its strongest leaders in and out of the game.
Join me as we walk in his shadow, remember his illustrious career, and his long-standing legacy in the scene.
---
The start of something greater
While the European teams dominated in early Global Offensive, it took the Aussies a while longer to find their footing internationally.
Vox Eminor took the mantle of our top team, but Emagine's Immunity was eventually able to rise with them.
Notably, we saw them alongside Chad "SPUNJ" Burchill's then Renegades at DreamHack Open Stockholm and one of 2015's Majors, ESL ONE Cologne – being the only Major Championship Emagine was able to reach and thus produced his only in-game signature sticker.
The team formed in August of 2014, where Emag played alongside other Aussie legends such as Yaman "Yam" Ergenekon, Ricardo "Rickeh" Mulholland, James "James" Quinn, and Iain "SnypeR" Turner.
While domestically Immunity was a strong side, for the first 12 months under the organisation they were unable to achieve as much as the Vox/Renegades Squad.
It was their qualification for ESL One Cologne and DreamHack Open Stockholm that really put this squad onto the international stage – but would also culminate in the years to come for Emag to develop into the experienced veteran we know him to be.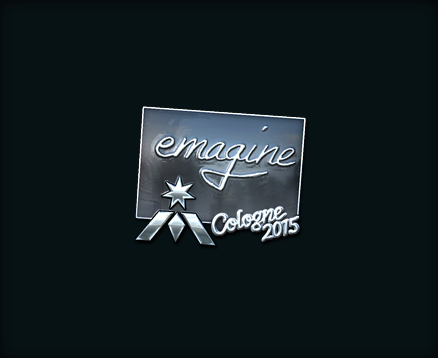 Unable to get on top of the domestic rivals, it became apparent that Renegades were number one while other Aussie teams scrambled to put together a roster that could also compete in the top echelon of the game.
Like many others, this roster became highly volatile with players leaving and joining in what was described by Emag in an interview to HLTV as a, "cyclic thing… the whole way through Immunity farming academy for Renegades."
Chris is a true journeyman of the Australian CS:GO scene in the sense that he has been a part of the landscape across many iterations of the game. However, most importantly, he came from a time without nearly as much support and infrastructure as we see today.
What made Rowlands such an important player is the grit and perseverance it took to flesh out a career during a time where mouse pads and a meal were adequate payment.
Following the retirement of SnypeR in February of 2016, Emagine and James took on the in-game leading responsibilities. This however was short lived as Emag left for North America in August to play in what would be the catalyst for many Oceanic CS:GO teams growing and establishing the ecosystem we now have.
The Winterfox experiment
In mid-2016, an ambitious project saw Emag and Ryan "Zewsy" Palmer join up with Mike "Apoc" Aliferis, Chris "Dexter" Nong, and Chris "Ofnu" Hanley to form a line-up for the Winterfox organisation.
Seen as a massive chance for the players and region as a whole, the Aussies now had a second team competing in the United States as these players moved to Chicago.
Thus began a new challenge for this squad, where the opportunities and rewards for their success were far greater than back home.
Despite a lone invite to Northern Arena, the squad was no longer a large fish in a small pond and was faced with many open qualifiers for events such as ECS Seasons 2 & 3, ELEAGUE S2, and Starseries Season 3.
"We're excited and grateful for this opportunity, to those that have supported us we appreciate it. We look to expand Australia's reach on the world stage and further represent our nation to the best of our ability."

Emag, 2016

While placing reasonably at a handful of these tournaments, Winterfox were ultimately unable to achieve any success and earn qualifications to said events.
To add insult to injury, the players were stuck with visa issues and were temporarily unable to return to North America to compete in the final matches of the ESL Pro League Season 5 with reasonable internet connections.
Nonetheless, the project was short-lived and Emagine found himself headed back to Australia as the Winterfox project as whole broke down.
The next couple months saw Emag make a short appearance with the Chiefs for the PGL Krakow Asia minor before coming together with what was at the time a star-studded line-up for Kings Gaming Club.
The Winterfox experiment has concluded

— Chris Rowlands (@emaginenu) April 26, 2017
Ex-Kings lead a new Australian ORDER
Following the departure of Travis "wizard" Richardson and the transition into a new organisation⁠ — ORDER — combined with the acquisition of Alistair "aliStair" Johnston saw the dawn of what would be a team that was debated number one in the region.
Alongside superstars such as aliStair and Jay "Liazz" Tregillgas, Emagine offered experience and leadership that was simply not available on other rosters as a result of his playing career to this point.
Rowlands led this superstar squad into and through what would be a fantastic year in 2018.
Throughout this year, ORDER were crowned champions at Gfinity Elite Series Season 1 & 2 and in ESL Pro League Season 8 Oceania. Additionally, they qualified for IEM Katowice, IEM Sydney and the ESL Pro League Season 8 Finals.

With Renegades well out of the picture now, Australia saw a renaissance of CS:GO and Emagine's ORDER was a part of pushing this to the absolute limit alongside Tainted Minds, Chiefs, and Grayhound.
We had never seen so many teams who on their day could each dominate the scene and much of this is put down to the strong foundations set out by players like Chris and through projects such as the Winterfox team. Whilst Australia has been a recognised region in CS:GO, the path to international tournaments has always been quite limited, but we began to see more invites, more opportunity and more Australian teams at International events.
2019 wasn't as decorated as the year before, but saw ORDER cement themselves in Oceania's top four. Although they were holding their own, it was clear they were struggling when they missed out on IEM Sydney to Grayhound, and losing their superstar Liazz didn't help them in any way.
Nonetheless, Emag was able to put his experience and knowledge to use and with the pieces, he continued to pilot this squad. After losing Joshua "INS" Potter to Grayhound, Emag then recruited old teammate Karlo "USTILO" Pivac and competed at the ESEA MDL Season 32 Global Challenge in Dallas in December 2019.
He even managed to pick up Rickeh after his stint in North America with teams like Complexity and Counter Logic Gaming, assembling a final hurrah of the first Immunity roster at ORDER. It's quite fitting that Emag's journey in CS:GO ended where it began – in Australia, alongside some of his old teammates, all of them having played overseas, and have had terrific careers for themselves.
In February 2020, Rowlands decided it was time to leave behind professional play.
While he will no longer be playing pro, many successful Australian players will be able to look back to the times they played alongside the leadership of Emagine who for so many years was part of the everyday landscape of our scene.
---
"Chris has left his mark on players in every sense, and in that way I wouldn't say he leaves a void, so much as he leaves an opportunity. He has played alongside many of the players that are at the top of the Australian scene today – both domestically and internationally – and I think that we will continue to see players develop into great role models.
"He has many traits that make him a good role model, but what always stuck out to me was his hard work and perseverance, and I think you can see that in his OG teammates, as well as his most recent. I don't think you can have a career that long, nor that successful, without a serious amount of drive and when things weren't going great he didn't pack it in, he just put his head down and kept working.
"That work ethic is a staple of any great competitor, and I think the impact it has is clearly on demonstration in all of the top Australian Counter-Strike teams today."
Naithan "Inveigh" Briffa