Avant's emphatic 3-1 victory over Order has become a statement of intent as they now look to be a dominant force in the new post-major qualification world.
Though they didn't know for sure at the time, when Avant hit the server to face Order in the Grand Finals of Season 1 of ANZ Champs for 2020 it would be looked back on with some significance.
In the current health environment, Valve made the only practical decision they had in attempting to condense the year that would normally contain two Majors into one. In this, they also halved the chances for ANZ teams to prove themselves on the biggest stage CS:GO has to offer. In turn, this put even greater significance on those events that feed into the remaining international tournaments that domestic teams can qualify for (assuming these events run as scheduled).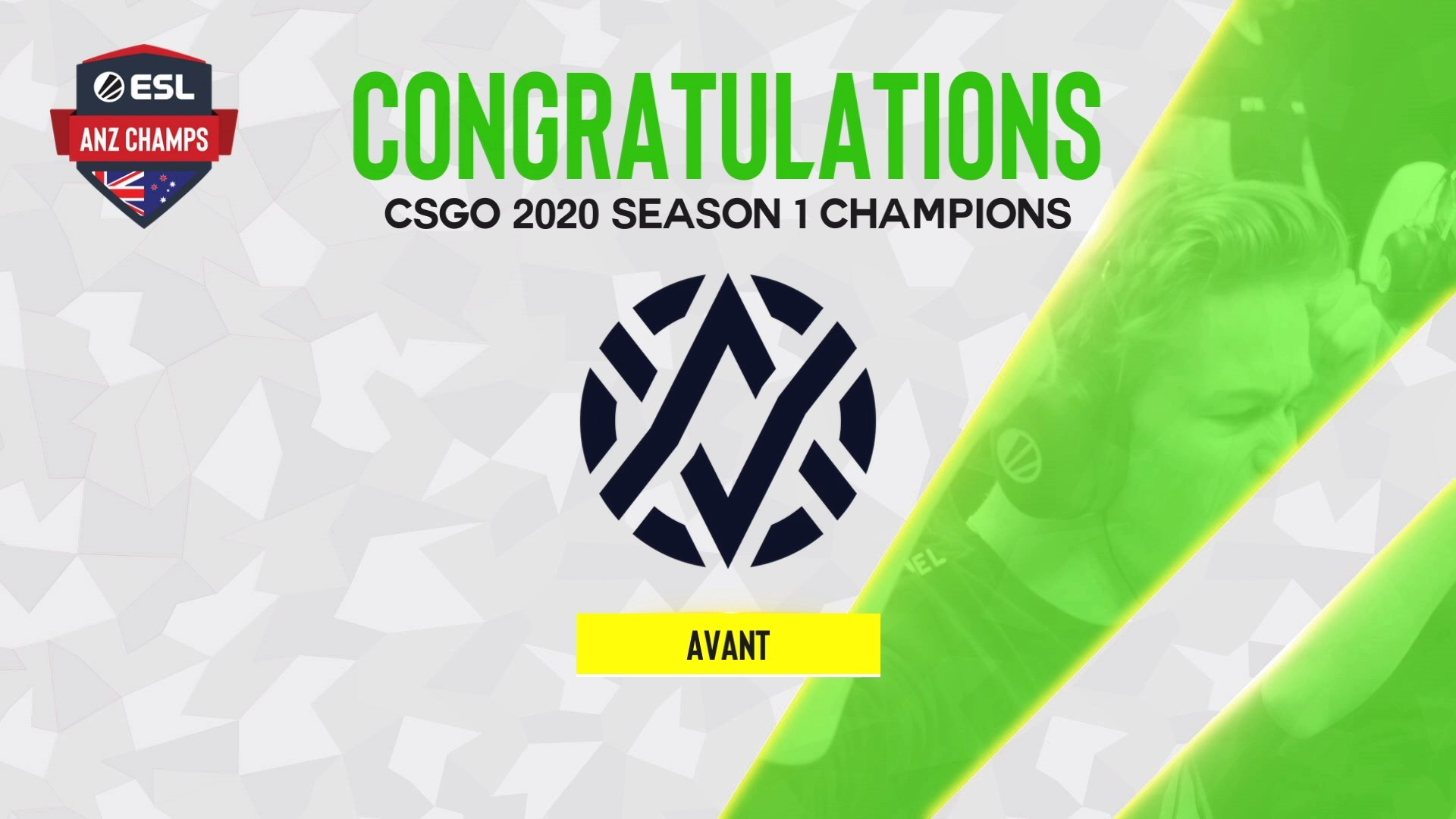 The result was that ANZ Champs became the first cab off the ranks as the "Best of the Rest" suite of events – the first chance for teams other than Order, Chiefs, Renegades and Ground Zero to make an international presence. And Order was here to crash the party.
With a DreamHack Open invite on the line, Avant stalled momentarily off the line, before coming screaming to life and overwhelming Order, 3-1. It was a crushing victory and given Order had taken Renegades to 3 maps a month prior, came in a fashion that many did not expect. It may give some pause to wonder if this team can finally be the one in a long list of contenders to take the domestic crown away from Renegades/Grayhound.
Jared "hazr" O'Bree has his eyes on this prize, but is taking things one step at a time to get to this lofty point.
"We're definitely setting our sights on taking over that top spot eventually. I know we have all of the pieces required to do so, it's just a matter of constantly working hard together and making sure we don't get complacent with ourselves so we can keep growing as a team," he told Snowball.
Asked about the "Gentleman's Sweep" that Avant handed to Order, and if they used Dust2 to work anything out strategically that Order were showing them, hazr credited the slow start to just that…a slow start, as opposed to any sort of "feeling out" of Order.
"I think we just had a very slow start on Dust 2, we started to get into the groove of things in the second half, but it was just a bit too late. We didn't really need to change anything for the next maps because it felt like we would've easily had that first map if we played like ourselves earlier on. It was a pretty smooth ride after that."
Particularly impressive from Avant in this series was the performance of their veterans – Chris "Ofnu" Hanley and Mike "ap0c" Aliferis, who were at the top of the kill counts. Ap0c was every bit as cataclysmic as his namesake, leading the series in Rating and boasting a fearsome +21 kill differential. It was a stark contrast to the big-name veterans of Order, particularly Alastair "aliStair" Johnston and Karlo "USTILO" Pivac, who were each -30 or worse and had days they'd rather forget.
Ap0c noted that suppressing Order's veterans was a conscious effort on Avant's part. While Jireh "J1rah" Youakim, who had recently joined the team has experience in his own right, putting him in a place of fragging responsibility took away from the IGL the options he would normally have had at his disposal.
"You always try and contain aliStair as best you can (even if) most of the time he will still get his. I think minimizing the impact that Rickeh (Ricardo Mulholland) (CT) & USTILO (T) in particular had, really swung the series in our favour," said Aliferis.
We've had a great run in Season 10 of the ESL #ANZChamps over the past couple months!

Here is a highlight reel of some of our craziest plays! 😎 🔥

▶️ WATCH NOW: https://t.co/4OwuwMFbaE#AVANTARMY | @ESLAustralia pic.twitter.com/WP8C8H6iPZ

— Avant (@AvantGaming) April 14, 2020
The success that these efforts had really paid off in Avant's utter dominance on their CT side. In matches that they won, they averaged nearly 10 CT rounds per map, and the only reason that number isn't higher is that they took Train after only 9 CT rounds, having won all of them. Even factoring in their lost map, that average only dips just below 9 CT round wins per map. Ap0c credited the good blend of cohesion and confidence the team has built since this line-up had formed.
"We are really starting to click on the CT side. It was always going to take some time when we formed this new roster. We moved hazr to a completely new role for him (anchor) and BL1TZ was coming back to rifling after a year or so on the AWP."
Meanwhile, for his part Ofnu has been nothing short of a revelation since joining Avant. Having watched the end of his time on Tainted Minds and into the Chiefs, I among others had wondered if we had seen the peak of Ofnu's abilities and consistency pass him by. But since he left the Chiefs and longtime teammate Ryan "Zewsy" Palmer to join the new Avant roster, the resurgent Ofnu is showing the adage that form is temporary, but class is permanent.
"I think the resurgence is only just beginning, I was struggling individually and trying to find where I fit in our play style in comparison to last year in Chiefs but between working on myself and some tweaks on some of our rounds I'm starting to feel things click and can now perform to my own standards."

Chris "Ofnu" Hanley
To this end, Ofnu acknowledged his long-time partner in Zewsy in finding his own role on Avant, and how he could bring success to the team and himself.
"I had recently been thinking about the qualities that he brings to teams he played in and trying to take some of those responsibilities on myself to help this team, he was always a selfless player and more so than ever in the Chiefs roster which can sometimes go under appreciated"
"The way in which he played and sacrificed definitely helped me to perform over the years."
Now that the sun has set on the first season of ANZ Champs for 2020, we can begin to contextualize what this means for Oceanic Counter-Strike as it begins to adapt, as we all must, to the world we now face.
Avant may have had their second chance at a Major taken away by circumstances beyond all our control. Hopefully they and the rest of the region are not short of opportunities throughout the year to show their qualities on the international stage.
---
Despite competition ahead of them that has previously shown to be unassailable, crushing Order could be the shot across the bow of the scene that maybe we're in for a new king of the mountain as we move through 2020 and beyond.