The Dire Wolves are an organisation that has tasted success. The organisation has two League of Legends World Championship runs and four Oceanic Pro League titles under their belt. Once again the title is within reach. This time, regular split winners Legacy Esports stand in the way.
In the past, the Wolfpack have been Oceania's team to beat. Their dynasty was forged across a four-split run that saw them net silverware in every split in 2017 and 2019. The core roster for the team was one of the dominant the region had ever seen.
Then, 2019 arrived. The Dire Wolves shifted focus, and with it came a huge roster shuffle. They kept top laner Brandon "BioPanther" Alexander at the time ⁠— he's now departed to Pentanet ⁠— and a roster of Challenger Series talent was built around him.
This shake-up saw them crumble in the standings. They sunk to a 1–20 record in Split 1. Their fortunes were a little better in Split 2, but a first-round exit in the Gauntlet at the hands of an unstoppable Order outfit put a fullstop on a year to forget.
Off the back of 2019's struggles, the Dire Wolves pulled the plug again. Ryan "Chippys" Short returned at the beginning of 2020. He was joined by Park "Mir" Mi-reu, Avant's breakout mid laner Ari "Shok" Greene-Young, and a bot lane assembled from bot laner Ha "Vital" In-seong and support pair Andy "Cupcake" van der Vyver and Daniel "Decoy" Ealam.
Chippys is no stranger to the Dire Wolves squad. He played under their banner during 2017, when the team made their Worlds debut. He was also clad in dark green when the team lifted their 2018 Split 1 title. Now he's back, and he says it "feels good."
"It feels good to be back on my old team. All my success has been on this team, and heading into these finals there's another opportunity for success," he told Snowball Esports.
However, even with success, the top laner feels like he was "too confident [in the past]," which resulted in "inconsistent performance." Learning from the past is what Chippys is working on now, and he's "prepping every minute, every day, to make sure [he's] ready."
Week 9 of the Pro League saw the transition from live studio games to a fully online schedule due to the current ongoing climate surrounding COVID-19. This markedly affected many teams, including the Dire Wolves, who departed the Esports High Performance Centre.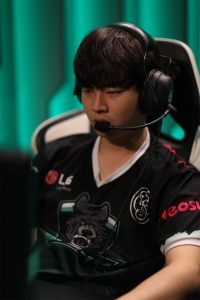 Since their departure from the Sydney Cricket Ground locale, their form has dipped. It's something the whole team has noticed, including head coach Ben "Kai" Stewart, who broke the situation down while speaking to Snowball.
"It [adjusting to online matches] was the hardest thing I think I personally, and likely the whole team, has faced in a while," Kai explained, and added they had attempted to keep their work and home separate. It's something he strives for due to his traditional sports background.
For him, the key to success is making sure "training doesn't feel like training." As they battled this, form slipped. Kai admitted it wasn't ideal, especially because it's "lovely to have some momentum" heading into playoffs. But regardless, Dire Wolves are ready.
"It's not like we got worse. I could still see flashes of how good we are. All the info, plays, mechanics, macro was still in the boys, we just lost what made us good ⁠— not being afraid of making a mistake," the Wolfpack coach said.
"They needed to play without restraint, and to trust the four other players to follow (each other) into the thick of it" and regardless of the outcome, to "get into a position to play from again."
The finals run for the Dire Wolves has been a real testament to their fortitude and ability to adapt in any situation. Their first series was against the Chiefs, who they fell 1–3 to after the wolves were overrun in the first game by the Chiefs.
Luckily for the Dire Wolves, their finals campaign didn't end there. They fell into the losers bracket and took on Order.
The series ended up at match point in favour of Order heading into game three, but with the steadfast mental fortitude of the Dire Wolves, they clawed their way back from the edge of defeat and took them down in the best of five.
Our head coach @DireWolvesKai gives us insight into his thoughts on the @LegacyOCE squad in the lead to our grand final this Friday!#wolfpack | @udysof | Powered by @LGITMonitorsAus pic.twitter.com/N6Srp68FxD

— LG Dire Wolves (@DireWolves) April 23, 2020
After the mammoth effort by the Wolves, they still had to face down the Chiefs, who had already tasted success over the Wolves earlier in the playoffs. In their second matchup, the Chiefs weren't going to make it any easier for the boys in green to get through.
These games were full of excitement and chaos, leading to another exciting five-game series. In the end, however, the Dire Wolves came out on top and claimed their seat in the final.
Adapting in a best of five is one of the Dire Wolves strengths, and that has been shown in their previous playoffs matches. They've played half the amount of games in a regular OPL split in one week, and are not short on practice heading into the final best of five against Legacy.
Chippys shared that "we adapt well to whatever we need to win", and as an example of that, "many of the champions we played we haven't had a single scrim on."
Playing so many playoff games is a double edged sword. On the one side, Kai shares, "we've been pushed to five games twice now" and in doing so, they're getting "more game practice and more pressure practice."
"However, Legacy have played four games compared to our fourteen, and this allows them to scout us. Lucky with the new players on my team we never run short on unique strats," he said, before wishing Legacy luck too. He added: "They'll need it."
It's looking like the key for a Dire Wolves victory is perseverance. They've proven twice that they have what it takes to these series all the way to the final match, but with a fresh-faced Legacy ready to take them down, it'll be a true battle.
---
With the drive of claiming that OPL crown igniting the passion from the players, these finals are not to be missed. Make sure to tune in at 5pm this Friday.