Mitchell "Destiny" Shaw is one of Australia's hottest League of Legends talents, and now he's out on the LEC player market; the departing Origen star talks to Snowball about his rollercoaster 2020 season, Oceania's next steps, and plenty more.
On Oct. 1, Aussie superstar Destiny announced his League of Legends free agency, after a year with Origen, who have now rebranded to Astralis ahead of the 2021 season.
Destiny played 27 regular season games for Origen over the course of the 2020 LEC season, and added another 12 in the team's Spring playoff campaign when they finished fourth. Nine of those were played in Summer, ahead of his shock benching.
When I called Shaw, the Aussie star admitted he was going to have to "keep it down, just a bit." He's living in Copenhagen with Erlend "Nukeduck" Erlend, and the Origen mid laner was already fast asleep. It was already 2am in Denmark.
That warning was soon forgotten, however, as Destiny, 22, spoke excited about what his next steps in League of Legends would be. They've been dampened a little bit by Covid-19 ⁠— what hasn't this year ⁠— but he's still got his eyes on a "fresh start" in 2021.
"I'm grateful for my time on Origen… I know they spent a lot of time scouting me, but I think it's time for me to have a fresh start somewhere else," Destiny told Snowball Esports.
The problem, Destiny admitted as we looked back on his first year in the LEC, was that there were clashing egos in an Origen lineup that had been dubbed a "super team" by many behind the scenes. Losing shook the team "hard" in Summer.
There had already been rumblings Origen was testing the waters for a replacement support to field alongside Elias "Upset" Lipp. "Synergy issues" was the main company line dolled out to Destiny, but he knew he was already in the firing line if things got worse.
Things did get worse too. Origen had a rough start to their Summer campaign.
"Summer was a disaster," the Australian star half-laughed. "We just didn't do well… we got to the halfway mark and we were 4–5. I personally had played really badly in one game ⁠— MAD Lions ⁠— but I thought the rest of my performances had been fine."
Others in the Origen camp didn't see it that way. "Some people" began acting differently to Destiny. It became "uncomfortable," and strange. Leading into Week 5, the Origen support role was swapped: Destiny out, Jakub "Jactroll" Skurzyński in.
"I knew it was coming… I wasn't too surprised. We were this 'super team,' so expectations were high and we weren't meeting them. It's a lot easier to put the blame on one person and not as collective," he said.
"A fresh start is what the team wanted… when we should have just built from our learnings in Spring. This is the first time I've been benched, so it definitely hurts. I'm a very self-reflective person. The team just had too many altercations regarding play, strategy, and draft.
"It felt like I became the scapegoat, hoping it would solve our problems, which it wouldn't."
The roster move, as it turned out, didn't help Origen in the slightest. The famous League of Legends organisation put up a 2–0 weekend with Jactroll in the roster, before copping seven straight losses to claim last place in LEC Summer.
"The results after all that spoke for themselves, without me in the roster… there's not a lot I think I need to say about all of that," Destiny said of the mid-Summer switch.
"It was sad to see our team go from fourth in Spring, to last place. It blows, especially when I was stuck on the sideline, and knew I could help. I'm very confident that I am at an LEC level but I just didn't get a chance to show it again at the end there."
And so, Destiny looks to the future, with an excitement that sees the "being quiet" promise soon forgotten in our Discord call: "I'm really keen to feel like an equal on a new team when I do join somewhere else. A new start will be really good for me."
I offered up a few options. Staying in the LEC is first on Destiny's list, but he's also just keen to join a team that can "push [him] to be the very best [he] can be." Europe's regional leagues are one option. A switch to the LCS system in Los Angeles is another.
"Oceanic players can be better than the washed-up recycled players they have in LCS, so I wouldn't mind having a crack there," he said. "That's kinda BM isn't it? Ah, that's okay, I think everyone agrees. We're already starting to show it too."
"The LCS residency changes has definitely opened up more possibilities," he added. "I'd be very confident competing in the LCS in my current form."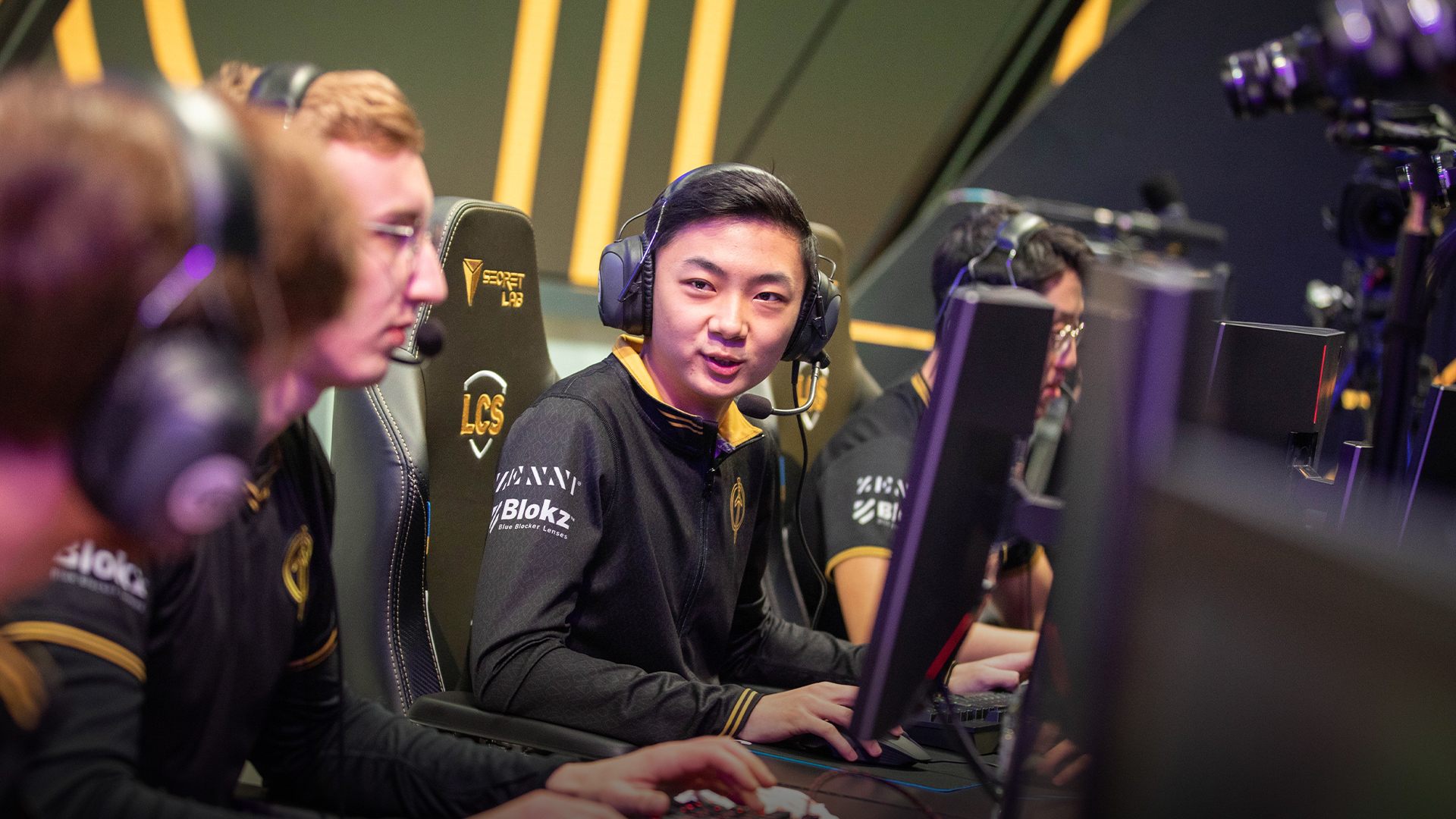 Destiny hopes more OPL players can make the switch too, especially after the shock closure of the regional league earlier this month. He called for LCS teams to "take a chance on OCE stars." It's key, for new talent in the LCS, and the now-adrift players Down Under.
The North American and European experiences are key, he said, to growing as a player. The pathway he has taken alongside the first stars in the Oceanic exodus is what every OPL superstar should be aspiring to from now onward, thanks to the new import rule.
"I don't want to talk down on the OPL or anything like that, I absolutely love it," he said, and admits he's going to miss the league where he first got his start, "but it was kind of hard for players in that league to keep developing.
"My eyes got opened from scrimming the likes of Mikyx and Hylissang. It's definitely worth coming over if you can.
"In Oceania you basically know all the main fans, and all the players are quite close. In the LEC, there's stacks of fans from all over the place telling you're bad on Reddit and Twitter, so it's pretty intense. There's lots of opinions on European teams.
"It will be full on, I can promise you that. But it will be so worth it too."
"The next fellas to come might be some from Legacy? I think Babip definitely deserves a chance with a team, and Isles [Jonah Rosario] and Raes [Quin Korebrits] too. They looked really good against all those teams in China, and I think people would have taken notice."
When Mitch mentioned Legacy, and their underdog run in Shanghai, we spent the next few minutes chatting about Oceania's newest heroes.
Destiny has plenty of feelings about Legacy coming out firing against some of the world's best in the Play-Ins. Firstly, he's glad his Mammoth teammate Leo "Babip" Romer got another chance to flex his muscles on the international stage all over again.
Secondly, the international LEC star feels "a little bit jealous, actually." I chuckled at this, but Shaw let himself have a good laugh. "I know, it's silly, right?"
He continued, "When I was watching them, they 110 percent had my support, but I felt a bit like, 'that was me, that could have been me.' Is that silly? It's how I feel; I loved playing for the OPL and Oceania last year, and it's one thing that I really do miss."
Destiny hasn't ruled out going to Worlds again by any means either, and he hopes the whole Oceanic community gets behind him when he does.
First though, he's got to decide where he wants to land next. It's a big call for him ⁠— he wants to find a place he can learn and become the best player he can be, however long it takes. The tricky part is up next; figuring out the perfect place to do that.
And, most of all, Destiny wants to prove he never should have been benched.
"I hope the next opportunity I get, I can prove that I deserve a starting spot, and show I'm a great League player. I'm not angry about being benched, I know the team made a choice and I understand that. I can use it to push myself now," he said.
"Just next time, I want to be even better. I want to show that I can do even more. I want to be a goal for Oceanic players, and to do that I need to keep succeeding every chance I get."