The LCO may be four games into Split 2, but there's only one that Chiefs bot lane star Matthew "Mboma" Desa keeps playing over and over in his head ⁠— his team's opening day, oh-so-close loss to star-studded Peace.
"Ah, that game…" he sighs. "We could have easily won that."
The game in question, which followed a wild Legacy vs Gravitas battle to open the split proper, saw the Chiefs claw their way back into the clash thanks to a deft bit of play around Baron pit, before capitulating a 4.8k gold lead just minutes later.
Since then, Mboma and the Chiefs have marched to a 3–1 record, bowling over Mammoth, Legacy, and finally Order in a barnstorming Day 4 matchup to set up a four-way tie atop the LCO standings. Three wins have done little though, the ADC told Snowball Esports, to clear the Peace loss from their minds.
"I think I felt pretty individually responsible for that game, but I think within that game there were a lot of things that went wrong, our solos got behind, and then we were behind in the early game," Mboma explained.
The heartbreaking defeat was a reality check for the Chiefs who, by all accounts, have been in red-hot form in LoL Circuit Oceania scrims coming into Split 2.
"So yeah, I haven't stopped thinking about that loss," he continued. "Not really all bad ⁠— though of course no one wants to lose ⁠— but it was a big wake up call for us. I really think that since Split 1 we've been growing a lot, and to cop that loss right at the start of the new split kind of said 'hey, focus up.'
"In a way, that game was the loss that we had to have, because we were feeling pretty on top of the world for a lot of reasons, and it shook us back to the grind."
Following the Peace loss, Mboma and the rest of the Chiefs recollected themselves, rewatched the game, and began formulating new plans for the split. Some of the things they had been certain about had been shaken, just a little, but that wasn't necessarily a bad thing either ⁠— just a chance to "keep growing" towards playoffs.
"The one thing I like a lot about this team is that everyone plays the game a lot, understands everything about League of Legends, and when we have a moment where something doesn't go well in a game or scrim, we can talk about it," Mboma said.
"I think the fact that we're not really afraid to step on each other's toes, and that we actually confronted a lot of the problems that we had in Split 1, that's been good. We did a lot of talking about what went right and wrong in that first split, and now we really have that feeling of improvement that we can build on.
"One of our main goals is to avoid fifth again. Playing the gauntlet was brutal, because I felt like we had a chance to win the whole thing, but we had a massive disadvantage."
That feeling ⁠— that the Chiefs could have won Split 1, and actually taken Pentanet.GG's seat at the MSI table ⁠— wasn't just a fluttering fancy that Mboma and his teammates had entertained during playoffs either. According to the Chiefs bot laner, they're "even more certain" they can win it all this time around, even as the league improves.
"Teams have to watch out for us this split," he warned.
"I'm pretty confident we're the best team in the league. The thing is, we have to keep it going until the end. There's nothing gained by being the best right now… it's about using that quality to build, grow, and then at the end, winning everything."
Snowball can already point to one team that may have a little problem with Mboma's claims: the reigning LCO champions, Pentanet.GG.
The Chiefs ADC knows it too.
"Oh they're the team that we want to beat the most, definitely. Watching PGG play at MSI, there was this fire it set in the team I think, because we felt like we could represent Oceania really well just like that, and I know that's driving me," he said.
"I'm really proud of Pentanet, definitely, getting out of groups and beating Cloud9 was massive for Oceania. That being said, I think we match up really well into them. Honestly, the stars aligned for them a bit in Split 1. They didn't really have any meaningful competition last season because the split was so short, and they were kind of running it back.
"Now that we've all practiced ⁠— us, Dire Wolves, Peace, even Order are looking scary — and there's this really long split, I think it's going to be very, very close.
"I wouldn't be surprised if we see PGG dropping more games this time around. I don't think their style is particularly bold. They play one style of League of Legends, and they can't really adapt well to how the game's played on the current patch.
"Now that people have figured out their style, it's going to be a lot harder. I'm not underestimating them, they're great, but it's not a one-horse race."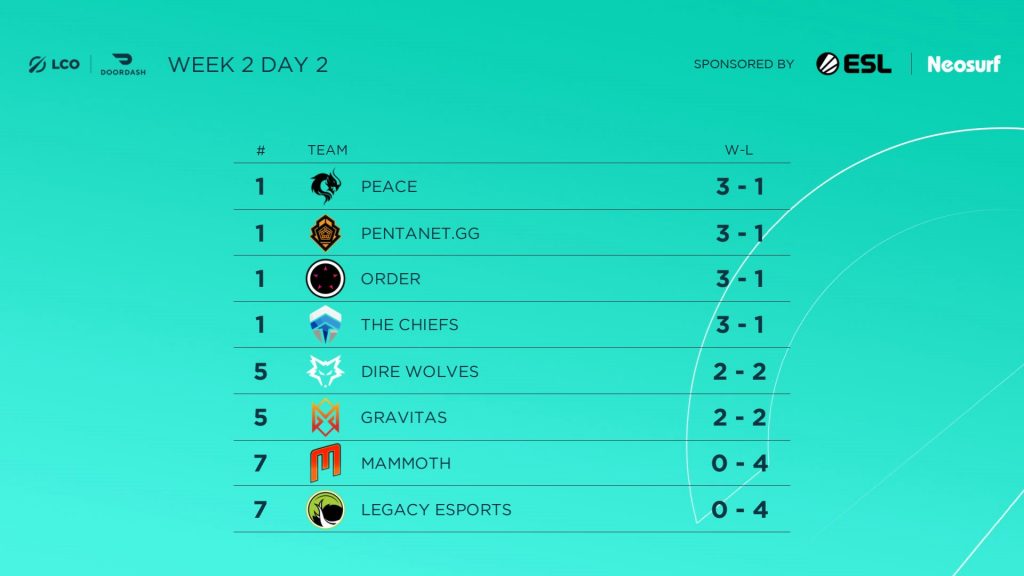 Luckily for Oceania fans, Mboma gets a chance to put his money where his mouth is incredibly soon; after a Tuesday meeting with Gravitas (now 2–2 after their Peace upset), the Chiefs close out Wednesday with a PGG showdown.
Mboma couldn't be more hype: "It's going to be so good. I really respect PGG, and I think they've got a massive chance to win, but it's going to be a banger for sure.
"We weren't really ready for them last split, maybe that's a cop out, but I feel like it's true tthat we didn't have a plan. This time around it should be really fun, because we have a lot of confidence we've solved our issues, and can take the victory."
---
The Chiefs next play against Gravitas on Tuesday evening, at 9pm (AEST). Catch up on all the ongoing LCO 2021 Split 2 action in our ultimate coverage hub.