Four to a server, a King of the Hill format, 45 second rounds: This isn't anything like the Counter-Strike we've grown to love over the years. But Red Bull Flick, now in its second year, continues to take the scene by storm.
First launching in Turkey back in 2019, Red Bull Flick has since gone global. Over 30 countries and 45,000 competitors took to the server this year, with players of all skill levels welcomed.
Australia and New Zealand saw its first iteration of the event in 2020, where team "Dead Weight", consisting of duo Mr. Sharky and Velocity, fell agonisingly short of a win after a brilliant playoffs run.
Dropping to Rekonz and Liki's "Dynamic Du-Woah" in the grand final, Dead Weight vowed to come back stronger in 2021.
"Our expectation for this year's Flick experience was no lower than top two," Velocity said in an interview with Red Bull following the tournament. 
"We were very confident that we could win it out this year in the Grand Final as we wouldn't have to worry about our nerves this time around."
"We did a lot of practice and scrimmage prior to joining the tournament so we were confident we would be a favourite to win."

VELOCITY, "DEAD WEIGHT"
Over 500 duos registered for this year's tournament in Australia, and with thousands watching, Dead Weight took to the playoffs where they swept their way to the winner's final.
Hassie and KZXL of "Steam Support" were awaiting them, and in a shock upset, took down Dead Weight 2-0 to send Mr. Sharky and Velocity to the lower bracket.
"We came into the tournament as first seed and didn't drop a single round, but unfortunately for us, we ended up playing Steam Support on the only map that we didn't have any experience on," Velocity explained.
"After we lost to them and went into the lower bracket we were confident that we would [play] them in the Grand Final and come out victorious as the maps for the Grand Final we were very well prepared for."
Velocity's prophecy would come true, bouncing back to defeat "SixFoot9 Slayers" to rematch Steam Support in the final, where Dead Weight this time emerged victorious.
"For both of us as individuals, this was the highlight of the year and we were so much more excited to have the Dead Weight name in the Grand Final again this year," Velocity said.
"As a duo, we loved practicing and playing with each other, and we may have received a noise complaint with how loud we were screaming when we closed out maps."
To deviate so far from the norm that is CS:GO's five-versus-five defuse format is certainly a risk, but Red Bull Flick has more than proven successful with massive growth over the three years since its inception.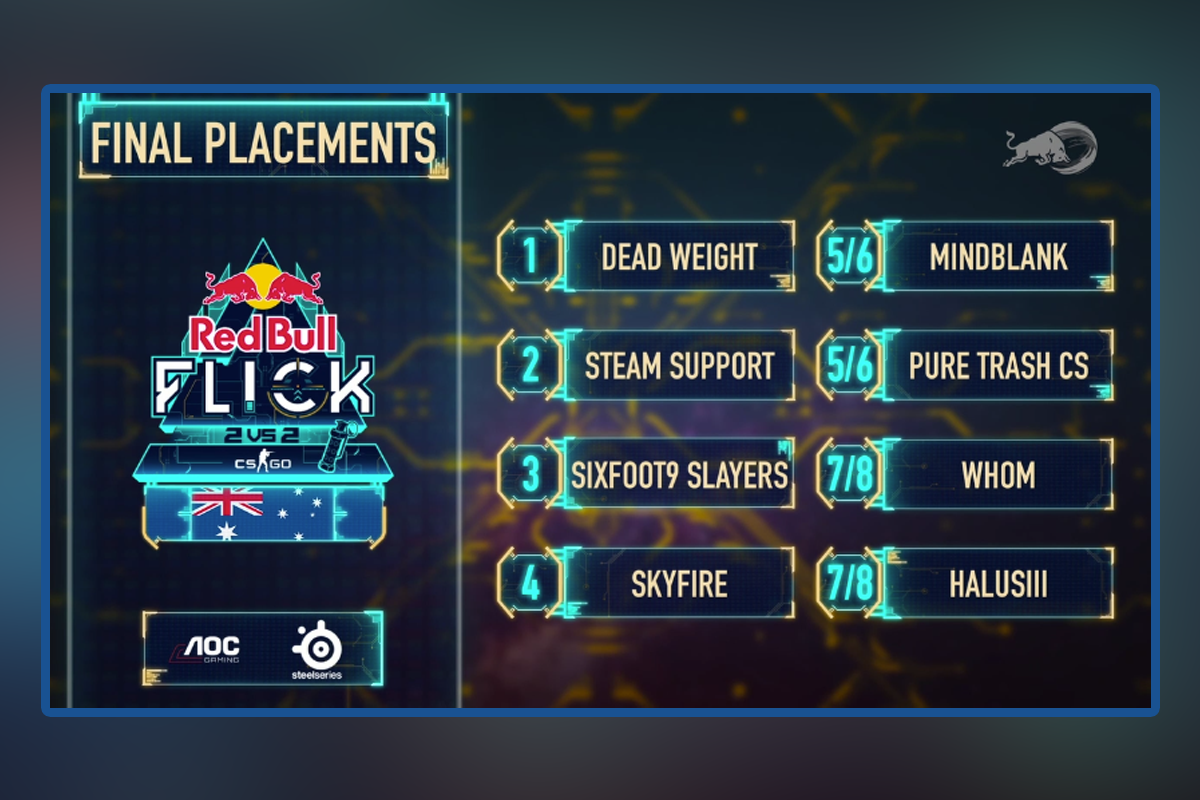 It's not Red Bull's only outing in breaking the esports wall. They've seen similar success in League of Legends with their one-versus-one SoloQ event, as well as gaining an entry in the collegiate market through the Valorant Campus Clutch.
For Oceania in particular, while opportunities have risen exponentially over the past few years, a further increase in volume of events of all skill levels and no matter the format can only positively impact the region.
"Events like Red Bull Flick give the chance for amateur players like ourselves to make a name on a broadcast that is seen by all of our friends and even some of our family," Velocity added.
"We believe more fun events and cash cups from large companies could bring a lot of life to the scene."