In 2016, I was asked by a friend to join him for the iRacing Le Mans 24 Hours. Little did I know that I would be sharing the car with someone who would end up becoming one of the best sim racers in the world.
At seven years of age, Joshua Rogers got his hands on his first go kart.
Immediately, a star was born.
Over the span of ten years, he progressed through the junior ranks into senior karting, picking up New South Wales state titles and finishing strongly at national level events. This reached its peak in 2017 when Josh finished 4th in the Australian Karting Championship.
Like any young kid growing up in the 21st century, Josh was drawn to video games — Gran Turismo being one of his first. However, his foray into the wide world of sim racing began in 2014 when he started iRacing on a trusty old G27.
Fast forward three years to 2017, and Josh's esports career had built further momentum after qualifying for the iRacing GT World Championship, one of the biggest sim racing championships in the world. I was interested in what was behind the mindset to change from running the V8 Supercars Online Premier Series (V8SCOPS) to GT3 since the Supercar requires such a unique driving style.
"I think a big part of it was me wanting to prove myself on a bigger stage," explained Josh "There's no denying that SCOPS is extremely competitive. My teammates would probably vouch for this as well, but there is an extra degree of competition at the world championship."
"You're opening yourself up to the world rather than just Australia and I just really wanted to kind of test myself and see where I stood up."

Josh Rogers on switching from SCOPS to GT3 to compete globally.
Josh would once again compete in the iRacing GT World Championship in 2018 with TTL Esports, as well as a debut in the iRacing World Championship Grand Prix Series with Burst Esports.
Consistent top tens across the Grand Prix Series, peaking at 3rd in the fifth round at Monza, resulted in a seventh place finish in the standings at the conclusion of the season.
Josh would finish 2018 with his first in-person series at the Porsche Esport Summit, where he placed 3rd with factory driver Nick Tandy, as well as a move to Coanda Simsport — arguably his biggest career shift to date.
"I would say it was definitely a year of building," said Josh. "2019 was probably my biggest year when it came to growth over the years prior, but I think 2018 was certainly huge in terms of the progression throughout the year."
2019, and the move would prove fruitful for both Josh and Coanda where both driver and team dominated anything they entered.
His accomplishments for the year were astounding. Josh won seven major international titles, including two world championships, and took home over $40,000 USD in just four events.
Not only did Josh win everything, for the most part, it was while he was still in Australia, racing on 200-300 ping. While high latency isn't as detrimental compared to something like a first-person shooter, it was still a challenge Josh had to navigate.
"When I think back to [2019], it was a bit of a surprise because I really wasn't expecting it for myself either. 2019 was meant to be a learning experience — to learn as much as I could from these guys and try and build myself to have a proper red hot go in 2020, [but] I guess it didn't really pan out that way."
At the start of 2020, the Coanda team house was built in Germany — the first of its kind in sim racing — and Josh was one of the first to make the move overseas. Despite the new foreign environment, nothing changed in the way Josh went about competing.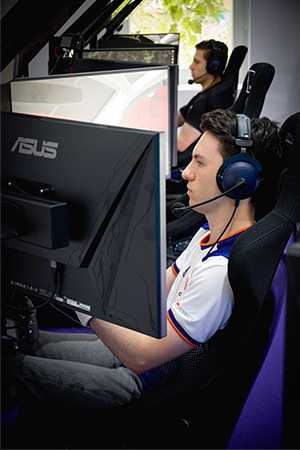 "I think for me, there was obviously quite a lot of change and it was very different," said Josh. "In Australia, I was still living with my parents so it wasn't that I was moving away from home, just down the street; I was moving to a completely different country.
"I think from an 'environment' perspective, it was a big change for me. In terms of daily life though, it didn't actually change too much."
Understandably, it would take some time for Josh to return to the form we saw in 2019. At the 2020 Porsche Esports Supercup, he fell short of completing the back-to-back win, losing out to British driver Sebastian Job.
"Adapting to these changes and kind of coming to grips with the situation was a little bit tricky for me," explained Josh "That's probably why in 2020, the results weren't as we'd hoped. I'm still glad I did it for sure, it's been mega ever since the beginning and it's always good fun being around your mates literally 24/7."
Josh was settling in, but his next challenge was right around the corner — the COVID-19 pandemic. A return trip home to visit family was off the cards.
"It's been hard, you know; obviously I do still communicate with my family and I'm glad we have things like FaceTime — I can't imagine how much harder it would be without that. There's been several times over the last 18 months where I've wanted to [go home] but couldn't, whether it was because of COVID or whether it was because of scheduling differences.
"You want to be there for Christmas or your birthday or your mum's birthday or Father's Day and you can't. It's days like those where it kind of sets in a bit more."

Josh Rogers on the impacts of COVID-19 and living abroad.

Unlike other esports, sim racing thrived through the pandemic, with many real world racing drivers turning to sim racing during the height of lockdowns.
The result — an unexpected spotlight on the esport. "The online side of things kind of blew up really," said Josh. "Real racing was more or less cancelled completely for a six month period so there were lots of series popping up that were kind of implementing sim racing with real drivers.
"We still have so many events popping up and schedules that maybe aren't necessarily designed perfectly, so we're flat out and borderline on the limit. It's been a positive boost for us. Companies that would have never thought to look into sim racing are seeing it."
One said event was the 24 Hours of Le Mans Virtual, which has since transitioned into a full series, both of which Josh has been working with the Porsche factory team and rekindling his working relationship with Nick Tandy.
"Nick fits into our family very well. He has a very similar mentality to us and is always a character to be around."
"It's different, I think at the end of the day though, it's just another teammate. It's generally not too dissimilar from if I was working with Mitchell [de Jong] or Mack [Bakkum] or Martin [Kronke] or any other teammate at Coanda.
"There's obviously things we learned from them and things they learned from us but it was just good fun. Seeing that side of motorsport and getting to share those moments and those memories with them too, I think is really cool."
After finishing runner up in the 2020 series, Josh came back stronger for the 2021 Porsche Esports Supercup to dominate the competition, winning half of the races and securing the title with a round to spare. This made Josh the first multiple time Porsche Esports Supercup World Champion in the three years the series had run.
"The biggest thing was coming back from 2020. After the shocking round at Interlagos, I never thought that we would have ended up winning 10 races out of 20 that season, and ending up sewing up the championship with a round in hand.
"It certainly wasn't something that I expected and I think [after] coming off 2020, the extra motivation certainly pushed me to try and improve and become a better version of myself for that season."
With iRacing adding the new Porsche 911 992 GT3 Cup car, it adds a new challenge for drivers to contend with coming into the next iteration of the Porsche Esports Supercup, set to begin in January.
"I don't think the approach will change too much," Josh remarks. "Obviously we have a new car to adapt to and to learn so that's probably going to be the biggest change. We are putting a lot of effort in our preseason to put ourselves on the best foot before round one.
"It's always been the same way, that the more preparation you can do before the season starts sets you up for the rest of the year. In 2020, we lacked that preparation with other things going on at the time.
"In 2021, that was a big focus of ours to resolve for this year and clearly it worked well. Obviously, we might see some new names in the championship next year through the contender series, that always spices things up."
---
You can follow Josh's journey through the 2022 Porsche Esports Supercup and beyond via Twitter.