Order have done the impossible. A 9-0 playoff sweep of Dire Wolves, Peace and Pentanet saw them into the Grand Final against a high-flying Chiefs, and while it may have taken them all five games, the lower bracket legends have claimed the LCO Split 1 championship.
---
Order spoil Chiefs all-but-perfect season
Five games needed in thrilling Split 1 Grand Final
With the win, Order claim Oceania's sole spot at MSI in Busan, South Korea
---
April 11, 2022 — Order fans will remember the date forever.
Given little chance entering the playoffs in the lower bracket — with the pressure that a single loss would end their split — Order flipped the script on the LCO and have claimed the Split 1 championship from nowhere.
A 9-0 run in the lower bracket with sweeps against Dire Wolves, Peace and and Pentanet, who went the distance against Chiefs in the upper bracket final, saw Order enter the grand final as dark horses at best, but otherwise heavy underdogs.
For Chiefs, it was an almost perfect season. Just two losses in the regular split saw them heavily favoured as the post-season began, and other than a nail-biting Pentanet series, nothing was going to stop them.
But, like magic, Order found a way.
"I mean, I'm at a bit of a loss for words," said Nathan "Puma" Puma just after their game five win.
"It just shows how hard we worked for this. I think everything has happened in our lives has led up to this moment…I really don't have any words. It's really insane.
"It felt like everything was worth it, all the sacrifices we've made in that one moment."
Their victory sees them claim their first LCO Split Championship, and thus, Oceania's representative spot at the Mid-Season Invitational in Busan, set to begin May 10.
Final LCO Split 1 Standings
| Place | Team | Record |
| --- | --- | --- |
| 1 | Chiefs Esports Club | 19-2 |
| 2 | Peace | 15-6 |
| 3 | Pentanet.GG | 15-6 |
| 4 | Order | 11-10 |
| 5 | Dire Wolves | 10-11 |
| 6 | Kanga | 6-15 |
| 7 | Mammoth | 5-16 |
| 8 | Gravitas | 3-18 |
LCO 2022 Split 1 schedule & results
Split 1 Playoffs Schedule & Results (March 28 – April 11)
| Date | Game | Time (AEDT) |
| --- | --- | --- |
| Monday, March 28 | Peace 0-3 Pentanet | 5pm |
| | Order 3-0 Dire Wolves | 8pm |
| Tuesday, March 29 | Chiefs 3-2 Pentanet | 6pm |
| Monday, April 4 | Order 3-0 Peace | 6pm |
| Tuesday, April 5 | Pentanet 0-3 Order | 6pm |
| Monday, April 11 | Chiefs 2-3 Order | 6pm |
Week 1 results (January 24 – January 25)
| Date | Game | Time (AEDT) |
| --- | --- | --- |
| Monday, January 24 | Peace 1-0 Mammoth | 6pm |
| | Gravitas 0-1 Dire Wolves | 7pm |
| | Chiefs 1-0 Order | 8pm |
| | Pentanet 1-0 Kanga | 9pm |
| Tuesday, January 25 | Gravitas 0-1 Order | 6pm |
| | Mammoth 0-1 Chiefs | 7pm |
| | Kanga 1-0 Dire Wolves | 8pm |
| | Pentanet 0-1 Peace | 9pm |
Week 2 results (January 31 – February 1)
| Date | Game | Time (AEDT) |
| --- | --- | --- |
| Monday, January 31 | Order 1-0 Kanga | 6pm |
| | Dire Wolves 0-1 Peace | 7pm |
| | Chiefs 1-0 Gravitas | 8pm |
| | Mammoth 1-0 Pentanet | 9pm |
| Tuesday, February 1 | Pentanet 1-0 Dire Wolves | 6pm |
| | Kanga 0-1 Chiefs | 7pm |
| | Peace 1-0 Order | 8pm |
| | Gravitas 0-1 Mammoth | 9pm |
Week 3 results (February 7 – February 8)
| Date | Game | Time (AEDT) |
| --- | --- | --- |
| Monday, February 7 | Gravitas 1-0 Kanga | 6pm |
| | Order 0-1 Pentanet | 7pm |
| | Chiefs 0-1 Peace | 8pm |
| | Mammoth 1-0 Dire Wolves | 9pm |
| Tuesday, February 8 | Peace 1-0 Gravitas | 6pm |
| | Kanga 0-1 Mammoth | 7pm |
| | Pentanet 0-1 Chiefs | 8pm |
| | Dire Wolves 0-1 Order | 9pm |
Week 4 results (February 14 – February 16)
| Date | Game | Time (AEDT) |
| --- | --- | --- |
| Monday, February 14 | Kanga 1-0 Peace | 6pm |
| | Chiefs 1-0 Dire Wolves | 7pm |
| | Mammoth 0-1 Order | 8pm |
| | Gravitas 0-1 Pentanet | 9pm |
| Tuesday, February 15 | Peace 1-0 Mammoth | 6pm |
| | Kanga 0-1 Pentanet | 7pm |
| | Gravitas 0-1 Dire Wolves | 8pm |
| | Chiefs 1-0 Order | 9pm |
| Wednesday, February 16 | Mammoth 0-1 Chiefs | 6pm |
| | Order 1-0 Gravitas | 7pm |
| | Dire Wolves 1-0 Kanga | 8pm |
| | Pentanet 0-1 Peace | 9pm |
Week 5 results (February 21 – February 23)
| Date | Game | Time (AEDT) |
| --- | --- | --- |
| Monday, February 21 | Kanga 0-1 Order | 6pm |
| | Peace 1-0 Dire Wolves | 7pm |
| | Pentanet 1-0 Mammoth | 8pm |
| | Gravitas 0-1 Chiefs | 9pm |
| Tuesday, February 22 | Dire Wolves 0-1 Pentanet | 6pm |
| | Mammoth 1-0 Gravitas | 7pm |
| | Order 0-1 Peace | 8pm |
| | Chiefs 1-0 Kanga | 9pm |
| Wednesday, February 22 | Dire Wolves 1-0 Mammoth | 6pm |
| | Pentanet 0-1 Order | 7pm |
| | Peace 0-1 Chiefs | 8pm |
| | Kanga 1-0 Gravitas | 9pm |
Week 6 results (February 28 – March 2)
| Date | Game | Time (AEDT) |
| --- | --- | --- |
| Monday, February 28 | Chiefs 1-0 Pentanet | 6pm |
| | Gravitas 1-0 Peace | 7pm |
| | Mammoth 0-1 Kanga | 8pm |
| | Order 0-1 Dire Wolves | 9pm |
| Tuesday, March 1 | Dire Wolves 0-1 Chiefs | 6pm |
| | Order 1-0 Mammoth | 7pm |
| | Pentanet 1-0 Gravitas | 8pm |
| | Peace 1-0 Kanga | 9pm |
| Wednesday, March 2 | Peace 1-0 Mammoth | 6pm |
| | Pentanet 1-0 Kanga | 7pm |
| | Dire Wolves 1-0 Gravitas | 8pm |
| | Chiefs 1-0 Order | 9pm |
Week 7 results (March 7 – March 8)
| Date | Game | Time (AEDT) |
| --- | --- | --- |
| Monday, March 7 | Order 1-0 Gravitas | 6pm |
| | Chiefs 1-0 Mammoth | 7pm |
| | Dire Wolves 1-0 Kanga | 8pm |
| | Peace 0-1 Pentanet | 9pm |
| Tuesday, March 8 | Order 1-0 Kanga | 6pm |
| | Peace 1-0 Dire Wolves | 7pm |
| | Pentanet 1-0 Mammoth | 8pm |
| | Chiefs 1-0 Gravitas | 9pm |
Week 8 results (March 14 – March 15)
| Date | Game | Time (AEDT) |
| --- | --- | --- |
| Monday, March 14 | Pentanet 1-0 Dire Wolves | 6pm |
| | Chiefs 1-0 Kanga | 7pm |
| | Peace 1-0 Order | 8pm |
| | Mammoth 1-0 Gravitas | 9pm |
| Tuesday, March 15 | Kanga 1-0 Gravitas | 6pm |
| | Pentanet 1-0 Order | 7pm |
| | Peace 0-1 Chiefs | 8pm |
| | Dire Wolves 1-0 Mammoth | 9pm |
Week 9 results (March 21 – March 22)
| Date | Game | Time (AEDT) |
| --- | --- | --- |
| Monday, March 21 | Chiefs 0-1 Pentanet | 6pm |
| | Peace 0-1 Gravitas | 7pm |
| | Kanga 1-0 Mammoth | 8pm |
| | Order 0-1 Dire Wolves | 9pm |
| Tuesday, March 22 | Chiefs 1-0 Dire Wolves | 6pm |
| | Order 1-0 Mammoth | 7pm |
| | Pentanet 1-0 Gravitas | 8pm |
| | Peace 1-0 Kanga | 9pm |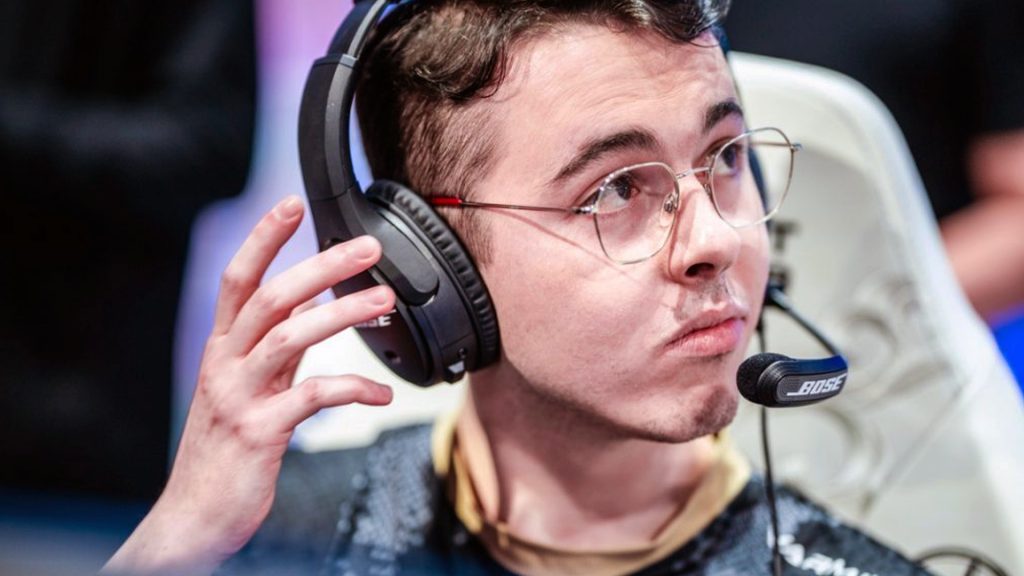 LCO 2022 team rosters
| Team | Top | Jungle | Mid | AD Carry | Support |
| --- | --- | --- | --- | --- | --- |
| Chiefs | Topoon | Arthur | Tally | Raes | Dragku |
| Dire Wolves | Zorenous | Goodo | Kyose | Frosts | Bulldog |
| Gravitas | Tyran | Foreigner | Dafeung | Thomas Shen | Vxpir |
| Kanga | Lived | Only | Chungy | Leemas | Lionel |
| Mammoth | Tronthepom | Meifan | Reufury | Voice | Rocco521 |
| Order | BioPanther | Kevy | Kisee | Puma | Corporal |
| Peace | Thien | LeeSA | Apii | Chayon | Beats |
| Pentanet | Winterer | BalKhan | Yuri | Praedyth | Rogue |