Australian Halo is having a resurgence thanks to Infinite and the new esports circuit promised by 343 Industries. Mindfreak is capitalizing on that, bringing on a new roster for HCS Melbourne and hitting their stride as HCS Orlando, and a spot at the World Championship, looms.
Behind the big lights and sirens of the LCO and ESL Challenger events at DreamHack, dozens of Australian squads were fighting for a shot to go to the Halo Championship Series (HCS) Orlando Major via the HCS Melbourne LAN.
The backside of Margaret Court Arena featured the region's best duking it out for $50,000 in the country's first major Halo LAN since the Logan City Minor in April 2019. In an esport many saw as dead during the years of Halo 5, it's been spurred back into life by the launch of Halo Infinite.
That time spent grinding over the last few years, despite minimal hope for the scene, has paid off for the likes of Halo veteran Ryan "Junior" Dunkley. One of Australia's most notable players in the arena shooter, he was buoyed by the fact he could compete on LAN again with Mindfreak.
The historic FPS organization in Australian esports came into HCS Melbourne as a favourite to at least make the top three and have their travel covered to go to Orlando. Previously competing under the orgless Nuke and Pave banner, Mindfreak had a decent run of results online ⁠— but shone on LAN.
They were second out of Group B pool play, only losing to The Chiefs. Then in the Championship Bracket they breezed past Kitbash before pulling off one of the upsets of the weekend ⁠— a 3-2 over the tournament favourite in Divine Mind.
"I think we've got a lot of built up tension against Divine Mind because it's infuriating when we play them online," Junior told Snowball Esports. "There's always difficulties, online issues. I'm glad we beat them on LAN when it really matters. That was probably the main thing for me."
Not only was it a major upset, but it booked the squad in for at least an invite into the HCS Orlando Major Open Bracket. It was pretty much unexpected too, according to Rhys "Ninjestics" Graham.
"We had never beaten them online in any tournaments," he said. "We had always had some rough scrim scores against those guys. They're one of the best in the region but after we won that, we just knew all the hard work we've been putting in as a team has paid off.
"We weren't even thinking about Orlando [during the games] ⁠— we were more focused on defeating Divine Mind. They're like this final boss we could never beat online, so to do it on LAN was like 'holy f**k'."
The return to a LAN environment might have played into Mindfreak's hands, given their roster smattered with seasoned veterans. Everyone except Dean 'Deano' Mills has international experience on the biggest stage, and that really shone throughout the weekend with their competitive performances against everyone ⁠— including eventual winners Chiefs, with Mindfreak being the only team to take maps off the dominant side.
Junior even theorized that's why some teams like Divine Mind may have struggled: "There's a big difference between online and LAN. You can play your positions better, you don't get shot behind walls, you can hit your shots better. A lot of things I see happening to Divine Mind on LAN, you don't see that online. They never get caught off guard online, but here they're getting caught all the time.
"I've played LAN that many times. I like it. I'm pretty calm on LAN. The only thing I need to keep in mind is making sure my comms don't get out of hand."
Regardless of the games, or how teams performed, what HCS Melbourne proved above anything else is Halo Infinite has made major inroads into reviving the once-beloved esport in Oceania.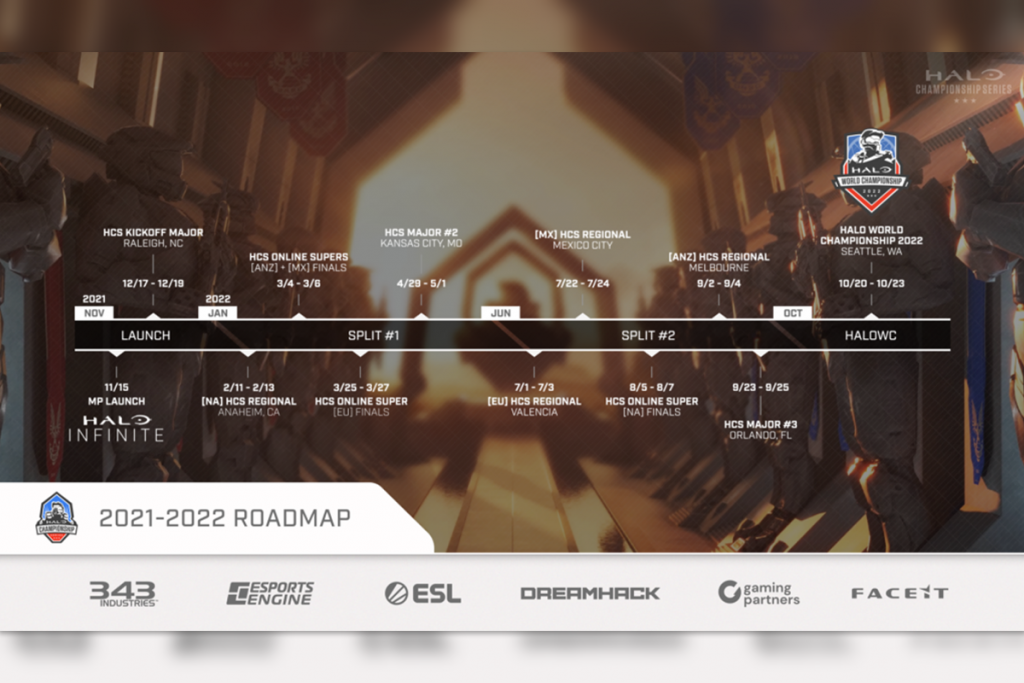 343 Industries has a roadmap with promise for events a decade from now, and the professional structure is one of the best in esports. However it becomes a challenge to balance a good esports product with the game itself, which has had a rocky launch, to say the least.
"At the moment there's more concurrent players on older Halo games than Infinite," Ninjestics mused. "It's not in a good state itself and all the pros are starting to put in GAs [gentlemen's agreements] for certain weapons and mechanics. They ask us for feedback, we give it to them, then nothing happens. It goes off into the void.
"That esports program was written assuming the game would be a stellar release and it's been a bumpy road for Halo," Junior added. "Devs say there's big things coming and the game will come out of its cocoon as a butterfly. It's an incredible game and they've done a great job, but it's not polished and there's a lot of things missing."
However this kind of talk comes from a place of passion, a rekindling of a scene that was at its most grassroots in 2019 and 2020 as Halo 5 dwindled into obscurity with Infinite on the horizon.
"All of us want us to see the game to be the best it can be because it has a good foundation," Ninjestics said. "It's just ironing out the kinks but if they can make the changes the community wants to see, the game will thrive. It's not all doom and gloom, there's still potential for it to kick off."
There's also a sense of camaraderie within the scene. The Halo community is trying to build itself up in Oceania ⁠— as teams go overseas for Majors like in Kansas City and Orlando, strategies are being fed back into the ecosystem.
New players are coming in from other underserved games like Call of Duty thanks to the esports program, hungry and eager to try and climb to new heights. It's allowing the teams to grow bit-by-bit and become more competitive in an esport Australia basically fell off the map for.
"The Australian scene is definitely getting more exposure to the level of teamwork and other skills you need to compete in America," Junior said. "There's more players who understand the teamwork structure and are trying to replicate that.
"That's testament to the amount of teams we've had over to the US and talk to each other, teach each other. It means there's not just one dominant team but there's other teams giving them a struggle ⁠— the top six is a lot closer than it has been in the past.
"We have players like Barcode, he's been helping out Divine Mind and Kitbash," Ninjestics added. "We had Seduce who used to win all the Halo 5 events helping out me as well as Immunity. Sometimes I'll have a chat with some of the guys in matchmaking and if they ask questions then I'll help them develop their game.
"In the grand scheme of things we don't compare well to the other regions like Europe and NA ⁠— competitively we're behind ⁠— but we have the numbers and infrastructure to facilitate that competitive growth and this roadmap is the first step towards that. It's starting to show with all the top teams showing up."
The second place at HCS Melbourne is perfectly timed for Mindfreak, who are hitting their stride just as it counts ahead of Orlando. Now the eyes are set on making it out of the Open Bracket, getting Australian Halo back on the map, and pushing harder than ever with Worlds on their radar.
"I've been international a few times so I'm excited to go to Orlando and push to that next level," Junior said.
---
The HCS Major Orlando 2022 is set for late September, with three Aussie teams–The Chiefs, Mindfreak and Divine Mind–all travelling to compete across the open bracket and main event.