The League of Legends World Championship is nearly upon us for 2022. The Chiefs have qualified as the Oceanic representatives after claiming the LCO 2022 Split 2 Championship in dominating fashion with an unmatched 27-1 record.
The Chiefs will join 23 teams from ten other leagues in the battle to be crowned the world's best and lift the Summoner's Cup for season 2022. As always, the path for the Oceanic representative begins with the Play-In.
This year the Play-In's will see twelve teams compete in two groups of six, all battling for the final four group stage slots. In each Play-In Group, a single round robin will be played, with the best team automatically advancing and the lowest two ranked teams going home.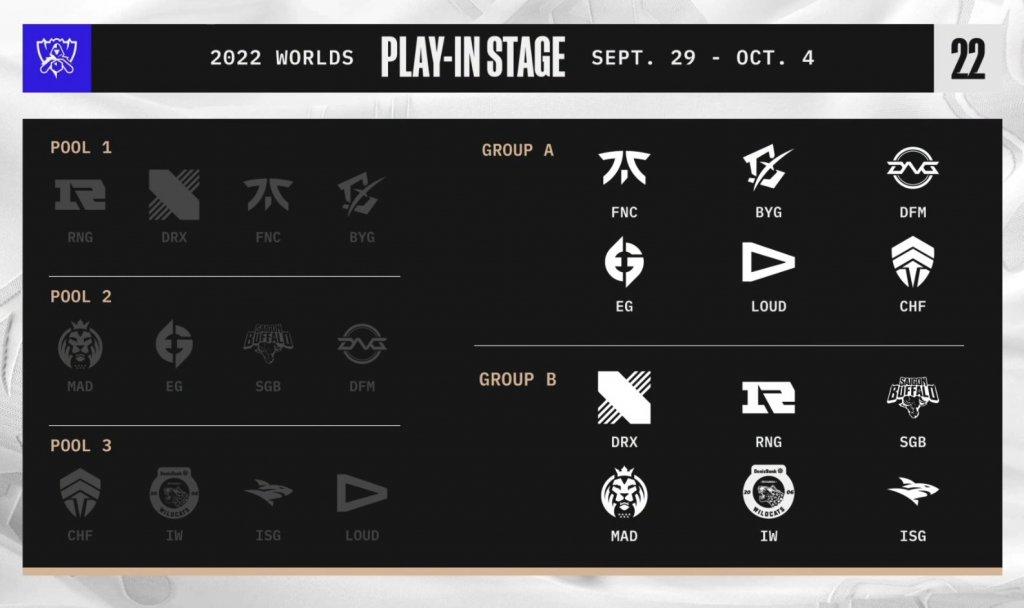 Second-, third- and fourth-place finishers will then enter into a knockout gauntlet. The third and fourth ranked teams will play a best-of-five, with the winner playing the second-ranked team from the other group in another best-of-five. To those who survive the gauntlet, the group stage slot is theirs.
Without further ado, meet the five other teams apart of Group A that The Chiefs will play first as they look to advance to the group stage and make Worlds history.
Evil Geniuses (LCS)
Oceania has already seen its fair share of North America's third seed this year. The LCS Spring Split champions were drawn into Order's group at the Mid-Season Invitational in Busan. EG showed why they deserve to be there, taking down Order with ease in their four contests of the tournament.
EG finished their Summer split 15-3 and obtained the first seed in the championship bracket. They were taken down 3-1 by eventual LCS champions Cloud9 in the second round of upper bracket. From there, Evil Geniuses had to grind it out in two long, drawn-out best-of-fives–first against TSM, and then against Team Liquid–to secure their berth to Worlds.
They also found themselves in a grinding battle for NA's second group stage spot, falling short to 100 Thieves in a five game lower bracket final.
Evil Geniuses' roster will likely look different to what we saw at MSI and most of Summer Split, however.
Botlaner Kyle "Danny" Sakamaki stepped back from the roster to take time away for his mental health heading into LCS championship weekend, and it is all but confirmed this will extend into the start of the Play-In. Hasan "Kaori" Şentürk has joined the roster from the EG Academy team and has already played with success. With more practice there is no doubt he will improve further.
Fnatic (LEC)
The European powerhouse and Season 1 World Champions return to the Worlds stage for the 11th time. Having finished a tight LEC summer season in fifth, the team had to grind it out in the lower bracket, taking down Excel in five games, before swiftly denying Misfits Gaming their last dance at Worlds in a 3-0, with the org having bid adieu to the LEC after this season.
They parlayed their success into a 3-1 victory over Europe's fourth representative MAD Lions to secure their spot in the LEC's first roadshow in three years. They fell to eventual LEC champions Rogue in the lower bracket final.
Whilst there is no doubt this team will be a powerhouse in this group, there are questions around who Fnatic will be fielding to start Play-Ins. It is yet to be confirmed if the bot lane duo of Elias "Upset" Lipp and Zdravets "Hylissang" Galabov will be starting, as the pair have been currently ruled out due to COVID, and as of yet not made the trip to Mexico.
This question is doubly critical for The Chiefs, as they will face the European giants on the opening day of play.
Even if Upset and Hylissang are to make it in time, there is no doubt they will be on the back foot, losing valuable practice time before the Play-Ins begin.
Beyond Gaming (PCS)
The second seed out of the Pacific Championship, the all-Taiwanese team make their second consecutive trip to the World Championship.
The team finished sixth in the PCS summer regular season with an 11-7 record, but fought hard to make it to a Worlds spot. They had to take down fellow countrymen J Team and Deep Cross Gaming, before being sent to the lower bracket by CTBC Flying Oyster.
They then had a hard-fought battle against PCS powerhouse PSG Talon, taking them down in five, before falling short in the rematch against Flying Oysters in a grand final sweep.
This team were feisty competitors 12 months ago; they took down Unicorns of Love twice during Play-In's to qualify for the knockouts, where they followed up with a five-game win over Turkey's Galatasaray before running short against Korea's Hanwha Life. This team will look to better that and qualify for groups once again.
DetonatioN FocusMe (LJL)
The 14-time Japanese champions will be making their fourth World's, and tenth international appearance this tournament, as the Japanese behemoths look to repeat their historic run from Worlds 2021.
The team, led by stalwart bot laner Yuta "Yutapon" Sugiura secured Japan's maiden berth to the Worlds group stage last year, winning out Group B with victories against Unicorn of Love, Beyond Gaming and Galatasaray, before taking down Cloud9 in the first place tiebreaker.
DFM had a very dominant summer split; a 19-2 record saw them finish second, having only dropped games against first seed Sengoku Haming. They met Sengoku in the LJL's "Juggernaut" match, taking them down 3-1, before bettering themselves in the grand final, sweeping Sengoku to claim the title.
DetonatioN will be looking to make their return to the group stage, and coming with red hot form, there is every chance they can run it back with ease.
LOUD (CBLOL)
The Brazilian representatives LOUD are making their maiden international debut at the World Championship after securing their first CBLOL title.
A 12-6 record saw them start in the upper side of the bracket, taking down Brazil's reigning back-to-back champions Red Canid in their opening series 3-1, before falling to paiN Gaming in a five-game classic. From there, LOUD ran the lower bracket, sweeping Furia in the qualifying final, before gaining revenge and the title in a 3-0 victory in the grand finals against paiN.
Mid laner Thiago "tinowns" Sartori should be the name most familiar to long-time League of Legends fans, having played for paiN at MSI 2021 and KaBum! at Worlds 2014.
Oceanic fans should also be familiar with jungler Park "Croc" Jong-hoon, who played for The Chiefs in 2020. LOUD are expected to show up in force and will want to advance as deep as they can into the tournament.
What this means for The Chiefs in Mexico City
Comparing Group A to the stacked Group B, which features DRX from Korea, the MSI champions Royal Never Give Up from China, as well as Europe's MAD Lions and Vietnam's Saigon Buffalo, The Chiefs have definitely drawn the easier assignment.
But with that comes higher expectations and targets. The Chiefs must aim to finish top two in this group, as finishing third or fourth will almost certainly see them face RNG or DRX to have a chance at advancing to the group stage.
However, I have faith in them to do well in this group. No team here are pushovers, and every game will be a challenge, but in a best-of-one, anything can happen. The Chiefs will not be out of any game from minute one during this stage of the tournament and should look comfortable against their initial opponents.
And hey, a perfect 21-0 record in Bo1s surely means this format of games is The Chiefs' comfort zone, no?
---
The 2022 World Championship begins Friday 30th of September at 6am AEST, with The Chiefs opening their campaign against Fnatic at 10am AEST.