Day one of LCO Split 1 for season 2023 is in the books. The new era of the LCO is here and is one in which every result matters.
With only a single round-robin of best-of-ones before double elimination play begins, there is no room for error, and a bad day, week or patch can be the difference between an easy bracket and a hard one.
Unfortunately for Peace, they find themselves on the back foot. They have failed to submit a valid roster for Week 1 due to incomplete documentation, and therefore have had to forfeit their opening two contests.
Mammoth does get to reap the rewards, however; getting a free win they would have likely struggled to get otherwise, as they proved why they have a pretty much unanimous eighth place power ranking, getting rolled by the Dire Wolves in their opening game.
Kanga will see their LCO debut for 2023 tonight after also benefiting from Peace's misfortune. They will take on Pentanet, with the 2022 Split 2 runner ups looking dominant in their opening match against fellow WA-based org Ground Zero in the "Swan River Smash" (editors note: Thanks Reece).
New to the LCO for 2023, Ground Zero looks to break into the winner's circle for the first time in the top flight, but will not it easy as their juggernaut week continues — this time taking on The Chiefs.
The defending champions proved, despite having a new top half of the map, they are still one of the best teams in the competition, taking down Bliss with ease in the opening game of the split.
Game of the night honours belongs to the third (and final) contest of the night however, as one of the new faces of the LCO in Team Bliss takes on one of the leagues longest standing contenders — the Wolfpack.
Taylor's Pick of the Week – Team Bliss vs Dire Wolves
One of the league's newest competitors, Team Bliss is looking to prove they are a contender in this league. Having acquired Gravitas' spot in the competition, they have already put out a roster more competitive than their predecessors did this decade, and are now looking to prove they can place better than them too.
And for their opening match, they were quite competitive. Taking on defending champions The Chiefs, they were able keep the pressure on for most of the game.
For the first 20 minutes Bliss went blow-for-blow with The Chiefs — and that's despite jungler Raaz "Whynot" Alfassi Berman giving up first blood in before minions had spawned.
A misjudged fight around Dragon became their undoing, however, with The Chiefs getting a clean ace and snatching a significant advantage allowing them to snowball to a comfortable 25:30 victory.
Bliss' next challenge is against the Dire Wolves. The veteran organisation is entering its 17th split in the Oceanic top flight, having first contested the Oceanic Region Tournament Grand Final at PAX Melbourne 2014, before the two-split format we are used to had even begun.
The veteran organisation is looking to continue to be the top dog in the competition they have almost always been (with the notable eighth place finish in 2019 Split 1 being the exception).
They have done this year by acquiring proven winners and mixing them with some of their top talent. Top laner Cameron "Zorenous" Abbott and Jungler Kim "Poltron" Nicholls return from the 2022 lineup, with mid laner Jesse "Chazz" Mahoney, bot laner Mark "Praedyth" Lewis and support Daniel "Decoy" Ealam joining the team.
These three all came from the highly successful 2021 Pentanet roster, and despite going their separate ways in 2022 (Chazz with Benelux Elite Series' mCon, Decoy with CBLOL's INTZ and Praedyth staying at home to run it back with Pentanet), the three have reunited under a new banner, looking to recreate their magic and continue their successful SEND IT mentality they had in 2021.
Thus far, it has seemed to work, although it is early days.
They faced Mammoth, considered the weakest competition in the league, and rolled them over in a dominant one-sided affair. The Wolfpack will be looking to prove that they can repeat this feat against a higher-calibre opponent.
I believe they will win once again today, but the affair will be a lot closer. Bliss will fight and not be an easy pushover, and they can realistically even take this contest.
I suspect this will be the closest contest of the split so far, and should hopefully be a banger to close out the week.
Week 1 Day 2 Predictions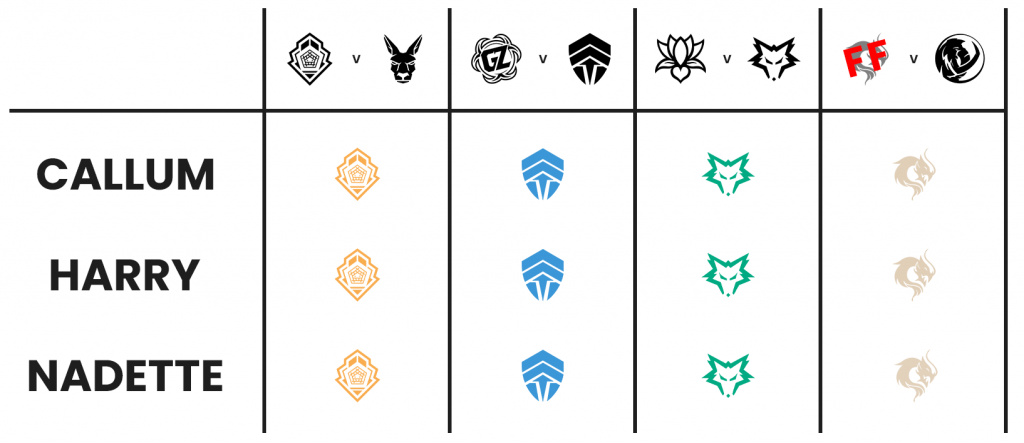 ---
The LCO Split 1 resumes tonight at 6pm AEST, with game of the day Dire Wolves & Bliss set to close the evening at 8pm AEST. Catch up on all the split details in our ultimate coverage hub.
Follow our prediction team @CDMLoL, @ImHarryTaylor & @NadetteOCE on Twitter.