The second week of Stage 1 of the LCO is underway. Seven of the eight teams that make up the LCO have planted their flag and are looking at fighting for the best possible positioning they can.
One team, Peace, still find themselves at the start blocks however, having to once again forfeit games due to an incomplete roster, seeing them now start their season 0-5.
Team Bliss will be beneficial to Peace's inability to play tonight. The new kids on the block receive a bye after the team's first victory of the split, as well as their first victory as an organisation, when they took down Kanga in a close affair yesterday.
Ground Zero, the beneficiary of the free win from Peace's forfeit last night, looks for their first competitive win of the split.
It will not be easy — they take on the Dire Wolves, who ride the momentum after defeating defending champions Chiefs in their first regular season loss since the end of Split 1 2022.
Kanga and Mammoth also look for their first competitive wins of the split when they face each other. Both sides were able to put the pressure on their opponents early in their contests last night but were unable to convert it into a lead or a victory.
Game of the night and game of the week honours, however, belong to the third game of the day, in a 2022 Split 2 Grand Final rematch as The Chiefs take on Pentanet.
Taylor's Pick of the Week — Chiefs vs Pentanet
If I had written this prediction 24 hours ago I expected that I would have been talking about the battle of the last two undefeated teams in the league.
A lot can change in 24 hours though, as now I write this piece with only one of these teams being able to say they are yet to suffer a loss.
Defending champions The Chiefs were slain in a domestic best-of-one for the first time in 315 days last night as they fell to a dominant Dire Wolves in a riveting contest.
The game was close, even slightly in The Chiefs' favour for the first half to two-thirds of the contest, but a Baron steal from Kim "Poltron" Nicholls for the Wolfpack just shy of 26 minutes in flipped the script.
DW then took Mountain Soul a couple of minutes later, and momentum fast swung away from the defending champions, who eventually saw their Nexus crumble — their 24 domestic best-of-one win streak in tatters.
Pentanet comes into today's game looking to continue their undefeated run. After a pair of clean, dominant victories against Ground Zero and Kanga to start their season, they faced Mammoth to open their week two account.
This game cannot be considered as dominant or clean as Mammoth saw themselves keep themselves relatively level in the contest during the first 15 minutes of the game.
But Ryan "Chippys" Short reminded the league why Olaf top is his signature pick, turning his 2/1/1 score line at 18 minutes into a monstrous 12/2/7 final KDA as he put the Perth based team on his back and carried them towards victory.
Coming into today, The Chiefs will be looking to prove they are still the team to beat in this competition.
A victory here will go a long way in making that point and they are still the favourite to secure one of two berths into the PCS playoffs, but they will need to play to near perfection to do so.
Both of these teams have proven this split they can take an inch and turn it into a mile and even a victory, so if both teams play at their best, it will come down to who makes the first blunder.
This game could honestly come down to a coin flip, but I have The Chiefs taking the victory. They have more to prove and I believe they will hold their nerve better and keep themselves playing to perfection.
Week 2 Day 2 Predictions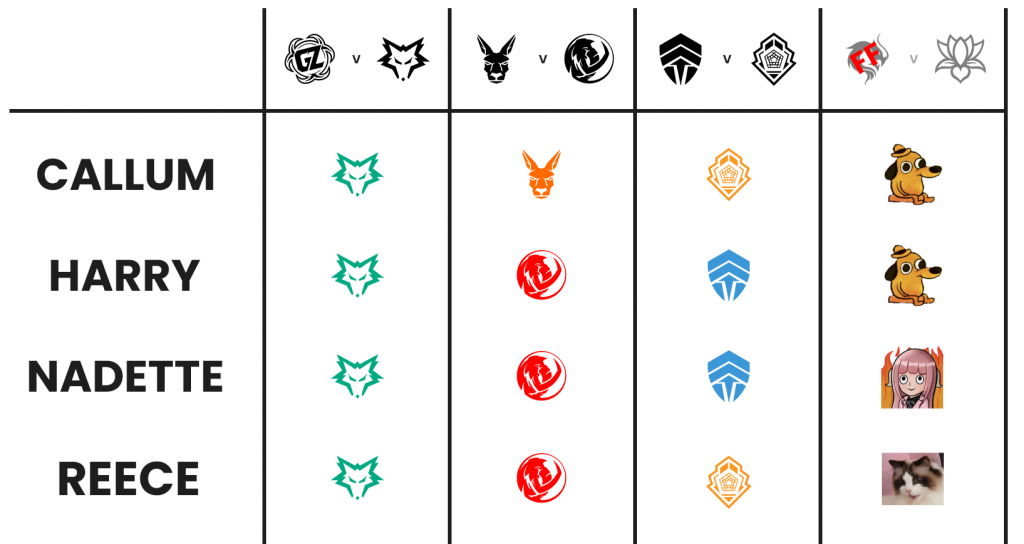 ---
The LCO Split 1 resumes tonight at 6pm AEDT, with game of the day Chiefs and Pentanet set to close the evening at 8pm AEDT. Catch up on all the split details in our ultimate coverage hub.
Follow our prediction team @CDMLoL, @ImHarryTaylor, @NadetteOCE and @Ties_AU on Twitter.