The LCO is on the final stretch towards their playoffs and PCS playoffs. Two teams — Pentanet and The Chiefs — have confirmed their spots in the final stage, whilst the four teams left in the league find themselves in a win-or-go-home best-of-three series to lock themselves in.
Pentanet locked in their spot in a dominant series against the Dire Wolves. In a series with two significant pauses, Pentanet took the lead early in both games, and once the pause concluded, were able to close out the games in a quick and convincing fashion.
Vincent "Violet" Wong continued his renaissance and reminded the league why he is known as "Ultraviolet" with a combined 16/1/18 performance on Aphelios and his signature pick Kai'sa.
The second game of the day saw the defending champions Chiefs lock in their spot as they were the victors of a competitive three-game series against Team Bliss.
Game one went in the favour of The Chiefs in dominant fashion, with jungler Leo "Babip" Romer and bot laner Quin "Raes" Korebrits taking control of the map.
Bliss took back control in a much tighter game two with Daystar shining on Yone to even up the series.
Raes struck back in game three, picking up the absent Zeri in the bot lane and putting on an absolute clinic with a 13/1/8 score line, showing he is still one of the league's best and that Zeri is still a meta-tier champion.
Today sees the two teams we didn't see yesterday, Mammoth and Kanga, looking for a chance at the playoffs.
Mammoth play their first competitive series in over a week, due to receiving a lower bracket bye after Peace's removal. Kanga will be looking to keep the momentum going from their reverse sweep victory against Ground Zero.
Without further ado, join Callum and I as we break down these elimination games.
Harry's Pick of the Week — Pentanet v Dire Wolves
The Dire Wolves find themselves still looking to secure their place in the playoffs after a somewhat of a shock loss to Pentanet last night.
Coming into that series, most considered Dire Wolves the favourites, and almost no one who said otherwise had it being done in two games.
But that is exactly what we got. In two hard-fought, but also pause-riddled contests, Pentanet were able to take an early momentum, and in each game, were able to close out the contest with ease after a lengthy stoppage.
This is by far the most mortal the Wolfpack have looked this split.
Their other loss this split, also to the hands of Pentanet, was in a much closer tightly-fought affair. The Wolves will be needing to shake off the loss and bounce back into form if they want to make the playoffs.
Their opponents Mammoth will also need to bounce back. They were the final beneficiary of receiving a bye due to Peace's expulsion from the league and have therefore not played a contest for a week.
The series they did last play was also against Pentanet and was a very lopsided affair in favour of the Perth-based team. The series was wrapped up in under 45 minutes of game time including the fastest map so far this split in game two, with the contest taking only 19.42.
I fully expect the Wolfpack to deliver a similar result today to Mammoth as Pentanet did last week.
They are simply a cut above Mammoth and the only way I see them losing is if they simply do not show up on the rift.
Callum's Pick of the Week — Team Bliss v Kanga
Dark horses Bliss find themselves in the lower bracket after a fighting effort against defending champions The Chiefs yesterday.
They take on Kanga, who after a much needed glow up, finally put together a strong performance and lived up to their potential, knocking out Ground Zero last week.
This should be an expected win for Bliss, looking strong over the course of the season, who unfortunately ran into a now in-form Quinn "Raes" Korebrits peaking at the right time of the season — as always.
However, the narrative for this match lies in the individual match-ups. Team Bliss in the off-season raided much of the Kanga talent, securing Lived, Leemas and Benvi. Even their coach Calvin.
The respective counterparts in Blue and Hoopa are both very much rookies who are coming into their own, and as young mechanical talents, have much room to grow, with only a few glimpses of their potential shining through.
Expect to see much of the focus to be placed on mid lane for yet another matchup.
Kanga mostly live and die by Fighto. Trimming the mid lane champion pool to target Fighto, is always a good start to get a leg up on Kanga — especially when you were on the receiving end the year prior.
This was used in the first round of the group stage matchup with Ryze and Tristana removals.
One area that Kanga may look to get a leg up is in the top lane, as for much of the split it can be telegraphed that Lived will tend to Renekton or some meat shield variant in Ornn or Sion.
Carry-oriented side laners in Jax and Fiora have demonstrated varying success in 2023, and if nothing may allow Kanga an avenue to a win condition.
Bliss will almost certainly win this series easily 2-0, however I look forward to seeing how the rookies match up to their counterparts in their third meeting.
Week 5 Day 2 Predictions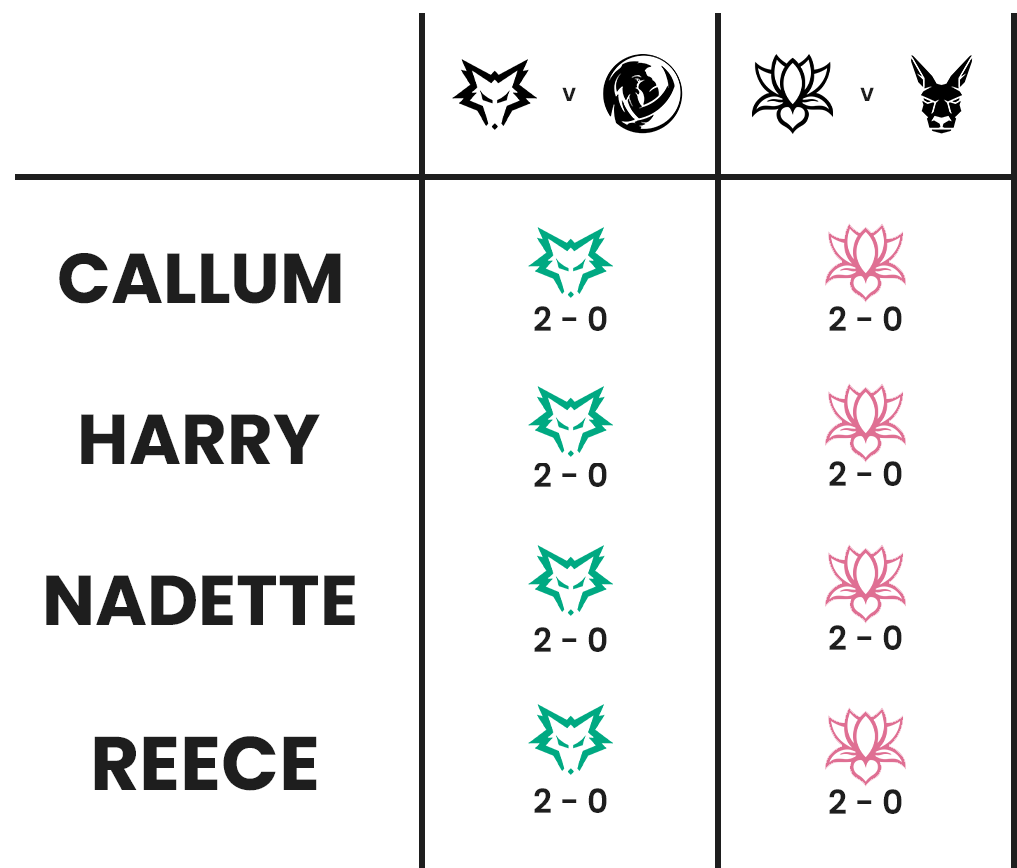 ---
The stakes are ramping up. With six teams becoming four by the end of tonight, we're in for another exciting day of LCO. Catch these games live tonight on the LCO Twitch channel, with Dire Wolves v Mammoth kicking off at 5pm AEDT.
Keep up to date with the LCO action via our coverage hub.
Follow our prediction team @CDMLoL, @ImHarryTaylor, @NadetteOCE and @Ties_AU on Twitter.