Sydney is about to get a whole lot greener. The long-awaited Fortress Sydney finally opens its doors on Saturday, April 8th in Chippendale's Central Park Mall.
The Sydney location will replicate the essence of its beloved Melbourne-based counterpart by catering to a game-loving audience, but also aims to create its own identity, largely through the introduction of the sci-fi cocktail bar, 2315.
Fortress Co-Founder and CEO Jon Satterley is eager for the expansion to come to life. "Fortress Sydney is the Fortress dream in full flight," he said.
"We're all about including and entertaining all walks of life, and we're thrilled to bring our unique experience to Sydney."
With activities ranging from trivia nights to the massive Arcade to the esports potential of the Alienware Arena, there's plenty to be excited for — but with so much to see and do, we've broken it all down for you. Here's what to look forward to, this weekend and beyond.
2315
The most intriguing and anticipated addition to Fortress is offered in the form of a sci-fi cocktail bar which is set to transport you straight into the year of 2315, in a time where the world is ruled by AI.
Expanding the existing Fortress lore and set in the same universe as the Tavern, the bar is your solace from the unforgiving post-apocalyptic world.
The AI is implemented across the setting in everything from the cocktails generated for the menu to the massive LED art installation, where patrons can answer questions to contribute a unique piece of AI generated art — ensuring that no two experiences will be identical.
The Tavern
A step towards the Tavern will transport you back in time — and also to a familiar setting, as Sydney will gain its very own fantasy themed Tavern set in the world of Fortress.
While enjoying a chicken parma and a drink, the location will also play host to a variety of events such as trivia nights, board game play, and even a Dungeons & Dragons experience welcome to players old and new.
For those seeking a fun night out, booths equipped with current gen consoles will be available to reserve all week long.
For Gamers
Aside from the food and drinks on offer, Fortress facilitates gamers from all walks of life.
PC gamers can take a seat at one of the 60 high-speced Alienware machines in the Telstra Lounge. Creators can book out one of the venue's decked out streamer pods to show off their gameplay to the world.
For those keen for some more hands-on fun, the massive Arcade is an upsize from the Melbourne location, and is sure to provide endless entertainment.
Alienware Arena
The Sydney venue will also bring an epic esports venue to the city in the form of the multi-tiered Alienware Arena.
Those on stage will have state-of-the-art computers to compete on, also equipped with shields to prevent them from sneaking a peek at the massive spectator screen.
The audience can enjoy the action from the floor or on the mezzanine in private boxes with a great view.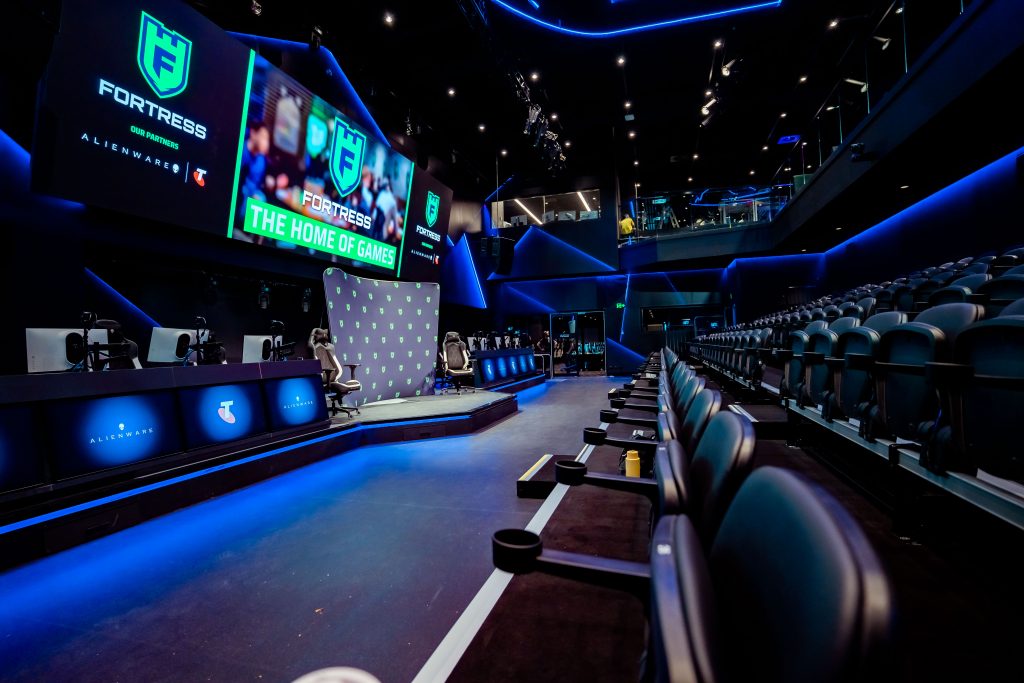 Fortress Sydney is more than just a games and entertainment destination; it's a community hub that brings people together.
With its impressive array of features, weekly events, and commitment to inclusivity, Fortress Sydney is poised to become a must-visit location for gamers, pop-culture fans, and anyone looking for a fun and unique experience.
If you and your mates are Sydneysiders looking for some excitement for the long weekend, Fortress opens its doors at 12pm AEST on Saturday — located only a few minutes walk away from Central Station.