LCO Split 2 Week 2 is upon us as Mammoth proved last night that they are bottom dwellers no more, taking the draw against Team Bliss as Yursan made his LCO debut. 
This result, however, was bittersweet for both teams. After Mammoth gained a significant lead in game one, they crumbled in a crucial teamfight in mid lane just before Ocean Soul was on the rift, allowing Bliss to turn the tides back in their favour.
Mammoth bounced back in dominant fashion for game two, proving they are here to contend with the best.
The second series of the evening showed a dominant performance by Dire Wolves, leaving newcomers Vertex to continue the hunt for their first map win next week.
After taking on some of the best the league has to offer in the past couple of weeks, hopefully they'll have greater success moving forward.
This evening will be continuing in a similar fashion, as we expect dominant performances for The Chiefs and Pentanet taking on opponents Kanga and Ground Zero respectively.
Callum's Game of the Week — Pentanet vs Ground Zero
Pentanet and Ground Zero come into this week with a point to prove as both secured draws in Week 1.
This is but the second meeting of the WA derby as, due to last split's format, only a single match was played between these teams on the first night of the 2023 LCO season–then taken by Pentanet.
Ground Zero would then go on a long hiatus after being the first team to be eliminated from the LCO in the second round of the split, waiting three months before again returning to the Rift.
Fielding a young roster, match time is invaluable, and the change of format for this split is a blessing.
However, this will take time and they'll unfortunately run headfirst into Pentanet early on in the split. Ground Zero will be looking to make Pentanet fight hard for the victories as the season progresses, laying the framework for hopeful success as a draw–much less a victory–is very much likely out of grasp.
Pentanet, however, will be looking to bounce back after what will be a disappointing start of the split against Mammoth last week. Continuing from their Split 1 inconsistencies, they had a close-fought game one before wiping the floor in game two.
Any less than a three-point 2-0 series this evening will be bitterly disappointing for Pentanet. The divide between the expected top-five teams in Chiefs, Mammoth, Bliss, Dire Wolves, and Pentanet is not expected to be much, and even the slightest slip-up may result in a fifth-seed finish. This will be particularly unfavorable due to the lower bracket position in the playoffs stage.
Week 2 Day 2 Predictions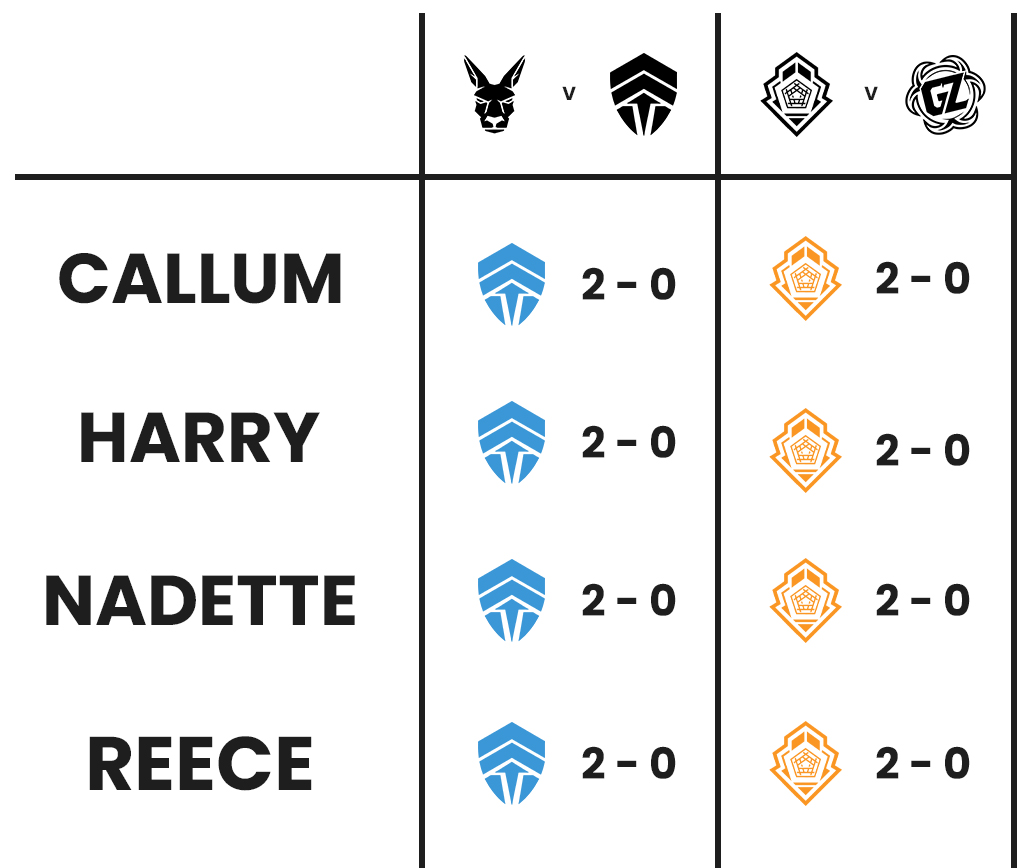 ---
The LCO resumes tonight at 6pm AEST opening with Chiefs against Kanga, followed by the Western Derby with Pentanet taking on Ground Zero. Keep up to date with the split schedule, stream, and more via our ultimate coverage hub.
Follow our prediction team @CDMLoL, @ImHarryTaylor, @NadetteOCE, and @Ties_AU on Twitter.