Week 3—the halfway mark of the regular split. Things are ramping up as teams are fighting for precious wins, looking to secure their place in the top six.
Last night, Kanga and Vertex met at the bottom of the ladder and fought for any points they could snatch off their opponents. Vertex secured their first win of the Split after game one, but with the power of Jayke's dog Pancake, Kanga was powered up for the series tie.
The undefeated Chiefs and reworked Mammoth took the following series. Although Mammoth went into the series dubbed as the "dark horse" of the league for this split, Chiefs weren't planning to go easy on them. Ultimately, the Brisbane-based team emerged from the evening unscathed once more with a 2-0 score.
Tonight will see energized Ground Zero and blossoming Team Bliss playing out the opening series on the Rift.
While the Dire Wolves and Pentanet will wrap up the week, my pick of the week is the matchup of Ground Zero and Team Bliss.
With Ground Zero making an impact last week in their series against Pentanet and Bliss with some upsets of their own last split, the gaps on the ladder are closing—it's shaping up to be a competitive series of League of Legends.
Nadette's Pick of the Week — Team Bliss v Ground Zero
Last split, Ground Zero and Team Bliss came into the LCO as side-by-side newcomers. Team Bliss made a name for themselves as the league's dark horse, even seeing the finals stage at DreamHack Melbourne.
Meanwhile, Ground Zero was knocked out in the playoffs just when they hit their stride—they even managed to take a match off The Chiefs before going down.
Despite starting at the same time, Ground Zero often found themselves in Team Bliss' shadow, but in Split 2, they're starting to see the spotlight. On the other hand, Bliss has been far from their peak form with some growing pains after bringing on Benvi's replacement in Akia.
I'm very keen to see how the botlane matchup will play out, in both the Support and AD Carry roles. Particularly last week, Eiko and Bulldawg found victory against PGG with standout performances from both players, more than proving their worth as a duo.
While Akia has had some decent plays over the course of his debut weeks, I want to see if he and Leemas will be able to withstand the pressure asserted by GZ.
However, I think the main determining factor of the series will be in the midline. Between the last split and this one, Korean import Daystar has been a shining player on Team Bliss, with an incredibly deep champion pool—and he's usually popping off whether it's a mage or assassin. I believe mfis may find difficulty in this matchup due to Daystar's experience and versatile picks to counter his own.
If Bliss' bot lane can be facilitated by Whynot and not halted by Gooby, I believe they have the potential to carry the match. Not only this but Daystar is definitely favoured to carry in his mid lane matchup as well. I'm predicting a 2-0 score Bliss' way, but if GZ's performance so far has anything to say about it, they'll be working for it.
Week 3 Day 2 Predictions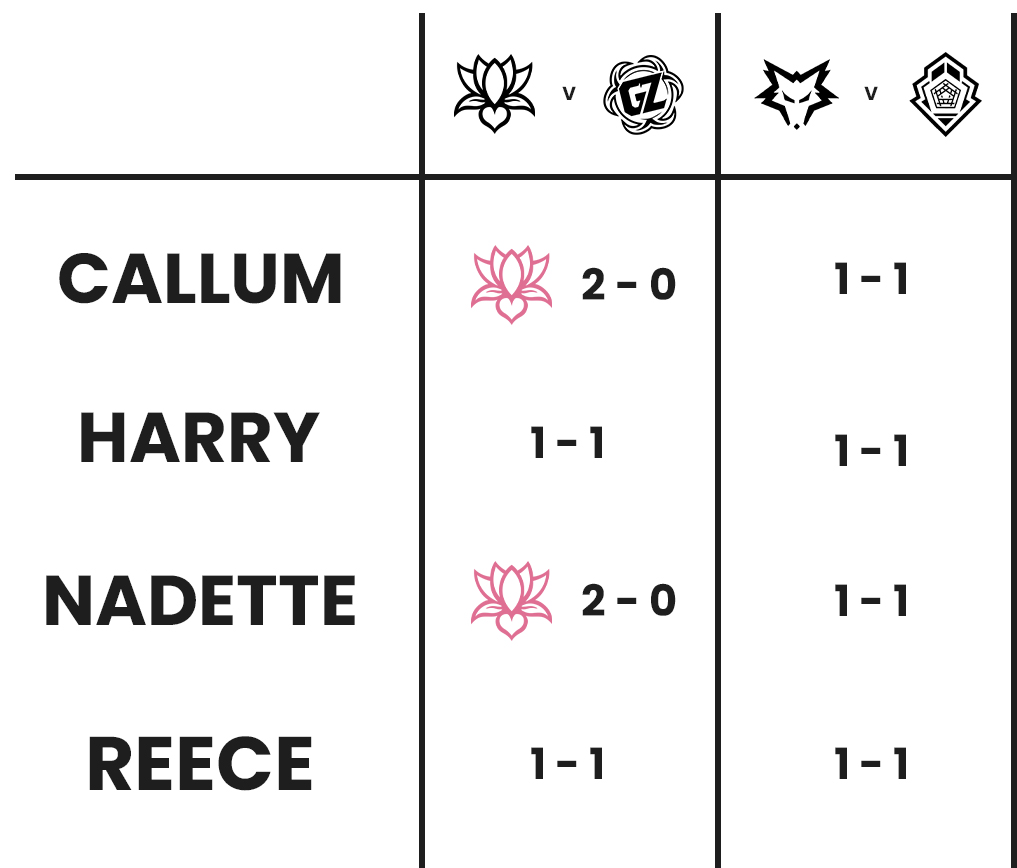 ---
Team Bliss and Ground Zero Gaming will open up day two of week three with their banger of a series at 6pm AEST. Keep yourself up to date with rosters, standings, and more in our ultimate coverage hub.
Follow our prediction team @CDMLoL, @ImHarryTaylor, @NadetteOCE, and @Ties_AU on Twitter.