The LCO Super Weeks have arrived! Six whole best-of-twos for our enjoyment, and to send off the financial year we will see four teams who can really take advantage of this opportunity to get ahead of the standings game.
Last week saw Team Bliss overcome their stumble against Mammoth by comfortably handling Ground Zero, as Daystar ran roughshod over the Perth squad with Leemas contributing ably in the first game on Draven.
Meanwhile, their cross-town compatriots in Pentanet went the distance splitting 1-1 with Dire Wolves in two brutal slugfests. Shernfire led from the front (and some might say with his face) on a pair of fight-happy junglers while Chippys showed the depth that belied his reputation. In the bot lane, Violet eked out the edge in a titanic matchup against Mark "Praedyth" Lewis—I, for one, am keen to see that again.
Looking forward to this week, and tonight in particular, we see Dire Wolves versus Kanga in a matchup I expect to play out much in the way you'd expect from third vs second-last (or third vs tied-fifth, if you will) but there is an element of intrigue in that the Kang Gang could actually leapfrog Dire Wolves with a clean 2-0.
As I said, I am expecting a relatively comfortable 2-0 for the OG Wolfpack, but they are second only to Pentanet in their capacity to stupefyingly drop games to seemingly anyone. I expect Kanga to get better as the split goes on, and with only two weeks to go after this, they will want to be starting their charge now.
If the veterans on Kanga fire, that will be closer than you would think it would be on paper.
Ties' Pick of the Week – Mammoth Esports Club vs Ground Zero Gaming
The other teams tied with Kanga on two points are where I'm looking at for the most intrigue today.
Mammoth arrive into the match the better squad on paper, but was firmly spanked by title favourites The Chiefs. Thien and Souli were soundly beaten, and Souli was notably targeted by the Chiefs in the early game.
This match will prove to be a real test of character for the squad. If they want to establish themselves as a bona fide threat, they will rebound strongly from this against beatable competition.
If Ground Zero can put them to the sword early, we may see their mettle tested with potentially split-altering consequences.
Mammoth will be wanting to get Chayon into the game. That's no great secret, and it has been reflected in their games thus far. When Chayon is involved and gets a chance to play the game from an even-or-better footing, Mammoth look tenfold better than when they don't. He's the key in their house of cards.
That doesn't necessarily mean that they need to funnel him resources like it's circa 2015 Doublelift, but if the team can lift Chayon into the mid-game at parity, or better, then he is well-equipped to carry them the rest of the way.
Across the Rift, save for one Mammoth game (pun medium-intended) from Tron, Ground Zero rely on Gooby and mfis to fire. I've used this phrase in these pages before, but it's time to break out the nursery rhyme analogy again. When they're good, Ground Zero looks very, very good.
But when they're bad, it's horrid.
This creates an interesting dichotomy where the power in the map draws attention to the bottom half of the map—will each team meet and fight strength-to-strength in huge Dragon skirmishes? Or will one team blink and try and snowball through a top lane that feels wildly volatile?
However these teams choose to focus, this shapes up as a matchup that offers intrigue and the potential for fun, explosive games. I tend to favour backing the best player in these matches, so I'm giving the edge to Chayon and Mammoth to win two close games.
Week 4 Day 1 Predictions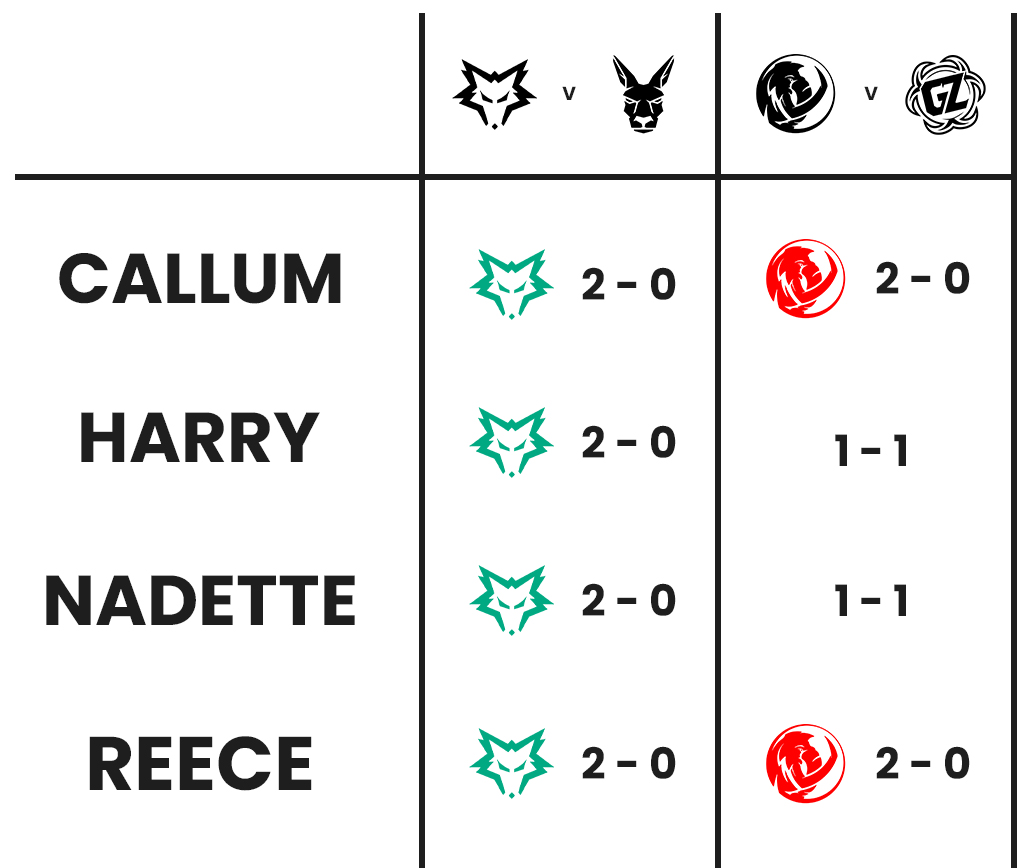 ---
Dire Wolves take on Kanga in our first Super Week match at 6pm AEST, with match-of-the-day Mammoth-versus-GZ beginning at 8pm AEST. Keep yourself up to date with rosters, standings, and more in our ultimate coverage hub.
Follow our prediction team @CDMLoL, @ImHarryTaylor, and @NadetteOCE on Twitter.