The second LCO Super Week takes us just over the crest of the split before things plunge into chaos with playoffs coming at our eight teams quickly. 
Monday saw Kanga and Mammoth kicking things off, a dominant performance from Chayon throughout the series enabling Mammoth's stampede to an undefeated victory.
Team Bliss and Pentanet had an explosive series of their own that ended with a 2-0 in Bliss' favour, who are now tied for first place with The Chiefs and securing a place in playoffs.
Tonight, Ground Zero faces off against the league's leaders in Chiefs with Kanga and Team Bliss following up in the latter half of the evening. 
My focus for today will be on the matchup between last split's reigning champs and the team that almost gave them a run for their money during the Split 1 playoffs—Chiefs and Ground Zero.
Nadette's Game of the Week — Ground Zero v The Chiefs
On paper, this matchup is one-sided. On opposite sides of the leaderboard, The Chiefs sit in first place while Ground Zero is at the bottom once more, tied for seventh alongside Kanga as the day has commenced. 
With Bliss tied for first, The Chiefs seek to assert themselves at the top while Ground Zero is a mere two points away from playoffs at this time. With the current format, if they managed to secure a perfect series from The Chiefs, the three points would be enough to lift them into that top six safe zone going into week six.
Since their win at DreamHack, The Chiefs have had a near-perfect split, dropping a singular match against Pentanet last week. Aside from this, star performances in all roles are the team's strength. 
That being said, their last run-in was during their best-of-three in Split 1's playoffs. To recap quickly: The Chiefs took the first match as expected, but Ground Zero got upset in the next, and their draft for the third gave The Chiefs a run for their money. Unfortunately, the game couldn't be played out due to technical difficulties, forcing Ground Zero into the loser's bracket where they were eliminated.
Since then, things have changed—but only a bit, with Kevy swapping into the jungle on occasion and Ground Zero bringing on Eiko as their ADC. A large part of Ground Zero's former success against The Chiefs was found in danteh, but Eiko has done a decent job of filling in his shoes, seeing some dominant performances. 
Unfortunately, with Chiefs' overall strength only increasing since their last meeting, I believe that the series will be fairly one-sided, specifically led by their bot side. If Raes isn't shut down early in the match, I believe his and Aladoric's experience will outplay that of the GZ bot lane.
I'm predicting the Brizzy-based team to continue their winning streak once more with a 2-0 victory unless one of Ground Zero's laners can find and capitalise on an early lead.
Week 5 Day 2 Predictions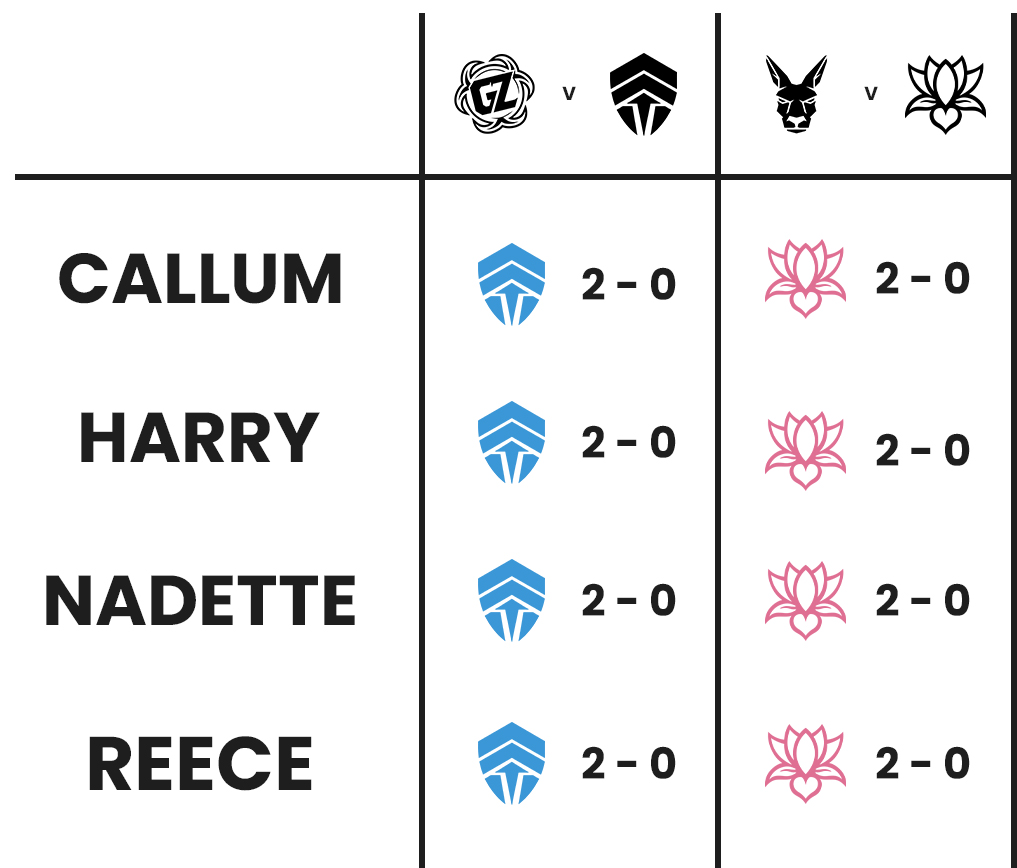 ---
Another LCO Super Week banger continues tonight. With the standings so close and playoffs around the corner, teams are stepping up to the plate, looking for their path to Worlds for 2023.
Want to know how our team's journeys have gone so far? Our ultimate coverage hub goes over the current standings, match results, and more.
Follow our prediction team @CDMLoL, @ImHarryTaylor, and @NadetteOCE on Twitter.