The final day of the second LCO Split Super Week is here. With most teams having one or two games left, every single map and series win is critical and could be the difference between top four placement, a place in the playoffs or seeing your season end early.
Whilst the top six locks in playoffs, a top four spot will grant a start in the upper side of the bracket and a double chance when it comes to the playoffs, making the path to the PCS just that slight bit easier.
Tuesday saw the top two seeds in the regular season decided—The Chiefs and Team Bliss, today tied for first place, faced seventh-placed teams Ground Zero and Kanga respectively last night.
Ground Zero was able to put The Chiefs through their paces in both games but was ultimately outclassed in both. A close affair in game one came to a sudden end in the favour of the defending champions as Quin "Raes" Korebrits secured his second pentakill of the year to wrap up the game in 24:52.
Game two saw Ground Zero keeps themselves in the contest with four Dragon secures to gain the Ocean Soul, but a botched fight for the Elder Drake saw them get Aced and The Chiefs lock up their top two placing.
Team Bliss secured their top berth with relative ease. The series was once again the Daystar show, as Yoo "Daystar" Ji-myeong pulled out the mid lane AP Kai'sa in game one to relative success, before having a perfect 10-kill performance on Ekko in game two to wrap up the 2-0. Tristan "Lived" Fulcher continued to show he is one of the best dual-threat topliners in the league, being able to play both aggressive carry and defensive bruiser champions with ease.
As a result of Tuesday's matches, Mammoth and Dire Wolves see their places in the playoffs locked in. They face off in tonight's second contest, with an eventual winner likely securing their spot in the top four as well.
Game of the day honours however goes to today's first series, as Pentanet takes on Vertex—with playoffs spots on the line.
Harry's Game of the Week — Vertex vs Pentanet.GG
Coming into last week, I didn't really see this game to be one of this much consequence.
Sure, I harp on week in and week out about how much every game matters, but I did not expect these two teams to be next to each other on the season standings. Vertex, the league's newest team, featuring the truest rookies of any team in the competition, have really come to life with their performance against Ground Zero.
Tomas "Tomasino" Pereira in particular showed that he is one of the potential next stars of the region with a monstrous 15/3/10 performance on Jayce to wrap up the club's first 2-0.
As much as Vertex has impressed especially recently, Pentanet continues to struggle. Having drawn their first four series of the split, the Perth-based squad was able to break that streak on Monday against Team Bliss, but not in a favourable way.
They had their shown run by Team Bliss, who continue their march towards securing the top spot and returning to the PCS once again. The team is not gelling as well as a lineup of this calibre should be, and they will need to sort this out quickly if they want any hope of making the top four, let alone not jeopardise their place in the playoffs entirely.
Based on the rosters on paper, victory today should very clearly go in the favour of Pentanet. Just looking at years of competitive experience when comparing the two starting lineups, Pentanet more than doubles their opponents, with a large majority of that being with Vertex's veteran support Andrew "Rosey" Rose.
But despite their lack of competitive experience, there is something to this mostly rookie lineup that is defining the odds and succeeding when they probably shouldn't be.
Vertex is primed to take advantage of Pentanet's struggle of late. Whilst I am not quite confident to say that they take this series in a 2-0, taking a game is definitely on the cards, and might just be enough for them to lock in an unlikely playoff berth few saw coming.
Week 5 Day 3 Predictions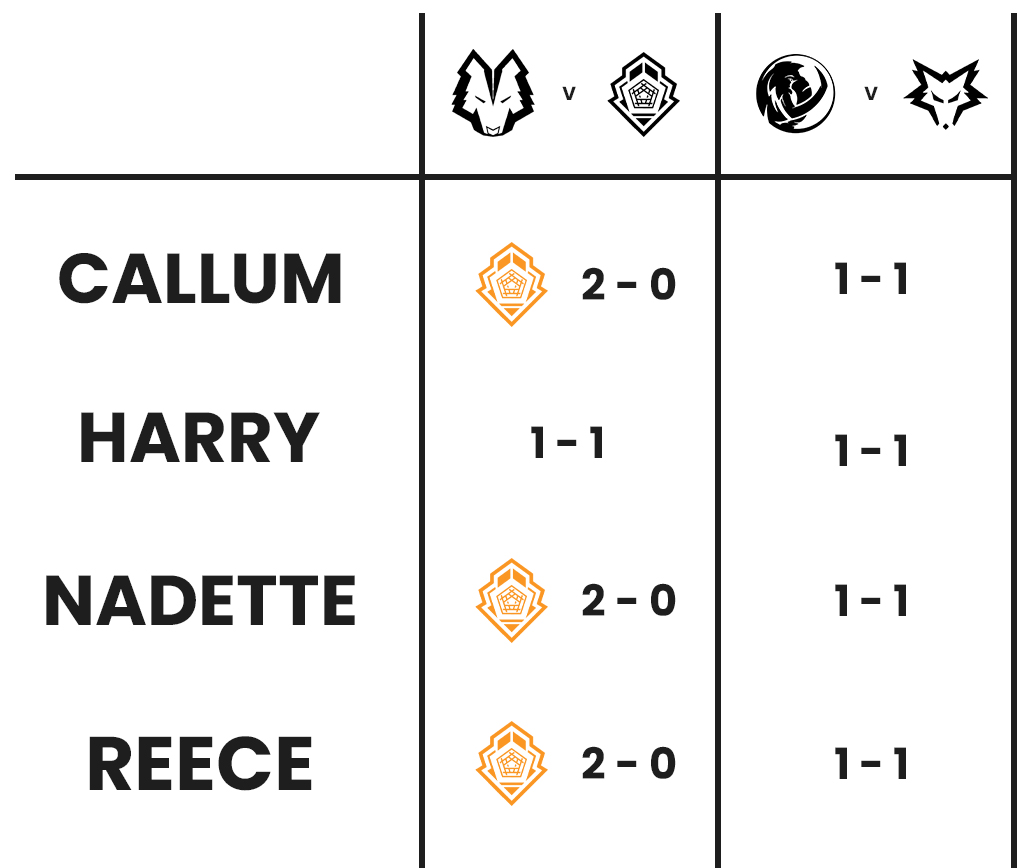 ---
Super Week 2 concludes tonight with another night of action-packed LCO competition. Check out the schedule, rosters and more on our ultimate coverage hub.
Follow our prediction team @CDMLoL, @ImHarryTaylor and @NadetteOCE on Twitter.