Well, it's here, the final day of LCO Split 2 regular season play for the year. Goddamit, Chiefs and Bliss.
In Monday's action, we saw Kanga fall to Pentanet in a match that went much as we expected. PGG handled game one in rapid fashion with Vincent "Violet" Wong putting the "Ultra Quiet" label I'd previously given him to the sword with a huge performance.
Also of note was PGG overcoming the previous boat-anchor that was the Ryan "Chippys" Short Renekton. Game two was almost as fast, and PGG finished the whole set in almost precisely 45 total minutes on the back of big damage from Chippys and Violet again.
The match of the week utterly lived up to its bidding, with Bliss clinching game one despite an Alistar clinic from Ryan "Aladoric" Richardson on the back of massive late-game poke from Leemas and Daystar. A clinical game two from the Chiefs saw them to Wednesday's tie-breaker, victimizing Tristan "Lived" Fulcher en route, who was conspicuous in his pre-game Twitter absence this time around.
Today's action sees a flurry of action around the final Playoff spot. Ground Zero has their final bid for the last spot against the Dire Wolves. A match that looks to be a tall task on paper, I would expect GZ's split to end here. Never underestimate the Wolfpack's ability to lose to anyone, though.
However, despite how unlikely it seems, a 2-0 for Ground Zero will put all the spotlight on my match of the week.
Reece's Game of the Week — Vertex vs Mammoth
Vertex will need a single win over Mammoth to secure playoffs (as they hold the tiebreaker over Ground Zero). Mammoth is in red-hot form, having won five of their last six against the teams all around Vertex in the standings. Vertex will need to take this opportunity to not just prove they belong in playoffs, but will also be looking to show their new-look lineup can cause some real damage as well.
Bringing in Lo "Siuman" Pak Man and Min-jae "Goodo" Jeong freshened up the Vertex roster, but it stood them in no better stead as Pentanet obliterated them last week. It is hard to hold them to too much account for this, as the whole roster was simply outclassed and it was only their first week together.
Mammoth is ostensibly a weaker opponent than PGG, but they're at the level that Vertex must be able to show they can hang with in order to not just be the also-ran that only made playoffs because the playoff picture was expanded from five to six teams.
The key to that is going to be their bottom lane. Wang "Chayon" Yun-Cheng and Wang "Yursan" Sheng-Yu are the grease that turns the Mammoth engine, and so Alvin "Danteh" Wong will be who Vertex turns to yet again in order to hang in the match. Andrew "Rosey" Rose has again flattered to deceive in this comeback to the top level, as fun as the nostalgia has been, but if he can stabilise the early game then Danteh is good enough to give Vertex a platform to win from.
Top-to-bottom I think Mammoth is better, and they're in form. Really the first is all they need, but the second will definitely help. I expect them to win this series, and win it without much difficulty.
Putting the results aside, Vertex has been feistier as the split has progressed, and their win over GZ was just a reward for their improvement. It felt like things were better throughout the organisation and it showed on the Rift. But they'll have to show us another level to take even a point from Mammoth. As I said earlier, I don't think they'll need it—but if they do end up needing it, expect some fireworks in this match.
Week 6 Day 2 Predictions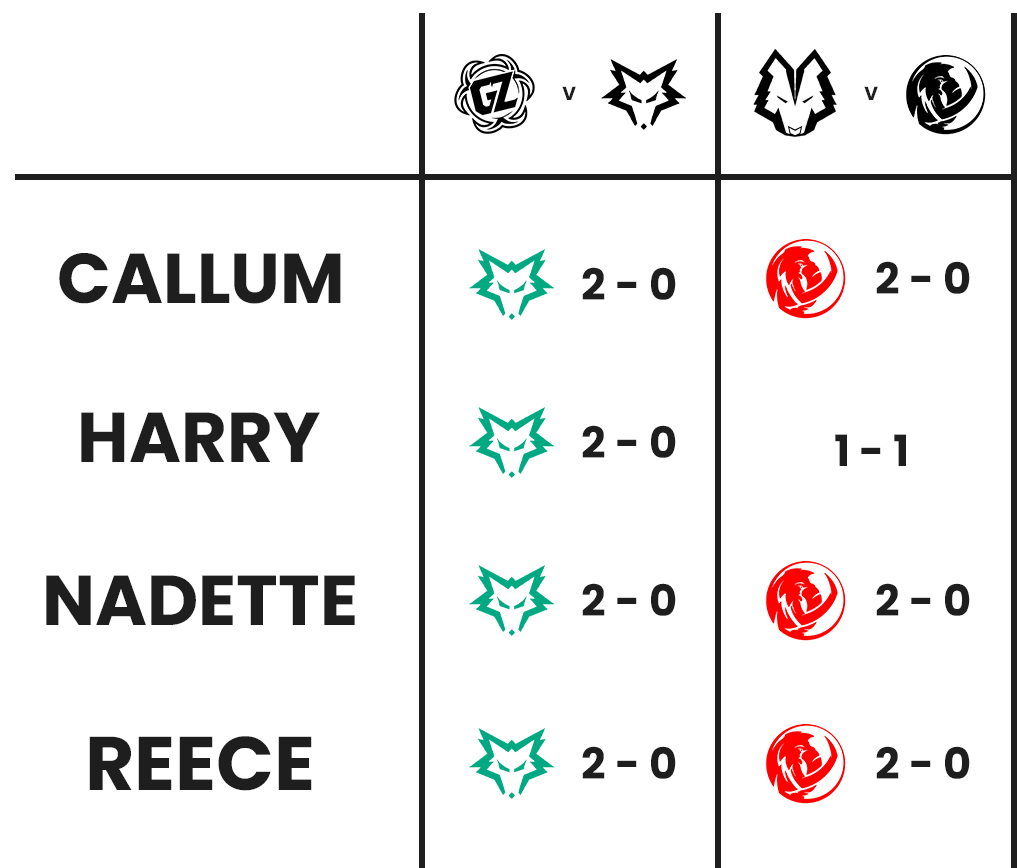 ---
The final day of the LCO Split 2 regulation season is here, and barring tomorrow's tiebreakers, by tonight's close we'll know the teams progressing to stage two—and those sent packing for an early holiday. Keep up to date via our ultimate LCO coverage hub.
Follow our prediction team @CDMLoL, @ImHarryTaylor, and @NadetteOCE on Twitter.