Ahead of the knockout phase, we caught up with Aaron "AZR" Ward and known Oceanic traitor Sean "Gratisfaction" Kaiwai individually and spoke to them both about returning to Oceania, their run through the tournament and what's next with Gratisfaction's visa issues.
With half your team coming from Australia, how did you both feel playing in your or your teammates home region?
AZR: Coming into the event,the vibes were good.I mean coming back to Australia and us wanting to play in front of the crowd and everyone's support, it feels amazing. And we had it last year, like had the crowd behind us so we really wanted it this year, which obviously sucks but coming back to Australia and playing in front of everyone, it's just a huge pride factor – just playing for your country so coming into it everyone was feeling pretty good.
Gratisfaction: I think it's cool because you get to share the experience with your friends & family. Like my family coming over from New Zealand to spectate, sadly we didn't make the stage, which is a bummer, but you still get to catch up with all your friends & family which is really good.
Grat, do you think we'll ever get to see an event like this in New Zealand?
Gratisfaction: Maybe, in a few years but at this point it's not a big enough scene there yet. I don't think they'll be able to sell enough tickets.
You guys had a bit of disrupted prep, particularly with your pro league having the visa issues. Do you think that had anything to do with not making it?
AZR: I feel like we could say it was, but we could say it isn't, it obviously sucked that we couldn't get the full on practice that we wanted heading into IEM Sydney, it definitely wasn't efficient but at the same time I don't think that's the reason why we lost here. I think us losing here was really just a mental thing. I think we just put too much pressure on ourselves because having it last year, in front of the crowd was amazing and we really wanted it again this year and IEM Sydney just being our home town, playing in front of the crowd, just put a lot of pressure on ourselves and came out flat.
Moving on to the event, I would like to touch on a couple of points. As of late, you guys have had a lot of success on Mirage, what was the reasoning behind not targeting Mirage in the early veto against Mousesports?
Gratisfaction: We tried to just pick inferno into Mousesports, we thought we would have more success on it than Mirage because we know they're pretty good on Mirage. We thought we would leave Mirage in; they would pick it as well and we knew we'd come to the third map.
You guys have had some prolific battles with Mousesports over the years including that epic bo3 last year. The result didn't go the way you wanted but is it exciting to get those year on year rivalry matches going against them? Obviously, it's a very different roster the one you played last year.
AZR: I mean like it definitely seems that way right now. We constantly keep playing them in these big games, and they keep knocking us out so, I mean it was last year in Sydney, and we had them in Odense last year in Denmark in the pro league finals, now again in Sydney and they just seem to keep knocking us out. I definitely want to get one back on them, so hopefully we can get them at the major.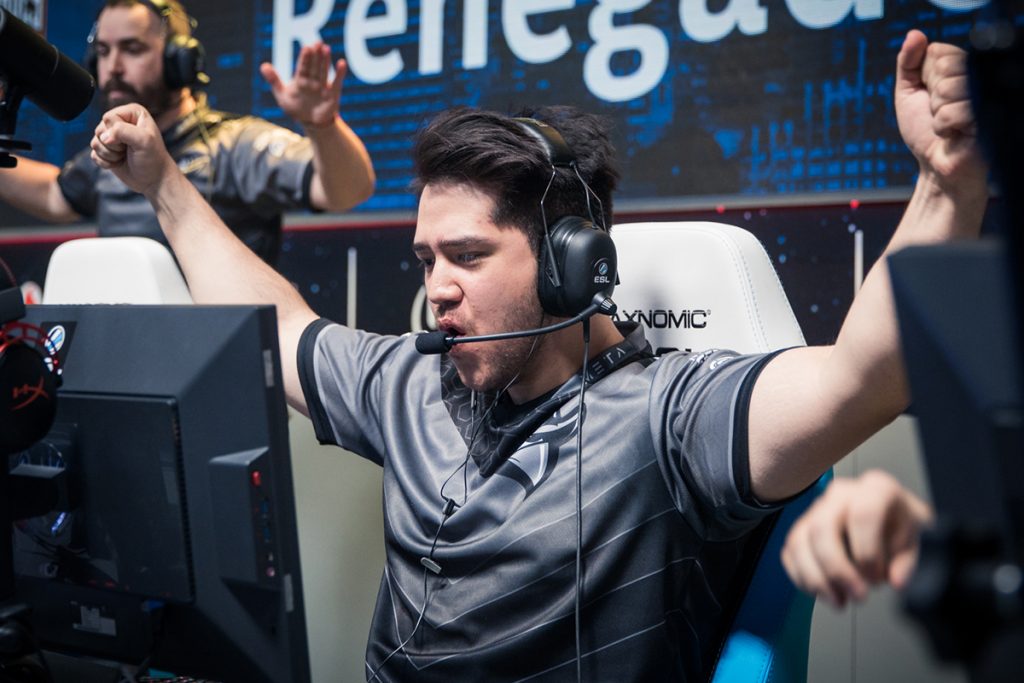 Looking forward, how is the visa situation looking for you guys for future events?
Gratisfaction: Jkaem's visa is sorted, mine isn't so after this there's a few comps in America that I'm not going to be able to attend, like Summit, at this point it's up in the air because it's still in the processing phase. Most definitely missing Pro League qualifiers which is pretty sad but after that we've got the Major coming up in Europe I can attend and Cologne as well which will be really good. So still a lot of solid comps coming up.
AZR: We'll probably have to look towards another 5th, another ringer to play in Pro League and Summit, as well as the Dreamhack Masters tournaments and then after that we'll be heading towards Europe to play in Cologne, and maybe another tournament in Portugal by then, not sure yet. Yeah but hopefully we can get Grat's visa issues out of the way because it's hurting us a lot for the future.
He's our main awper too so it's a huge thing, he brings a lot of impact and good vibes to the team, and we definitely need that so losing him if it goes as long as what it could, could be pretty detrimental. We just gotta keep our heads high and go into our games with a strong mindset.
Last question for each of you. AZR, you guys had to come back and play through an Australian event to qualify for the Katowice major. You won't have to do that for the next major which is excellent, but do you get the sense that when you come back to Australia you sort of get to show what you've learnt from all the international teams into the Australian scene and that sort of uplifts the whole scene? Do you guys see that opportunity?
AZR: Yeah I definitely think so, I mean it's maybe not for as long as what these teams would probably hope but when we come back and obviously when they play us I'm assuming they would learn a lot because we learn a lot overseas because we have opportunities to play a lot more tournaments against Europeans and Americans. So, I'm assuming when we come back teams can learn. [laughs] I was listening to the Chiefs communication the other day and they were saying 'yeah let's do the "Renegades strat"' so I think the teams can definitely benefit when we come back for sure.
In the long run you could be responsible for the next great wave of Australian CS players by bringing it in. Grandfather AZR bringing the Australian scene up – in 20 years you'll be able to tell the kids about that one!
AZR: Yeah man! [laughs] Definitely for sure.
Grat – you've been in a couple of media-type things, a couple of funny skits specifically with the Grayhound guys, is that something you get a kick out of, to be able to expand your brand as a player? What do you get out of these?
Gratisfaction: Usually I just get asked to do it and I'll do it, if it's funny enough. If it seems enjoyable then I'll do it.
Do you get any creative input on that? Or is it more 'hey we got this idea; can you act it for us'?
Gratisfaction: It's usually unscripted so yeah, I have some sort of creative input but personally they have the ideas for the skits like, we just act it out as we would.
---
After missing the mark at [IEM] Sydney, Renegades fans will have lots of chances to see how the team adapts to Smooya standing in as they have Summit and Dreamhack Masters coming up over the next two weekends.