Hearthstone star Dylan "FroStee" O'Mallon has signed with Legacy Esports, marking the first time the Oceanic organisation has entered the competitive collectible card game.
According to Legacy's head of esports, Tim "Carbon" Wendel, the move was a no-brainer after FroStee was invited to the multi-region Grandmasters tournament.
Hosted by Blizzard, the league-play competition sees 16 players from each of the Americas, Europe, and Asia-Pacific come together to prove who is the best Hearthstone player on the planet, and Carbon knew it was a perfect opportunity to further Legacy's fundamental goals.
"The goal of our organisation is to help people take the next step from high-level hobbyist, to ultimately a full-time competitor in their game titles," Carbon told Snowball Esports.
"FroStee is highly skilled, and has shown that he gets invited to international events. This signing follows the same ethos that we have with Starcraft, where we want to give players the opportunity to play internationally against the best in the world.
"We're very excited to have another international level player on the squad, and we're looking forward to seeing how he goes in Grandmasters. He will also be focusing on streaming more, so that he can build a following there, and if he can achieve highly in both of those that will be a success for Legacy in partnership with FroStee moving forward."
A @LegacyOCE tour of the @Adelaide_FC facilities for #HearthstoneGrandmasters @FroSteeHS @OCECarbon #blizzard #esportsAU @snowballesports pic.twitter.com/nuv5CjjRV6

— Nigel Smart (@Nigel_Smart) June 3, 2019
Carbon revealed that he had been keeping tabs on Hearthstone esports for some time, and believed the Blizzard title had just come off "one of its better years" since its initial release in 2014.
"Hearthstone's last year was its best in the last three or five, in terms of growth, and it's just one of those games that hasn't seemed to go away despite what people may say," he said of the online card game. "People still play it every time an expansion comes out, and it still lands in the most-watched categories on Twitch really regularly.
"Hearthstone's one problem has been that there was no major format like League of Legends' Championship Series, and now the new Grandmasters tournament is one of the first steps towards that goal. FroStee is the only Australian player that's been invited to that, so we knew that we had to get onboard and help him achieve his dreams in that realm."
For Carbon, who himself rose to fame in Australia after proving his talents in the Oceanic Pro League with Avant Garde, said his personal aim within his organisation was to "give new stars that extra support" in chasing their ambitions.
"One of the great fortunes of my life really is being able to turn what I love to do into a job, and I want to try and extend that to as many people as I can with Legacy," he said. "If you have the drive, and the skill, to make it work, and all you need is just that extra support, then I love to provide that for people.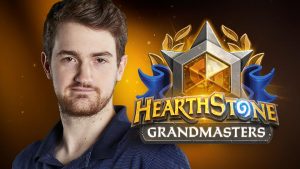 "Of course," he added," it has to make sense for both parties as well, but I get a real kick out of helping that came from the same place I did, and then see them do the same thing. The first thing I said when I retired was that I couldn't want to help provide these opportunities too."
FroStee has already played six matches in Grandmasters Season 1 Asia-Pacific. His most recent victory came against South Korean representative Ryvius. FroStee scored a 2-0 win in back-to-back Paladin vs Hunter matchups.
Australia's Grandmaster representative next takes to the stage in Week 4 of the tournament series. Now under the banner of Legacy Esports, FroStee will play against tom60229 in a best of three series on June 8. The match will begin at 10pm AEST.
Blizzard's Grandmasters format has seven weeks of pool-play, before the top three players from Groups A and B in Asia-Pacific enter playoffs. The competition boasts a $500,000USD overall prize pool, with each match victory in the pool battles earning players $500.
---
Follow FroStee on Twitter at @FroSteeHS, and on Twitch at twitch.tv/frostee_hs to support him during his Grandmasters journey, and keep up with all results as they happen at @LegacyOCE.