Sheldon "Seither" Barrow has once again triumphed in the ESL ANZ Starcraft 2 weekly cup, with the Terran player crushing through the tournament to record a flawless victory, without a single map dropped. 
In a final which featured a double representation from team Mindfreak, Seither carefully inched through his opponent, Zerg player MightyKiwi in the first two games.
They were games of little victories adding up to bigger ones, with Seither crawling further and further ahead through smart harassment and drop play, before winning the first two games with some decisive fights.
2-0 down and facing an elimination, MightyKiwi brought a crazy changeup in the form of a worker rush.
The rarely seen move failed, giving Seither the third map and the tournament in a final game which lasted only one minute and five seconds.
Seither, who missed last week's ESL Cup, said afterwards he wasn't annoyed to miss last week despite winning the last two tournaments he has appeared in.
"[I'm] not at all [annoyed], we got to see the return of HuT! And if I have to die next week for the return of Crimson, then so be it."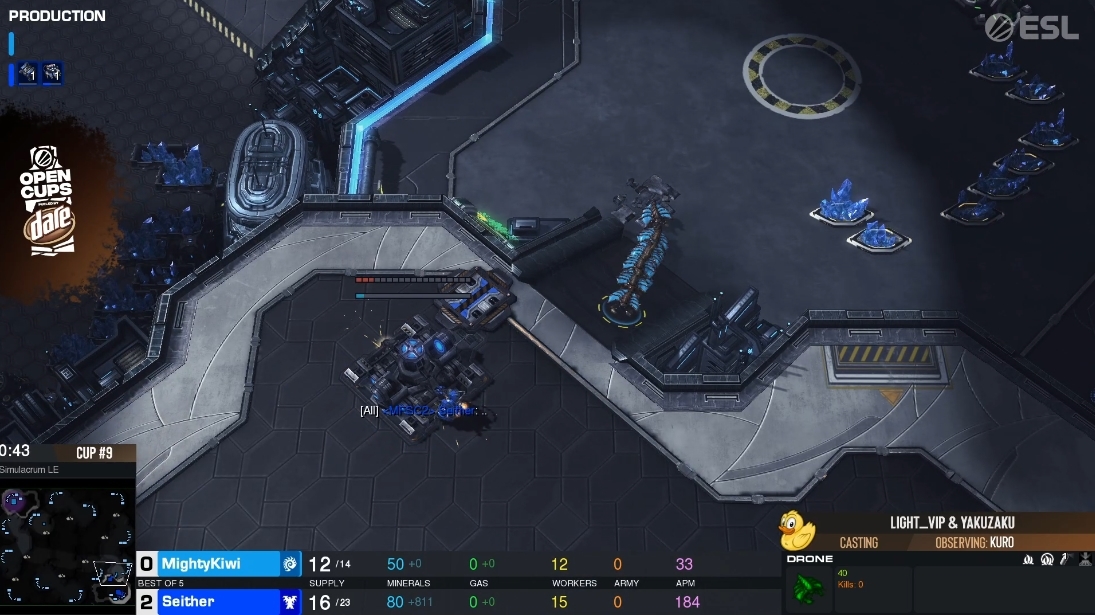 Despite not dropping a map throughout the tournament, Seither's run was anything but easy.
With the lack of seeding in the winner takes all tournament, round one saw Seither face off against main ANZ rival Probe in the first round, giving us a rematch of the final three weeks ago.
After overcoming that test, he was then faced with a match against Demi before facing a relatively new name on the scene in Vietnamese Protoss player JusticeSimon in the semi-finals. JusticeSimon recorded his best-ever finish before falling to Seither, beating Australian player Phoenix and Legacy's Azure on the way.
Despite the hard match up early on, Seither thinks the current style of the tournament works.
"It doesn't bother me as long as the tournament only rewards first place," Seither said.
"Some problems with seeded cups I've found in the past is you end up getting the same opponents every round and that gets boring."
Elsewhere in the bracket, it was a good showing for MightyKiwi, with the sole Kiwi representative making it to the final, beating zerg player Chase and two time finalist Pezz on his way to the final.
---
The ESL SC2 Weekly Cup, fueled by Dare runs every Tuesday night, starting at 19:00 AEST and is open to players of any skill level in the OCE / SEA region.
Find more info at the official site.
Imagery supplied.