Welcome to Snowball Esports regular coverage of CouchWarriors League 2020!
Australia's fighting game community is one of our strongest and certainly most storied esports scenes, with strong representation in every state and a history of successful majors attracting overseas attention and talent. The CouchWarriors League provides a unified national ranking over the year's events, culminating in a tournament playoff for prizes and sponsorship.
Due to COVID-19, the majority of 2020's local events have been replaced by weekly online tournaments, where the best players from around the country clash in the one bracket! The major storylines and leading players in each game are recapped in our piece from earlier this week.
Out of the four major games covered as part of the CouchWarriors League, Tekken 7 continues to be the most unpredictable and hotly contested. Months of national competition in these online events has failed to show a single dominant champion. Instead, a host of talented and dedicated players are constantly one-upping each other as they struggle to reel in the points totals amassed by ranbat winners in the first months of the year.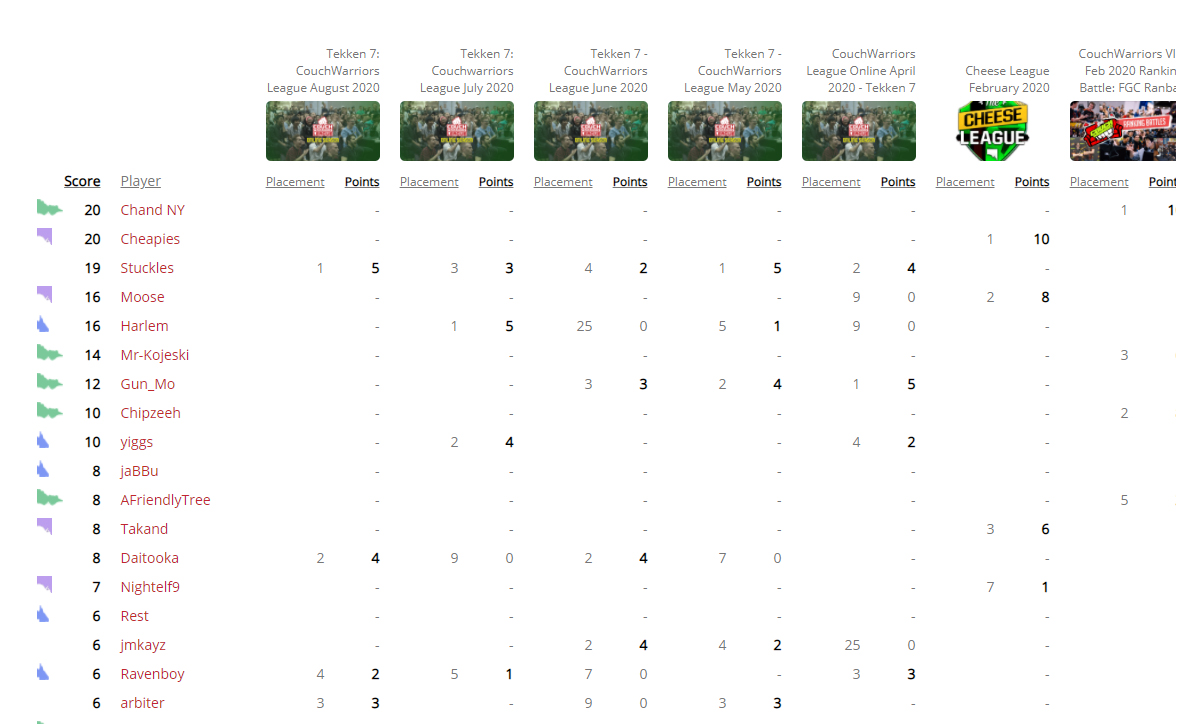 Six grinders in particular have been consistently scooping top points; Lucky Chloe main Chris "Stuckles" Stuckey, Queensland champion Harlem, community mainstay Kun-Mo "FAM|Gun_Mo" Yon, Master Raven players Raphael "FAM|Daitooka" Batskos & Peter "Ravenboy" O'Flanagan, and online warrior "arbiter".
All except Gun_Mo were present for August's online CWL tournament, setting the table for a day of top-tier matchups between this leading group. But we had to wait until Daitooka and arbiter met in Winners Finals for the first such showdown, with the rest having suffered upsets before they could ever encounter their rivals! Daitooka and arbiter immediately made up for it by putting on a thrilling 5-game set between two of Tekken's most acrobatic fighters.
The Winners Final goes down to the WIRE!
Arbiter comes from nowhere with Zafina to challenge @daitooka who hangs in to make it through to Grand Final.
Keep up with the #Tekken #CWleague action:https://t.co/8PI72ah0rz pic.twitter.com/sb8Jvz9Wem

— CouchWarriors (@CouchWarriors) August 15, 2020
Daitooka was able to clutch things out for the TEKKEN Family, sending arbiter down to Losers to earn his runback. That lower bracket had proven a deadly shark tank all day, as even the players who had scored early upsets in Winners were chewed up by the other top seeds. Michael "dimmy" Albanese assassinated Harlem but then fell in straight sets to Daitooka and Stuckles.
Jimmy "2165|McCheese" Mak took out Ravenboy in just the 2nd round, but couldn't get past Stuckles and arbiter. Meanwhile Ravenboy himself recovered to knock out Abdul "DHT|Deception" Dib, who had been the one to put Stuckles in Losers!
Eventually things narrowed down on with Stuckles finally ending Ravenboy's run in Losers Semis, and then carrying that momentum over into a surprisingly dominant set over arbiter. One possible reason for the 3-0 steamrolling might have been character unfamiliarity – Stuckles changed things up from his favourite Lucky Chloe in this event, repping T7 newcomer Eliza.
Far from the most common character, arbiter looked a little underprepared for Eliza's projectiles & meter-based offense. It was enough for Stuckles to stick with the narcoleptic vampire going into Grand Finals.
Breaking through to Grand Final, @Stuckles_ takes it over arbiter. Now catch Eliza vs Raven in Grand Final vs @daitooka!#Tekken #CWleaguehttps://t.co/8PI72ah0rz pic.twitter.com/BzFdP5PCHk

— CouchWarriors (@CouchWarriors) August 15, 2020
Daitooka also stumbled against this new weapon in Stuckles' arsenal, giving up the Grand Finals reset 0-3 against Eliza. Taking advantage of the break, Daitooka came back to start the second set on Kazuya, and showed much greater comfort in ending Stuckles' 8-game Eliza winstreak.
This single loss was enough to send Stuckles back onto Chloe, not wanting to let Daitooka win without facing his main. Chloe's chaotic, breakdancing offense was too consistent in locking down Kazuya's options; while there continued to be close rounds, Stuckles steadily advanced through the next three games to claim the 1st place points and a Steam Gift Card provided by CouchWarriors.
Woo! A big run through losers bracket ends in a deadly breakdance. @Stuckles_ resets and wins 3-1 over @daitooka
Action packed tournament, thanks #Tekken community for joining #CWleague, catch you next month!

Stuckles wins a Steam Voucher on us. https://t.co/hZfHncle57 pic.twitter.com/SVHKUCue9z

— CouchWarriors (@CouchWarriors) August 15, 2020
Having made top four in every CWL Online event, winning two, Stuckles has finally managed to move within a breath of the overall league leaders. Melbourne's Naveed "Kanga|Chand NY" Iqbal and South Australia's "Cheapies" are both proven competitors in offline events – Chand NY is a past winner of the BAM Path To EVO, precursor to the CWL.
But neither has competed since competition moved online in March, and now it seems that the netplay cadre is set to overtake them. Will either be inspired to pick up the sticks again now that their lead is under threat? We may learn the answer in September.
---
Next week's CWL event features Smash Ultimate: signups are open here! You can always check the current rankings for any of the 4 featured titles here.