Welcome to Snowball Esports regular coverage of CouchWarriors League 2020!
As we covered in our last report, the leaderboards for the inaugural CouchWarriors League had been shaken up by the announcement this year's remaining tournaments would offer double ranking points. The Tekken 7 race was already close; now it was virtually open season.
Despite the heightened stakes – further amplified by this event's inclusion under the official PAX Online banner – the spike in registration witnessed in other CWL Online events this month didn't materialize.
This bracket saw a bump in quality rather than quantity – Naveed "Kanga|Chand NY" Iqbal signing up for his first CWL Online event of the season, while "Moose" from SA entered for the first time since April.
Two of the very best in the nation, the double points incentive had finally forced them to pick up the sticks again in defense of their leaderboard rankings.
Reminder! Don't miss this SUNDAY – #Tekken7 is part of both #CWLeague and #PAXOnline
Winner takes 10 big leaderboard points & a @Razer BlackShark v2 Headset.

Rego: https://t.co/FTUjmEkBzT
Stream: https://t.co/8PI72ayBQ9
Cobroadcast with @PAXAus https://t.co/fJovCJDref pic.twitter.com/m0QDaawlGu

— CouchWarriors (@CouchWarriors) September 18, 2020
But it would not be so easy – Tekken is a scene full of underrated killers, where no matchup is truly free. Poor Moose immediately demonstrated this by crumbling 1-2 against hardworking Melbourne player Abdul "Deception" Dib, crippling his hopes of a big finish this month.
Perennial dark horse "arbiter" also fell afoul of an upset; this one by "Juicy Penguin", a heretofore unranked player whose last tournament under that handle was in 2017!
Meanwhile, the addition of two top seeds to the bracket had forced many of CWL Online's usual top finishers into the same section of the bracket. After cruising into August's Grand Finals undefeated, Raphael "FAM|Daitooka" Batskos was stopped in Winners Quarters by top Queenslander Harlem Barriball.
Harlem looked to be replicating his winning form from July as he followed that up by defeating 2nd seed and defending champ, Chris "Stuckles" Stuckey! If he could just take the next step and overcome top seed Chand NY, Harlem could be poised to seize control of the CWL leaderboard. But it wasn't Chand waiting for him in Winners Finals…
The BAM Path to EVO champ had been brutally interrupted in his comeback performance, knocked into Losers by one of Tekken's rising stars – The Hangman Kid. The exciting King player had caused a stir with his run at CouchWarriors Crossup last December, but hadn't yet followed that up with results in 2020.
His meagre 2 ranking points vastly understated his potential – potential that he finally realized as he crushed Harlem 3-0 to enter Grand Finals with the bracket advantage!
Unfortunately for our plucky lower seeds in Losers, our ladder leader decided he had seen enough upsets for the day. Chand bundled out Stuckles and then sent Harlem packing 3-1 in Losers Finals to earn a redemption match against Hangman Kid.
His run was made even more impressive by his how confidently and smoothly he was able to rotate through his deep arsenal of characters; a troubling sight for anyone hoping to snatch his crown at the CWL Season Finale.
One for the ages! After @hangmankid knocked @Naveedi07 to losers, he came back fiercely with 20 Deathfists to reset & win. That's some good A #Tekken!
Naveed claims 10 #CWLeague points + @Razer Blackshark v2

Thanks to all the players!
Check your points https://t.co/hZfHncle57 pic.twitter.com/EjiYG5KlCh

— CouchWarriors (@CouchWarriors) September 20, 2020
Hangman had been able to overcome Chand's Fahkumram – itself ranked at "True Tekken God" – in their earlier encounter. This time, Chand made the switch to Paul Phoenix and unleashed a merciless barrage of Deathfists!
The Kanga veteran found his big-damage option a staggering twenty times in Grand Finals, quickly resetting the bracket and then overrunning Hangman Kid completely to take the match. So while the path was not straightforward, Chand NY's return to CWL competition ended up as most would have guessed: triumphant.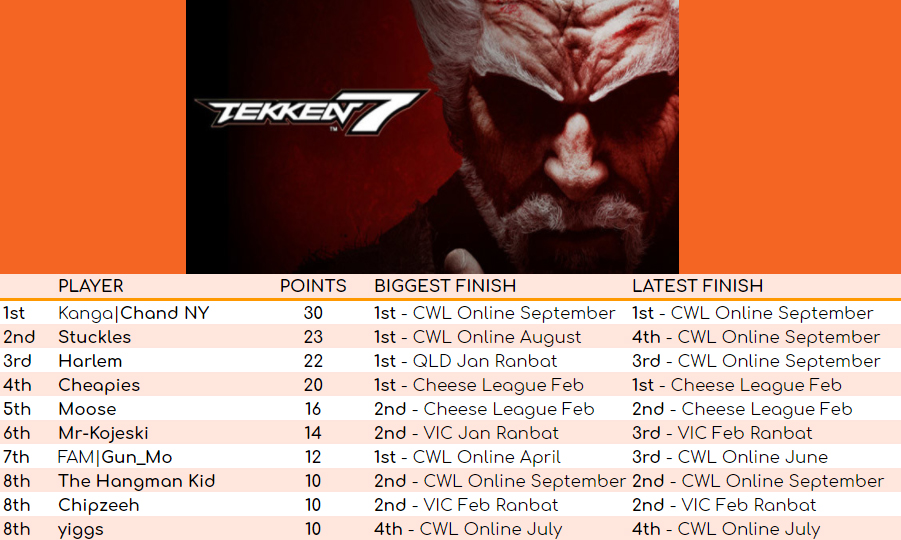 Despite falling in the final Hangman Kid's performance seems to have finally propelled him into the conversation for top players in Australia, as well as the higher echelons of the leaderboard. All eyes will be on his King in October to see whether this will be the time he "arrives" for good!
The summary is that @Naveedi07 is way too good.

— The Hangman Kid (@hangmankid) September 20, 2020
---
You can always check the current rankings for any of the 4 featured titles here.