All eyes were on Poland in February 2021 as CS:GO fanatics soaked in the victory of Gambit at IEM Katowice. It wasn't the swan song the Aussies were hoping for though.
There is so much Counter-Strike going on for Aussies to get behind thus far in 2021 with Extremum and Renegades competing overseas, and a handful of talent across international teams.
Closer to home, the ESL ANZ Championships is due to kick off for Season 12 with all 16 teams now decided following three weekends of open qualifiers.
Additionally, the scramble for teams to lock in their rosters going into the year appears to have settled for now with many of the top and middle of the pack squads locking in their five-man squads. Here's the breakdown of what's happened in the last month in Oceanic CS:GO.
IEM Katowice 2021: A rough one for the Aussies
The first premier international event of 2021, IEM Katowice, has finally wrapped up. The event is heralded as one of the most important in the calendar, and it was of special significance to Oceanic fans.
Renegades finally made their return to international competition, while the widest spread of OCE representation at a big event was achieved across four teams. Chris "Dexter" Nong also left the country but on a different trajectory, becoming the IGL of Mousesports.
These Aussies were joined by Justin "jks" Savage, who had just come off the back of a win in their Blast Premier Spring Group with Complexity; and Cloud9 coach Chris "Elmapuddy" Tebbit.
Unfortunately for them all though, IEM Katowice wasn't meant to be. Renegades, Complexity, and Cloud9 all bowed out in the Play-In Stage, finishing in 17-20th together alongside MIBR.
Mousesports was the only squad left standing in the Main Stage with some green-and-gold blood, but their run was quickly ended by Astralis and eventual champions Gambit to finish in 13-16th.
While the event was overall lacklustre in terms of results, the Renegades vs Mousesports opening map was a nail-baiting 16-14 map on Inferno that is well worth the watch. Dexter's first outing with Mousesports also has inspired hope for his future internationally
"I just want to just include my own stuff and create new things and I haven't enough to do that in the first week. Over the next few weeks I'm going to be working hard and trying to achieve some goals I've set for myself," he said after the event.
We will get a chance to see all four of these teams in the upcoming ESL Pro League Season 13, due to kick off on March 8.
Roster moves: aliStair to Renegades, Chiefs complete rebuild
Since the last snapshot, Alistair "Alistair" Johnston's move to Renegades for Dexter has since come to fruition, but had lasting ripple effects throughout the scene.
Coming into Chiefs is Maclane "Gump" Cross and Timothy "Val" Youn who are relatively inexperienced at the top of OCE. Dire Wolves has also acquired the ex-Avant team, with a few changes in the addition of Benson "Liki" Niuila and James "SaVage" Savage are in.
For Vertex, things are currently up in the air as the departure of James "Roflko" Lytras and Benny "Tensai" Phan leaves the team with three players moving forward.
ANZ Champs field completed with four invited & 12 qualified teams.
Following back-to-back weeks of qualifiers, the final 16 teams for ANZ Champs Season 12 have been locked.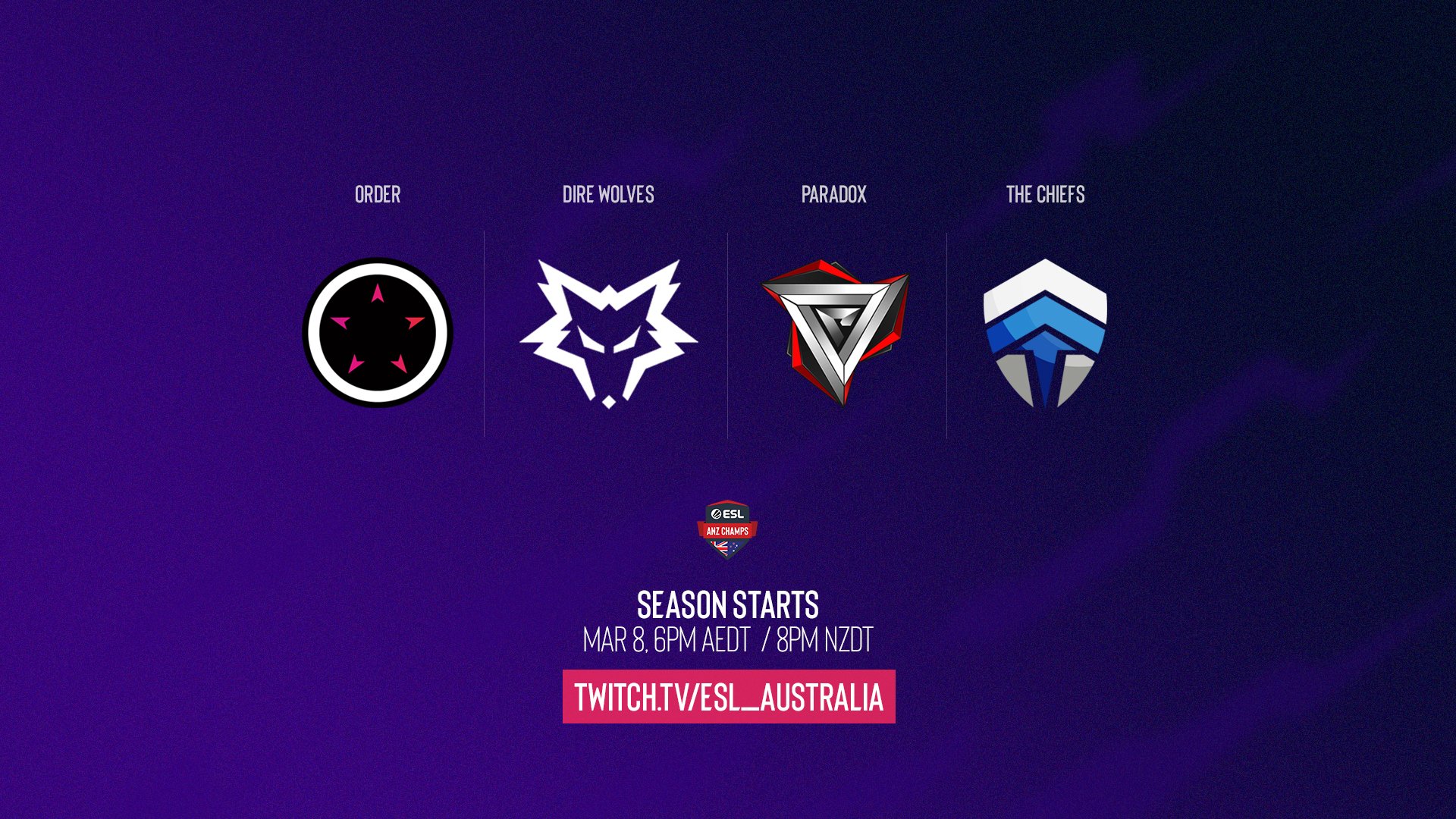 Invited Teams:
Order, Dire Wolves, Chiefs, Paradox
Qualifier 1:
Dynasty, Bizarre, Simplicity, Caught off Guard
Qualifier 2:
Vertex, Riot, Memento, Animal Squad
Qualifier 3:
Power Rangers, NinjaESC, Munyanyo, Eetswa
The field is nearly identical to the on-going ESEA Premier Season 36, sharing 12 out of the 16 total teams involved.
---
Stay tuned for more ANZ Champs action with the upcoming event coverage on Snowball Esports. The opening matches in the swiss stage are scheduled to kick off March 8.