TEG Live and ESL Australia have today announced that the Melbourne Esports Open, which was previously rescheduled for August, will now no longer be taking place.
The cancellation follows 2020's postponement last year.
In an update posted on July 7, Brad Baldwin, senior project manager for Special Events at ESL Australia, noted such an event required certainty for all involved — something that could not be promised come August.
Baldwin said: "Unfortunately given the proximity of the event combined with the uncertain period ahead whilst Australia still grapples with the global pandemic, we have made the tough decision to not host the Melbourne Esports Open in 2021, and instead focus our efforts on planning for future events."
Ticket holders have been advised to check their email inboxes for communication from Ticketek regarding the refund process.
"We appreciate that this news is disappointing for MEO fans, but look forward to the opportunity to bring back the event on an even larger scale in 2022. In the meantime, stay safe and look after each other," Baldwin concluded.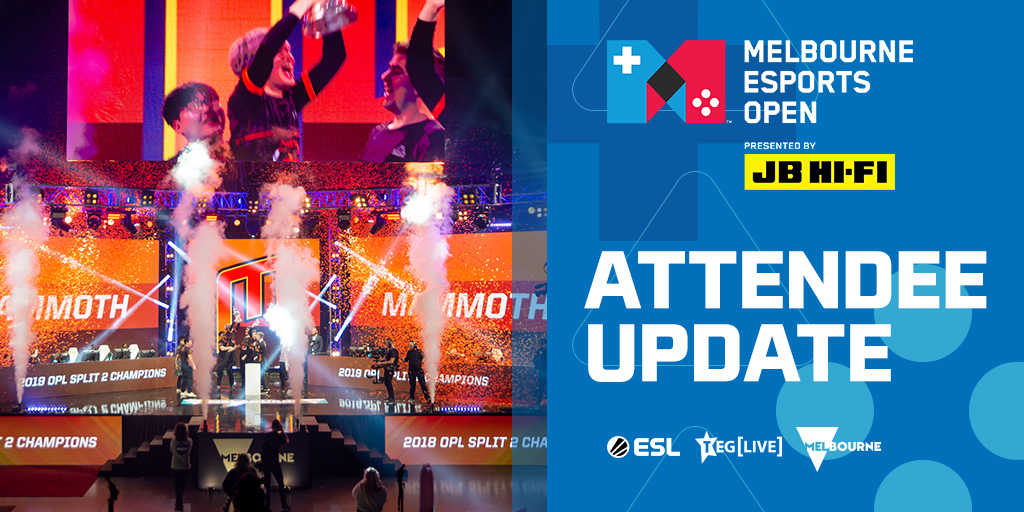 It's a major blow for the regional gaming and esports community, many of whom were looking forward to attending MEO following the event's original 2020 cancellation, which was chiefly due to the COVID-19 pandemic.
This year's exhibition was set to include the fourth installment of Australia's premier CS:GO tournament in Intel Extreme Masters. However, ESL announced in January that IEM Melbourne would revert to an online format, and would not take place on-site in Australia.
"I don't think anyone could understand just how hard we tried to keep the MEO dream alive," said Josh Inman, General Manager of ESL Australia. "Our team is eager to bring back the biggest and best esports live events — and trust me when I say, we have big plans for 2022."
Also to be present at MEO 2021 was the League of Legends Circuit Oceania Split 2 playoff finals, which were to be played as part of the five-year agreement between TEG Live and Riot Games — at the time the Oceanic Pro League (OPL).
Now, with MEO canned, ESL Australia will be tasked with finding an alternative solution for the second split finals.