The Oceanic Nationals (OCN) 2021 Season Finals will take place on December 11 and 12 as the region's top four Rainbow Six teams aim to claim the ultimate domestic title. Chiefs, Knights, Bliss, and ROFLCOPTER are all in with a shot of winning the lion's share of the $25,000 prize pool.
After three Stages of intense action saw The Chiefs claim back-to-back-to-back OCN titles, there's one more obstacle in their way of a flawless domestic run in 2021: the OCN Season Finals.
Set to be held on December 11 and 12, the true domestic Rainbow Six champion will be crowned at the OCN 2021 Season Finals.
Chiefs will face off against ROFLCOPTER in the first BO3 semi-final on December 11, while Bliss will play the Knights. The winners of each game will move on to December 12's BO5 grand final.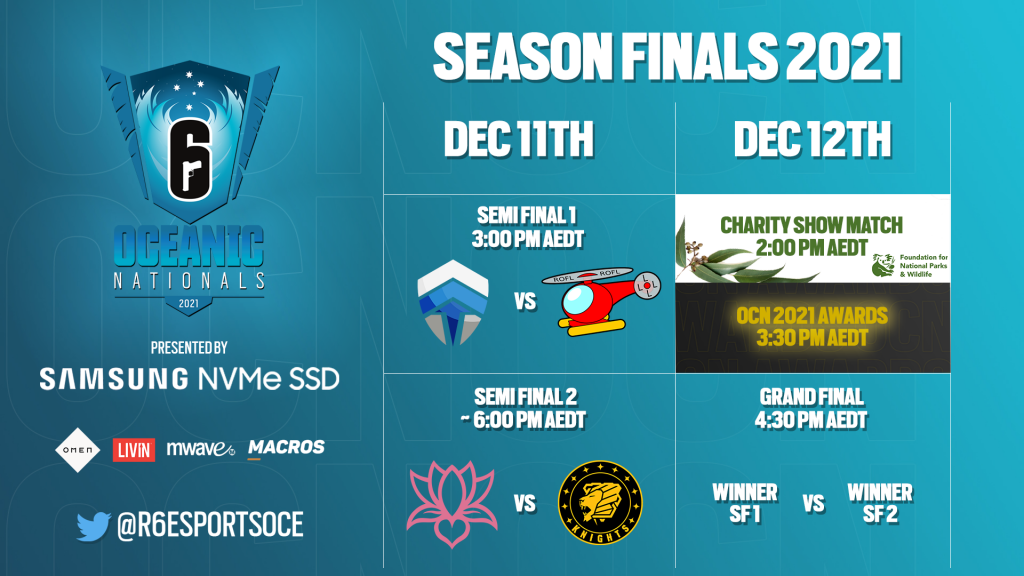 There will be a charity showmatch for the Foundation for National Parks and Wildlife before the grand final, including players from OCN, the second-tier OCL, as well as the XP Esports Women's League.
$25,000 in prizing is on the line in the OCN 2021 Season Finals, including $15,000 to the winning side. The yearly OCN Awards will also be handed out, including MVP and Rookie of the Year.
The OCN 2021 Season Finals will be played online, but casters will be on-site at ESL's Sydney studio for the broadcast.
You can catch the OCN action live on the Rainbow Six Bravo Twitch channel when it kicks off at 3pm AEDT on December 11.