It's almost time for Oceania's representative for the IEM Rio Major to be decided, and in a late move a day out from the qualifier, Encore have boosted their stocks with former international reps Aaron "AZR" Ward and Sean "Gratisfaction" Kaiwai.
The former Renegades, 100 Thieves and EXTREMUM duo make a long-awaited return to active Counter-Strike at Encore — but for the time being, they'll act as stand-ins for the squad as they attempt to qualify for the Major.
The squad has been navigating the previous months with numerous stand-ins, including Karlo "USTILO" Pivac and Benson "Liki" Niuila, who returned to the Encore team after departing in July.
With AZR and Gratisfaction joining the active squad, veteran Mike "ap0c" Aliferis has moved into a coaching role at Encore.
"What an honour it is to get to play with these guys on the server," said Encore's James "SaVage" Savage on Twitter following the announcement.
It is the first we've seen of the duo since 2021's experiment with CIS-based organisation EXTREMUM.
Months of lacklustre results and a failure to qualify for the PGL Stockholm Major spelled the end of the line-up — the very same line-up that finished top four at the StarLadder Berlin Major in 2019.
Since then it's been quiet from the duo. Speculation emerged throughout the end of 2021 that linked Gratisfaction to numerous squads in North American Valorant, while AZR took a pause from competing.
The 29-year-old Australian captain has since made it clear that he remains committed to Counter-Strike, with an intent to return to Europe and begin his search for a new squad following the current Major cycle.
AZR & Gratisfaction's return means that — finally — all five of the EXTREMUM core have found new homes — even if temporarily.
Last week saw Australian rifler Justin "jks" Savage step into giants G2, while Jay "Liazz" Tregillgas has remained active since linking back up with the Order core in February.
Norwegian fifth Joakim "jkaem" Myrbostad remains with Apeks — a move he completed back in early January — however the squad has so far struggled through competition in Europe, and are yet to qualify for the European RMR.
Room for just one at IEM Rio APAC RMR qualifier
AZR and Gratisfaction won't have long to get settled into Encore, with the team opening their OCE Closed Qualifier campaign against Order tonight.
The two sides met in the first open qualifier, with Order emerging victors 2-1 (19-16, 13-16, 8-16) in a closely fought contest.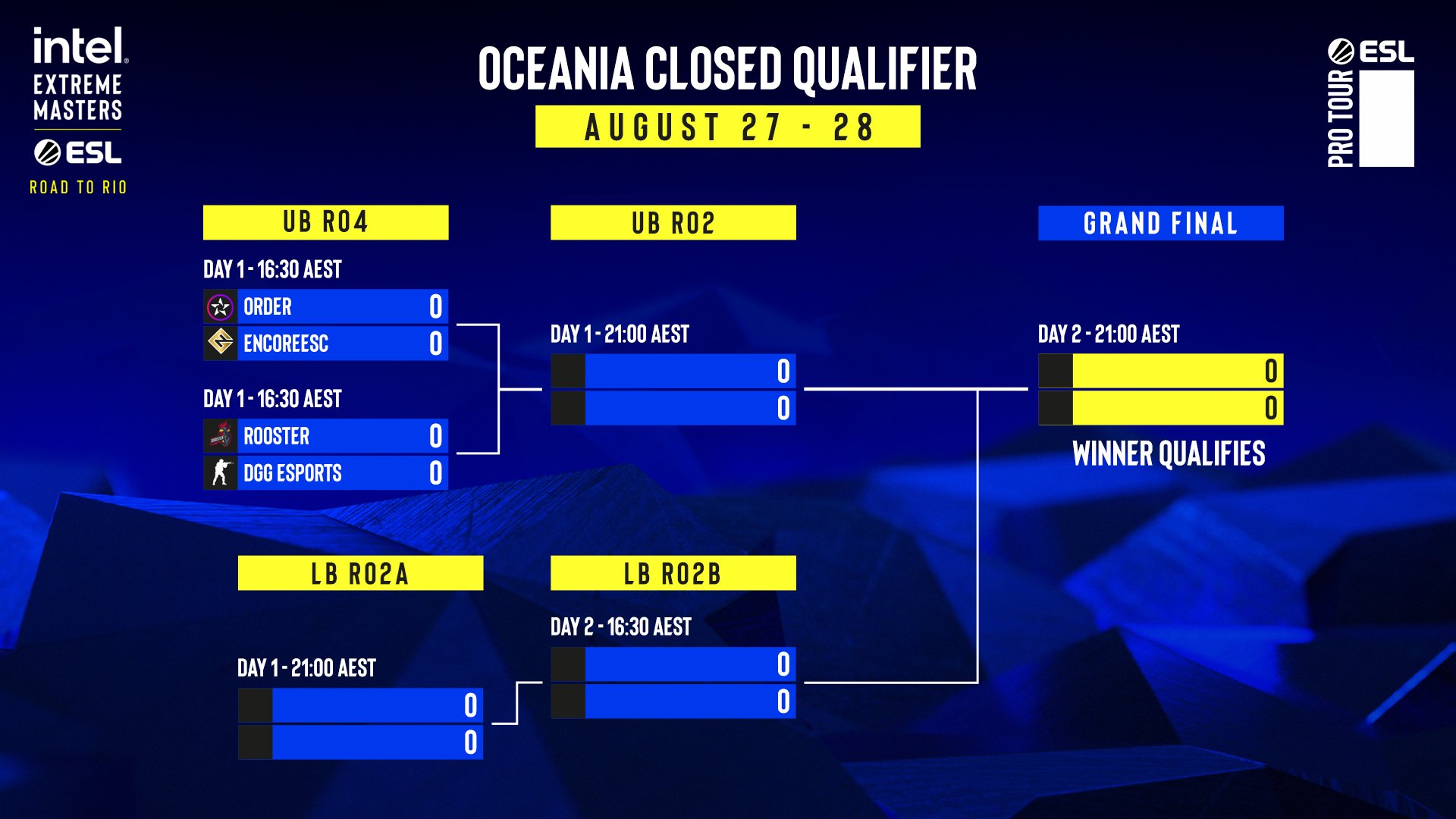 While undoubtedly the favourites for the qualifier, Order will be battling more than just their opponents on the server.
The squad's future remains clouded following Order's move into voluntary administration last week.
Should they take out the Closed Qualifier and line up at the APAC RMR at PAX Australia in October, it's unclear as to whether they'll represent the Order banner going forward.
Aiming to upset the top dogs, Rooster and DGG Esports round out the four-team qualifier, which kicks off at 4:30pm AEST this afternoon.
From four, only one will qualify for the all-important APAC RMR in Melbourne on October 7 at PAX, and earn the right to battle against Asia-Pacific's best squads for a shot at Major glory.