After a mixed Split 1 campaign for Order, the Melbourne team flicked a switch in the playoff gauntlet. They marched to a 9-1 record, earning the right to face the Bombers in the final.
After a 90 percent win rate against the league's best gauntlet teams, it seemed like Order had turned a corner after a shaky 9-12 record had barely qualified them for the postseason at all. The team's opening victory against their finals rivals back that up more – Order were set to be title contenders in a race that was heating up before the first minion had been killed.
Five games later, Order were sitting just a single win above tenth place. They had been defeated by table-topping Avant Gaming and the Chiefs, as well as gauntlet contenders Mammoth and the Dire Wolves. They had even been rolled in 19-8 loss to last-place Legacy.
While it wasn't the only contributing factor, their rotation of young marksman Ronan "Dream" Swingler had been affecting the team's scrims. The team's bot laner has been nursing a major wrist injury since the mid-season break. He's played less than half the squad's scrims.
The wrist injury that has sat Dream on the sideline for much of the team's preparation came about from over-working and over-playing in Korea. Order's marksman had flown overseas to practice in the Korean solo queue. He had driven himself to improve after the 3-0 loss in the grand final, but the constant grinding had damaged his ability to play.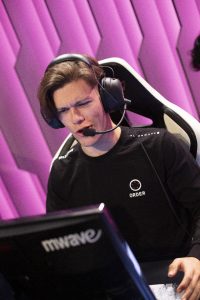 "I can only play probably about half, or less than half, of all the scrims that we have each day, and because of that, I think that's affected the team's mentality a bit, especially when we weren't getting the results we wanted on stage," Dream told Snowball Esports.
"The whole team was pretty deflated after the first three weeks, everyone was working pretty hard but we weren't getting results on stage. It got to the point where I thought we might be screwed if we didn't have a good result last weekend."
Luckily for Order's season, they bagged a 2-0 record. First, the Melbourne squad defeated Gravitas 16-8 to snap their five-game losing streak. Then they scored their second win of the season against the Bombers in a 30-minute battle.
Order took the lead early against their grand final rivals. Dream and Jayke "Jayke" Paulsen collecting three kills on Jake "Rogue" Sharwood in the opening in the opening ten minutes. From there Order flipped Dream and Jayke to the top lane and asserted their lead into the solo lane.
Bombers replied with a five-man assault on Dream, Ronan, and jungler Samuel "Spookz" Broadley, netting themselves kills and levelling out the standings as Korean import star Jeong "Wilder" Jin-woo began to snowball into a strong gold lead.
Order's teamfighting proved key in the clash. A decisive four-for-two win in the river gave Order the first Baron at the expense of the Essendon squad. The second Baron proved even more vital, as Order rolled over Bombers as the defeated team looked to rush Nashor, and claimed their second buff.
"Coming out of this week and getting a 2-0 shows everyone that we can still win the split, and that we can be competitive," Dream said after the team's double-victory round.
"That's all you need. As long as there's a glimmer of hope that you can be at the top it pushes everyone to get there. As soon as everyone gives up, then you're just doomed."
Order may be sitting at just 3-5 in sixth-place, but Dream believes the squad has learned some "valuable lessons" after their string of defeats early in the split.
"We lost our footing at the start, but these losses have been very eye-opening about what we needed to change as a player cohort and as an organisation if we wanted to be successful this split and beyond," he said.
"Although our in-game improvements are still coming through in scrims and on stage, we've had a lot of exercises and discussions outside the game that were very honest and open about what we need to fix. Talking to each other honestly and openly gave us a lot of insight, and showed us what parts of our game were a bit lacklustre and needed fixing."
"Now that we're on the right path, I believe that we can match any team that we face. When you scrim other teams you continue to learn and adapt towards what you think is the correct way to play the game. Due to how diverse the game can be right now I think any team can beat any team. That's always the case, you can beat any team on the right day."

Ronan "Dream" Swingler
---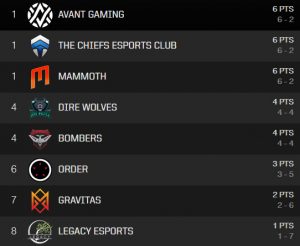 Also on the weekend, Avant and Chiefs have become embroiled in a level-battle for first place in the Pro League. The Chiefs defeated AV 23-11 on Friday evening to draw equal in the race before both teams scored victories on Saturday. Avant defeated Gravitas, while the Chiefs ousted fellow title contenders Mammoth in a near-even 13-13 clash.
Mammoth are the third team currently locked in the three-way tie for the top seed in the league. Their Saturday defeat against Chiefs may have dragged them into the battle, but another tight match against the Wolfpack on Friday went their way to keep them on 6-2 come round's end.
Finally, the Dire Wolves and the Bombers have both kept their gauntlet positions after 1-1 weekends. Gravitas and Legacy both suffered tough 0-2 weekends to lock them in seventh and eighth place respectively.
---
The Oceanic Pro League now has a weekend bye round. The competition returns on Friday, July 12 with Mammoth facing Gravitas at 4pm.