On a four-game losing streak, and staring down the barrel of a potential 2-10 record if they were handed double defeats against the Dire Wolves and Legacy Esports in Week 6, Gravitas knew they were facing a make-or-break weekend in their season.
Since joining the Oceanic Pro League, Gravitas have never lost five games in a row. They first suffered an 0-4 streak between Weeks 2 and 4 of Split 1 this year. A similar fate awaited them across the Super Week that saw them miss the playoffs in March.
A massive 8/1/10 from mid laner Harry "Haeri" Kang on one of his favourite picks in Yasuo clinched their 31-minute win over the Dire Wolves.
Haeri's game on the Unforgiven was joined by a momentous top laner Corki game from Jackson "Pabu" Pavone and a near-perfect run for Jordan "Praelus" Fernandes on Sylas in the jungle clinched their 31-minute win over the Dire Wolves.
It was a bloody battle. Gravitas claimed the edge in the contest 27-8, including a full-team ace in the dying minutes of the match against the Wolves. The winning side even claimed two Baron Nashors in their triumph.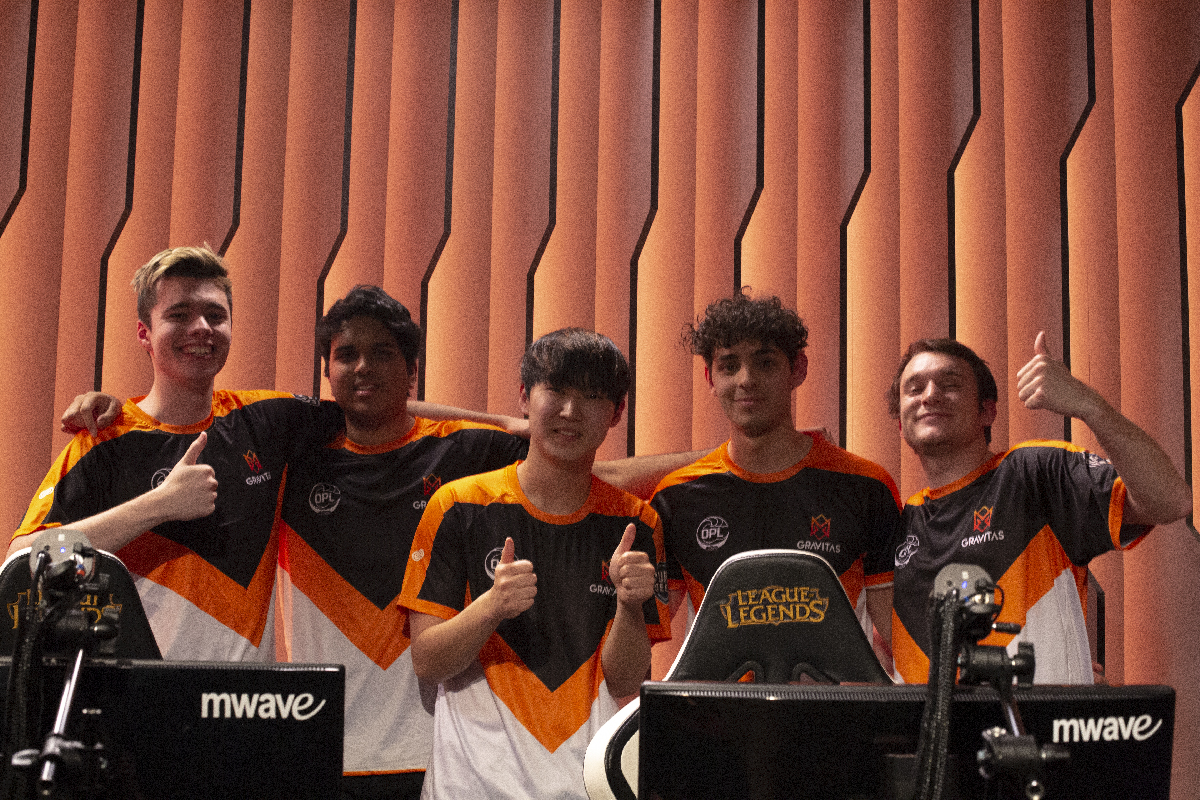 The confidence of the win against the fifth-placed Wolfpack spurred them on for Saturday evening's meeting against Legacy. There were less kills – 11-4 this time around – but the time was near the same as Gravitas pipped the cellar-dwellers to a vital win.
The split may not necessarily have been mathematically out of reach for Gravitas if they had fallen to the Wolves and Legacy last weekend. According to Haeri, however, it may have been a 'breaking point' momentum for the roster.
"We were pretty worried about the 2-10 that we could get if we lost twice, I was a bit nervous that we weren't going to be good enough this time around," Gravitas' young mid laner told Snowball Esports after the 2-0 weekend.
"It feels really good to be back. With these wins we're one off Order, so that's something we can aim towards now. It feels good. We had to win, because we don't want to miss finals again."
After a 9-12 record wasn't enough to overcome the surging miracle of Order last split, Gravitas were left languishing outside the postseason in the first season of the year. With plenty of time to think on their mistakes, Haeri believes the team may have stewed too hard.
For the 18-year-old especially, the leap to the Oceanic Pro League hadn't gone badly. It had, however, gone awry enough to put some doubt in his mind.
"I think I made a lot of mistakes at the start of this split, and was playing too nervous on stage," he explained. "I had a lot of problems about not wanting to do things in-game, and that was making me play worse.
"The team realised that we just had to play with more confidence, or we were going to just lose games. Now we have played with confidence and we got the 2-0. It means that we are in with a chance again, and that makes me happy."
It may make Haeri happy that Gravitas are in striking distance of playoffs once more, but it gives OPL fans even more. The 2-0 weekend from Gravitas, coupled with a mixed 1-1 weekend for their fellow Melbourne team Order, has set up a blockbuster battle next weekend.
Our first 2-0 of the split!@Haeri_Oce is controlling his sand soldiers!

GGWP!#GravitasGlory #GRVWIN pic.twitter.com/fMDcXH1wQs

— Gravitas (@Gravitas) July 20, 2019
After Gravitas face Bombers, and Order matchup against Mammoth, both teams are set to play in the second-to-last game of Week 7. With seven games still locked in the chamber beyond this Gravitas-Order battle, it's not the be-all and end-all of their seasons.
Considering Split 1's playoff berth was decided off both club's head-to-head, it may be one of the most important games for both organisation's years.
"We know that Order is coming up, and we want to win. They're really close, so if we beat them then we're right back in there in the middle," Haeri said.
"There's a lot that we still need to work on, but I think that we can do it. It's not that we need to do it, but it would be nice. I don't want to have the same thing happen again this time around."
So does Haeri have anything special planned for when he comes up against Simon "Swiffer" Papamarkos and the full Order roster this weekend?
"Hmm, I'd like to play Qiyanna of course, but I'm bad at her," Haeri laughed. "We'll have to see how I go on her, she looks really good. I'd like to be better at her before I play her though."
---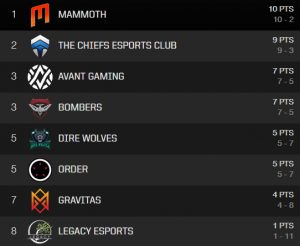 While Gravitas (4-8) clocked up their 2-0 weekend, they relegated Legacy (1-11) and the Wolves (5-7) to 0-2 rounds after the two defeated clubs also lost to Mammoth (10-2) and Bombers (7-5) respectively. Both Bombers and Mammoth went on to score 2-0 weekends from their wins.
Order (5-7) were joined in their 1-1 weekend by Avant Gaming (7-5) and the Chiefs Esports Club (9-3), both of whom have slipped behind Mammoth at the top.
---
The Oceanic Pro League returns on Friday, 26. Matches begin from 4pm. Watch live on the new RiotGamesOCE Twitch channel, find more information and the full fixtures schedule at oce.lolesports.com.