Legacy Esports find themselves three maps away from achieving something they have spent the last five and half years attempting—their first Oceanic Pro League title.
Throughout the years, Legacy has been a team that has kept close in the fight for the title, but always seemed to stumble either at the final hurdle or just before short. The org has clinched four second-place finishes and four thirds in the first four years of the OPL. They were forever a title hopeful, but were always outshone just when it mattered most.
2019 was an exception to the norm. After the 2018 team dispersed across the league, Legacy picked up a team of rookies and not-as-seasoned veterans. The lack of experience showed in their results, with a 6-15 record in Split 1, they finished 7th, above only their grand final opponents the Dire Wolves. The team then fell to a 1–20 split in the second half of the year.
This past summer saw a return to form. They picked up defending champion Kim "Topoon" Ji-hoon, as well as Carbon's prodigal son Leo "Babip" Romer from Mammoth. They also obtained a big scalp in the form of bot lane star Quin "Raes" Korebrits, a former long term player for rivals The Chiefs. Legacy round out their lineup with rookies Jonah "Isles" Rosario and former LCK trainee Jang "EMENES" Min-soo.
The team, naturally, boasted a lot of hype and expectation heading into the split. As one of the top teams on paper, it was expected this team would make it far. While they did, it was far from smooth sailing.
First there were the visa delays for head coach Jensen Goh. Whilst he was able to work with the team in a remote capacity—like most of the world is doing now—he was unable to be there where it mattered most on game days.
They were lucky enough to have access to a second coach in James "Denian" Goddard, however. He was able to step into the role of stage coach for the first couple of weeks before Jensen arrived. With results unaffected on the Rift, the team clocked up a 6-0 record in the first three weeks of play.
Even with these issues resolved when Jensen was released from the 'visa prison,' other problems arose. A series of issues with mid laner EMENES emerged and came to a head after Week 5. He was released from the team, with head of esports Tim "Carbon" Wendel explaining in a statement that the decision was made "in the best interests of the team and with a view to creating an environment capable of sustained success going forward."
In his place stepped in another prodigal son, James "Tally" Shute. Previously a top laner and bot laner at the competitive level, he stepped into a new role to ride out the season in the mid lane.
If you asked anyone in the community, you would expect a transition of play style and a learning curve, but according to Legacy, it was anything but.
Snowball Esports spoke to both Tally and Babip about this change. Babip admitted it was "super easy adjusting to Tally.
"I already knew from past experiences playing with him that he had good communication and always had something beneficial to add to discussions."
Babip says the only real change came in terms of champions and match ups. "I supposed the only challenge is Tally having a non-traditional champion pool," he continued. "However, he was able to pick up champions on the other side of the coin that most Oceanic mid laners could not pick up."
Tally agreed. It was "pretty similar to what I was used to," the role swapping star said. "Mid and top lane share a lot of the same fundamentals so most of the change was just me learning new lane matchups and getting used to actually playing a useful role."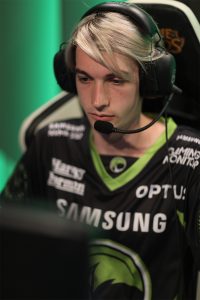 The second half of the split saw Legacy achieve a 9-2 record. It was smooth sailing towards the top of the Pro League. They didn't fall out of top two the entire split.
Another change came after Week 7 to the league with COVID-19 travel restrictions coming in place, moving the league online.
Legacy didn't slow pace though, coach Denian explained. Once again, it was smooth sailing.
"There really wasn't any adjustment needed," he said. "The guys already played in the gaming house day in day out so, if anything, they should be more comfortable."
Legacy's path to the final through the new playoffs format has been short. An 18-3 first place regular season saw them net a first round bye on the winners side of the bracket, meaning they only had to play a singular series against a Chiefs side coming into the second half of a back to back to make the big dance.
They won this series with a comfortable 3-1 performance where—besides a costly blunder at Baron during Game 2 cost them their Nexus—they were able to win with relative ease.
This saw a week of rest and scouting for the team, being able to protect their picks whilst their opposition slugged it out, showing their cards in getting the chance to face them.
Even though there is no football right now, @adelaide_fc still has a Grand Final to prepare for. Tomorrow, the eSports team @legacyoce will battle for the Oceanic League of Legends crown. https://t.co/8ftPfFYTVQ @nickibarnet @OPL #7NEWS pic.twitter.com/o6KD9ohBTT

— 7NEWS Adelaide (@7NewsAdelaide) April 23, 2020
For Jensen Goh, it allowed them to scout a change in their opponents, the Dire Wolves play style.
"We got to see how they have switched up their play style into a 'nothing works lets just ARAM' approach," he said. "It's a stopgap that covers for a lot of their weaknesses they had shown around their limited champ pools, team fighting mistakes and failure to bring people to be in position for objectives."
"At the same time having the chance to play and refine that approach through the gauntlet does accelerate their development however," Goh added.
Both Jensen and Denian noted the Dire Wolves may not be coming into the final in the best shape. Denian added the extra games "might [even] hurt them from a fatigue perspective."
Legacy comes into this week cool, calm and ready. They have a perspective on what they will see from their opponent and are ready to expose that.
---
This match will be nothing short of explosive. With a team stacked full of talent they will want to do their best to live up to the expectations and win it all, this is a game not to be missed.
Tune into the OPL grand final today at 4pm AEST.