Legacy's drought is over. After ten crownless campaigns— including four grand final defeats, three bronze-place finishes, and a year best left to distant memory ⁠— one of Oceania's storied founding fathers has finally claimed the throne in 2020 Split 1.
For many, it was a foregone conclusion as the season began in earnest. 2019 had seen one of the league's original titans slip into a battle to avoid the misnomer of the spoon. Those struggles were forgotten as Legacy assembled a roster dripping with Oceania's top talent.
Chief among them stood returning champion Leo "Babip" Romer. The youngster, once dubbed "Baby Bip" as he trained under veteran Pro League jungler Tim "Carbon" Wendel, had thrown off the mantle to become an OPL king.
The beginning of 2020 saw Mammoth crumble as their stars ventured overseas for international conquests, however, and Babip's eyes turned home. He, alongside reigning MVP and 2016 victor Quin "Raes" Korebrits, signed as the core of the squad.
Joined by Mammoth's Kim "Topoon" Ji-hoon, rookie pickup Jonah "Isles" Rosario, and lauded LCK trainee Jang "EMENES" Min-soo ⁠— the latter of whom would not last the split ⁠— the team marched to a 6–0 record. Only arch-rivals the Chiefs remained close.
Then, the season imploded, at least on paper. The world went into lockdown due to COVID-19. The Pro League, like many other League of Legends tournaments around the world, entered a state of limbo. A short Week 7 marked the high-water mark of the chaos.
The spreading global pandemic wasn't the only moment in the season that threatened to derail Legacy's march to the title either. EMENES, who had been one of the best performers in the OPL up to this point, was punted from the starting roster.
The official line was Legacy would not "compromise values" for star players. Between the inked release, it was clear there had been backroom drama forged by the Korean rookie. Despite his early strengths, he was quietly shown the door.
Enter James "Tally" Shute. Formerly Order's top lane, and before that Legacy's bot laner, the OPL veteran had found himself teamless for 2020. According to sources, he was preparing for a big swap back to ADC. Instead, he was thrust into Legacy's mid lane.
He clicked nearly immediately, outside of a "two week transition period," Legacy bot laner Raes revealed. Many saw Tally's hurried recruitment as a stop-gap method. Instead, he became the leading voice in the center of Summoner's Rift.
"Having Tally join when he did definitely helped us a lot, I think," Raes told Snowball Esports after the championship victory. "He's communicative and has a ton of experience, and it helped us to have someone that could lead from mid lane again."
At the same time, Legacy thrived in the online environment. There were a few slip-ups ⁠— before heading online, Tally's debut weekend slipped to a 1–1 result with a major upset from one of the lower teams ⁠— but overall it was near-smooth sailing.
According to Raes, the shift was almost "more relaxing" than the usual rigmarole of Pro League life. Not having to travel made it "much easier on game days," and the removal of the "long wait" in the studio eliminated any nerves the team may have had.
"That really was the only difference for us, that we didn't have to travel anywhere for matches on gameday," Raes explained. "Gameplay-wise it wasn't that hard. Maybe we played better and I did not notice, but overall it was just better. We went better."
The final weeks were like the seasons of old. Legacy and the Chiefs duelled for the top spot, with each trading it out across the bumper final rounds. A landslide 17–2 win in the very last game of the split, however, handed first-seed to the Trees.
Legacy only played two series in the playoffs after earning the top spot in the regular season. The first was an edgy 3–1 victory over their arch-rivals once more, with a "Baron throw" from Raes the only difference-maker in the overall scoreline.
"I was very confident. They always failed to perform when it mattered, and yeah… that seemed to happen again."
The eventual champions then got to watch from the sidelines as the Chiefs locked horns with the Dire Wolves. It was an epic five-game series, and Legacy got to watch their arch-rivals ⁠— dubbed by Raes "the biggest threat" ⁠— fall out of contention.
It was a moment that Korebrits says "sealed the title" for the team: "Going up against the Dire Wolves [after they beat the Chiefs], I was very confident. They always failed to perform when it mattered, and yeah… that seemed to happen again."
And so, Legacy were crowned Oceanic Pro League champions for the first time. It took a four game series against the Dire Wolves on April 24. It took a role-swapped mid laner settling into the team, and it took battling through new online conditions, but Legacy triumphed.
And yet… Raes admits it feels a little "hollow." He's happy, that's for sure. But there's just that next step missing from the puzzle: the 2020 Mid-Season Invitational, originally slated to be held in May, was first moved to July, then binned altogether by Riot Games.
Korebrits knows he's standing in a special moment. It's the first time in four years he's been an OPL champion. It's the first time ever Legacy have tasted success in Australia & New Zealand's top-level League of Legends competition. But it's not enough.
"Obviously it feels good… it's been a long, long time. But I can't help but think about wanting more. The situation… the massive exodus of good players to America, and Europe, and the fact MSI is cancelled. It doesn't feel as rewarding," Raes admitted.
"We had a fantastic split. We worked hard to get here, and win. I think we had some of the best players in the league ⁠— Ji-hoon [Topoon] was robbed of Most Improved this season I think, and Jonah [Isles] should have got the tip for Rookie of the Split. We had a fantastic season.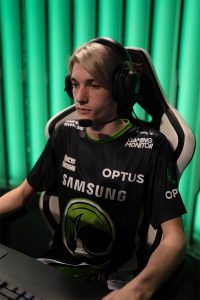 "It's just that little bit more, you know? Before winning the title, that's what I wanted. But for me it's like 40% winning the title, 60% going international again, for the first time since 2016, to get the chance to prove Oceania isn't the worst region in the world."
There's a light at the end of the tunnel for Raes though. The 2020 World Championship is still full steam ahead, Riot has confirmed. There's expanded slots for China and Europe, and OCE has retained its Play-In seeding. It makes Split 2 all the more exciting.
"We're going to win again," the now two-time champion bot laner said. "I don't feel insane about winning this Split 1 title, but I know how much it means to our progress. We've only gotten better, and we will again. I want to take Legacy to the international stage."
It's an ambition shared by Legacy founder Tim "Carbon" Wendel, who has lived through the trials of tribulations of the trees since their classic wars with the Chiefs. He was there when the OPL was founded, and now he's seen his team bring home the silverware.
"We are extremely excited to have earned our first OPL title, and to do it with a mix of former players and new talent makes it even sweeter!" he said. "It's a shame MSI isn't going ahead, but I'm choosing to take that as extra motivation to get to Worlds."
Legacy have ticked that first box they've chased for so long: they are now Oceanic Pro League champions. Now their eyes are fixed on the World Championship.