When Samuel "Spookz" Broadley looks back on the eight long years of competitive League of Legends it's not the trophies Oceania's abdicating jungle king remembers, though he did lift plenty of those during his illustrious career.
He doesn't remember his victories in the Oceanic Pro League. His many journeys to global events like the International Wildcard Invitationals, Intel Extreme Masters, and the World Cyber Games also play second fiddle.
When Spookz looks back now that he's hung up the keyboard for good, he likes to remember the smaller moments. There were plenty of them.
One is the time he danced on-stage at the OPL 2016 Split 2 decider. Everything that year came naturally to him, he said. He had climbed to Rank 1 on the ladder, and he was "so fucking good." That may have been the peak of his love for the grind.
Another is the time he, Swiffer, and the rest of the 2017 Chiefs lineup were captured singing in the "Chasing Worlds" documentary by Fox Sports.
They were carefree, even in a split that was slowly beginning to fall apart around them.
"It's cliche, and I'll admit that, but mostly I just remember the moments with friends, and the times that we weren't worried about anything," Spookz said.
"I remember all the times spent outside the game, more than anything else in the past."
EXILE IN VANCOUVER, GOLDEN SKIES IN LA
Funnily enough, however, Sam's first days in North America were spent alone in a hotel room in Vancouver. He was in the north, waiting for his visa process to finish. Needless to say, the Oceanic veteran was less than pleased with the lonely exile.
"I've been here almost a week, and I'm so sick of being here… it's so cold," was quite nearly the first thing Sam said once my call through to Canada connected.
"I'm just here by myself, watching scrims all day. Not exactly how I planned it. Maybe I'm being unfair. It's not too bad, but I'm just bored – the place itself isn't too bad, but it's like -4° here so that's rough. It's snowing. I don't want to go out."
There was laughter in his voice though. He may have been trapped in a room, watching his new LCS wards battle on the Rift half a continent away, but Spookz has also been able to find the humour in situations like that.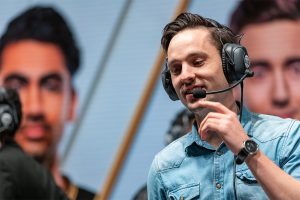 Once he was freed from the northern exile, he set about continuing the work started with Australian star Victor "FBI" Huang and Yuri "Keith" Jew during a bootcamp in Korea. His arrival in LA also heralded another new beginning ⁠— full-time coaching.
Sam is now a two-way coach for GG—he can thank the team's NBA connection for that job title⁠⁠—meaning he also oversees new signing Can "Closer" Çelik, homegrown talent Greyson "Goldenglue" Gilmer, and three-time LCS champion Kevin "Hauntzer" Yarnell.
He, along with coach Nick "Inero" Smith, and Broadley's own former Order helmsman Aaron "ChuChuZ" Bland, play key roles behind the scenes for the team.
Last season, they piloted the LCS side to an 8–10 finish in a highly-competitive Spring Split, and seen their development side⁠—who finished runners-up in Summer last year⁠—clock up a similar record of eight wins and ten losses.
The Guardians were eventually bundled out of the postseason in three against to-be runners-up FlyQuest, while the Academy team missed playoffs due to a tiebreak against Shern "Shernfire" Tai's Team Liquid Academy. The org was improving though, and Spookz was at the center of it.
But this is now, and Broadley didn't join the League of Legends scene in 2020. Rollback a single year, and the jungler was playing with Melbourne-based Order in the OPL, guiding a mixed roster through multiple finals runs.
Rollback back eight years, to the start of the 26-year-old's professional career? Well, Spookz wasn't even playing in his iconic role. In fact, the OPL champion "fucking sucked" at jungle, and only played it to win ranked games.

WELCOME TO THE JUNGLE
In the beginning, Spookz played under the banner of a long-forgotten roster titled "Team LoLa." After a short stint with that squad, he joined Mindfreak, and was bestowed the first in-game title many will remember: MF Spookz.
These early days saw Broadley running wild in the bottom lane. It was his favourite LoL role at the time, and to put it in his own words, he was a "fucking ADC machine." It wasn't to last, however, as the roaming role of jungle loomed.
His switch, in the end, was pretty simple. He and Simon "Swiffer" Papamarkos, who plays a vital role in the story of Spookz, were sick of losing ranked games. Swiffer was hard-carrying from the mid lane, but was regularly camped.
"Simon wanted his lane camped in response, so I picked Alistair jungle and would just run around the mid turret and headbutt the enemy mid laner right to Simon so he could kill him, and that's all I did every game," Sam said.
"I actually fucking sucked at jungle. I was so bad when I started. I was good at sitting mid though, which is what Simon liked, and I wanted to duo with Simon every game so it was just the nature of how I started playing jungle."
From humble⁠—and relatively "shit"⁠—beginnings, Spookz and Swiffer soon became one of the most feared mid-jungle duos on the server.
As they climbed, and Spookz improved in his new spot on Summoner's Rift, other orgs began to take notice again. Team Exile5 housed the powerhouse combo for a time, and during this period Spookz became "DJ Norman."
Broadley's now-infamous persona was left behind, and Spookz returned, however, when Team Immunity came knocking.
Immunity was in the market for a dynasty, and when they added the region's most fearsome mid-map duo, they found it.
Armed with Oceanic titans Brandon "Swip3rR" Holland and Derek "Raydere" Trang, as well as Spookz's former Mindfreak squadmate and bot laner partner Andrew "Rosey" Rose, the team seemed unstoppable. They would prove to be just that.

OCEANIA'S ORIGINAL KINGS
Immunity took no prisoners. A mixed stint at the World Cyber Games in 2013 turned into a long series of dominant victories in Australia.
Mindfreak, Little Wraith, Team Nv. All fell before the star-studded roster Immunity had built in 2013. Avant Garde Ascension stunned the org at the Oceanic Regional Tournament in 2014, and not every campaign ended in silverware. But most did.
And then, Immunity turned into the Chiefs Esports Club. Competitions like the Logitech CGPL and the ACL turned into one unified tournament: the Oceanic Pro League. And still, the Chiefs marched on to finals and titles.
"Looking back, I think what made us so dominant for such a long time was our relationships out of the game," Spookz admitted as we delved into what made the original Oceanic kings into the unstoppable juggernaut they became.
"After being on other teams, and seeing the behind-the-scenes of many more, I think that bond we had both in-game and out, was key. That was probably one of the most important things for us, we enjoyed the game and logging on together."
The Chiefs forged a key connection together we have seen a few times in modern League of Legends too. LEC champions G2 Esports boast a similar unity. Call of Duty's original OpTic Gaming roster seemed the same as well.
"We worked hard because we wanted to play, and we wanted to be better for each other. It was those factors that made good players into a great team. We fell into that, by chance, we were all the same age, and wanted to win," he said.
The union in the Chiefs roster led to one of the greatest dynasties Oceania has seen in its short history. Four consecutive Pro League titles, three at the expense of archrivals Legacy Esports, came from that "absolute bond" they shared.
Those four titles also gave the Chiefs a chance to take their roster internationally, but with the way Riot previously hosted their top-level events, the team was stuck in qualifiers for most of their runs. They never made the main draws.

FROM FIVE, TO FOUR, TO THREE
Swip3rR, Spookz, Swiffer, Raydere, and Rosey didn't actually play that many splits of the OPL together, in the end. After the 2015 International Wildcard Invitational, where the Chiefs were shunted out of qualification with a 3–3 record, changes began.
Rosey left in May. The team's support joined Sin Gaming, and in his place arrived another name vital to the Chiefs' success: Bryce "EGym" Paule.
EGym's arrival from Legacy was a major shift in the playing field in Oceania at the time, and it led to two more consecutive titles for the team. Then, another swap. Raydere, inarguably the best ADC in the region, retired from the game.
Spookz, Swiffer, and Swip3rR remained, but the original five dropped to three. Rising young New Zealand star Quin "Raes" Korebrits—who himself would eventually defect to Legacy Esports to help them achieve their first OPL title—joined the roster from the Dire Wolves, and the team clinched their fourth title. Everything seemed set to roll on.
But, all good things come to an end, even great sporting dynasties. Raes' former team made key moves in the offseason, and the Wolfpack became the new kings.
The Chiefs struggled, even falling to Sin in the original gauntlet miracle run. The org finished fourth, then lost 3–1 to the Dire Wolves in Sydney. At the end of the year, Spookz and Swiffer revealed they would be leaving the team.
"I don't really know what led to the wheels falling off, I don't know if it was the switch from Raydere to Raes, or anything like that, but I do remember that we kind of fell apart internally before anything showed on-stage," he said.
"The enjoyment factor fell away. I don't think any of us really know why, but that was the key point when the Chiefs fell off. That was our downfall in the end, in 2017 we just couldn't find that love again. It was a disaster."
On December 15, Order's acquisition of Team Regicide's OPL slot was revealed. With it came news the Melbourne org had made major moves. Spookz and Swiffer, alongside a number of other big names, were forming a super team.

TWO YEARS OF CHAOS WITH ORDER
With the move to Melbourne, Spookz and Swiffer⁠—inseparable to the end, of course—made up the centerpiece of Order's bold superteam lineup.
"Going from Chiefs, where everything was a bit messy, to Order where everything was really established, and it felt like the professional environment, it was interesting. I felt like I was looked after, and I could focus on the game," Spookz said.
"I'm very thankful for that. They'll keep doing that as long as they're in the OPL, I think they're fantastic. Outside the org, 2018 was the most frustrating year I ever played. We had the best player in the league [FBI] and a great team, but we shit the bed."
Alongside the mid-jungle duo, James "Tally" Shute joined from Legacy, while the bottom lane was filled out by Sin's Victor "FBI" Huang and Jake "Rogue" Sharwood. Coming into the new year, Order was expected to challenge for the title.
The team flopped. It wasn't anything spectacular though. They quietly placed third in both regular seasons, and then were punted out of playoffs by Legacy. It was a kick in the guts for Spookz and Swiffer, who had battled the trees for so long.
After the shock 3–2 and 3–1 losses to Legacy with the star-studded roster, FBI and Rogue departed to join the Bombers. Ronan "Dream" Swingler and Jayke "Jayke" Paulsen joined in their place, and Order began preparations for 2019.
"I remember flying back from Melbourne every weekend in 2018 and just thinking 'what the fuck just happened, why are we playing so badly,' and we had no way to fix it. Then we went into 2019, and it seemed like the opposite," he said.
2019 was to be Spookz's last year playing in the competitive scene, though he had no clear decision on that either way in January.
He had sat down with Order's general manager Jake "Spawn" Tiberi a few times and spoken about coaching, and a leadership role, the jungler revealed. Those discussions never came to fruition though, and they played out two more interesting splits.
Neither Split 1 nor Split 2 had new titles waiting for Spookz in his final two OPL campaigns. Instead, he and his Melbourne team forged their name in the history books for a different reason: the miracle 9–1 run to the final.
Two years with Order had coughed up zero titles, however, as the Melbourne team tumbled out of contention to eventual champions Mammoth in Split 2. It had been three years since Spookz had tasted grand final glory.

FLIGHT FEAR
There is one reason Broadley pointed to as a key factor why he struggled so much with the Melbourne organisation compared to what had come before, beyond the change of scenery ⁠— flying. Every weekend, the team travelled to Sydney.
It became a near waking nightmare for the jungler. Panic set in mid-week as he realised he would have to fly again. Travel on the way there was worse. After battling through fear in the skies, he would arrive in Pyrmont exhausted.
"I didn't want to talk about it while I was still playing because it sounds so much like an excuse, but now that I'm retired, fuck it. I hated flying. I could barely operate on gamedays, I had to nap after flying I was so exhausted," he revealed.
"Looking back, the flights definitely weren't helpful. They weren't the reason we lost though, maybe it affected me, but there was so much more. I loved being in Melbourne, my mental health was declining towards the end and I'm thankful I could be with friends and family.
"The bottom line though is I fucking hate flying, and I will always hate flying. International flights, fine by me. Big planes, less claustrophobic. Little planes, the turbulence is worse, I remember thinking 'I'm going to fucking die'. It wasn't great."
Spookz thought about the situation for a bit, and then laughed. "You know what, tell the world that's why we lost. Jetstar cost us our seasons. I thought the wings were going to fall off when we flew Jetstar. There's my excuse!" he joked.
Despite the struggles with the flights, roster synergy, and missing out on silverware with a superteam, Spookz did say he'd never change his time with Order.
While he wouldn't choose to change anything, however, the final two years of his career had changed him without him knowing. League of Legends had become different, and there was no going back.
THE RIFT LOSES ITS LUSTRE
Spookz's slow divorce from personally loading into the Rift began soon after the big move. It wasn't Order, or his team. Maybe it was, a least a little, moving away⁠—homesickness gripped Broadley in patches in Sydney—but mainly it was the game itself.
Whereas once the jungler would "wake up, log on, and play until bedtime," loading back into the game every day began to feel like more of a chore. He wanted to improve, for himself and for the team, but the grind began to overwhelm him.
"When I think back on it, those last couple of years really became very 'grindy' for me, the way you have to approach the game to stay at your very best took the passion away from the game for me, at least a bit," Spookz explained.
"I stopped enjoying solo queue, and scrims became a grind. I wanted to learn everything I could from those moments, but I found it hard to keep a good mindset that year when I wanted to be anywhere but in the game."
That isn't to say he lost his love for the battles played out on stage in Riot's Pyrmont studio where the Pro League is hosted each weekend. As Friday approached, Broadley would begin to get excited jitters. He dreamed of gamedays.
His love of the moments where the world melted away into his four teammates and him facing off against their next five-man challenge began to lose the war, however. The 10 to 12 hours grind every day began to eat away at his love.
Because of that growing feeling, when the 2019 season did finally end⁠—eventual Melbourne Esports Open victors Mammoth bounced Order out of title contention with a 3–0 sweep⁠—he knew it was time to "hang up the keyboard."
"There was never really a moment where I thought 'well fuck, I'm never going to play on stage again,' and had a mental breakdown or anything," he added with a sharp laugh. "That growing feeling kind of just decided it for me."
Broadley played one final game in front of his adoring Australian fans. Ironically enough, it was alongside Hauntzer and former Guardians support Kim "Olleh" Joo-sung, as well as 100 Thieves' 2020 mid laner Tommy "Ryoma" Le.
Spookz was victorious. The red team claimed the showmatch win, at the expense of FBI, and Broadley logged out of League of Legends on-stage for the last time.

LEAVING A LEGACY
The OPL's four-time champion may have spent most of his career despising the word Legacy, but as we spoke about his eight-year competitive career, he said he was a lot more happy to talk about the word if we took away the capital L.
So, legacy. It's something he's considered from time to time as he transitions into a new period of his career in Los Angeles. After 207 games in the Oceanic Pro League, and dozens more before that, the question isn't if he left a lasting mark on the region. The question is: how big was his impact?
Probably a lot, in the end. That's what Broadley and I eventually decided as we rolled back through the highlight reel of his career. He forged a long career in the OPL, lifted multiple titles, and was a key part of the region's historic first dynasty.
There's one thing he believes he needs to set the record straight on though. You can scroll through his Leaguepedia page and get the basic story of his highs and lows. What you can't see, is that he really was the original jungle king.
"You know, honestly, I just wish more people had paid attention to how many Barons I stole, the casters barely said anything. I'm pissed off! Every OPL player knew you never out-smite Spookz, but it never became a community thing," he said, half-joking.
"Maybe it's bad PR by me, it probably is, or the casters, it's wrong. The world should know I'm the smiting king, that's what everyone needs to remember!"
Spookz even bristled when I mentioned Brandon "Juves" Defina and his relentless social media campaign about the time he out-smited Đỗ "Levi" Duy Khánh. The former Order jungler was laughing again as he rebutted that fact.
"Juves was so bad at smiting! He had one half-decent smite and it became his thing, but I'm the smite guy and he took it from me. Fucking hell man… it's not just what you do, it's how many people you tell too, he said. "It's my turn to hype my smites up!"
So, if there's one thing you remember Samuel "Spookz" Broadley for as he continues life in America with the Golden Guardians, make sure it's his "overpowered" smites.
It's the least we can do for Oceania's King of the Jungle.