Song "Smeb" Kyung-ho is back. After a six-month break from competitive League of Legends, he's rejoined his old team KT Rolster to hopefully lead them to Worlds 2020. However, he's not hitting the stage as a Worlds finalist ⁠— he sees himself as a rookie.
Smeb has played 580 games across his illustrious seven-year career. He's attended Worlds three times, making playoffs every time and the final once. He's won two KeSPA Cups, and two LCK titles. He's one of the best top laners to ever step foot in LoL Park.
However, on his re-entry to the scene after a six-month break, he's putting all those accolades aside. Smeb has been taking each LCK game one step at a time after his break, and he doesn't see himself as the heroic top he once was, but a rookie.
"After my return, I'm playing in the mindset of a rookie player," the star admitted to the LCK casters after their win against Hanwha Life on Wednesday. "This first win means a lot to me."
If you were to turn the nameplates off for Game 1, you could be excused for thinking Smeb was a fresh face to LoL Park. His Jayce looked shaky against Lee "DuDu" Dong-ju ⁠— a real rookie in Summer 2020. He missed crucial combos, and almost fumbled a 2v1 in the early game.
"Because [DuDu] is a rookie player, I can kind of tell that he was nervous based on his performance. Even though I see myself as a rookie, I could definitely tell he was suffering from stage nerves," he said about his top lane opponent.
However, it was anything but in Game 2. His Mordekaiser performance was vintage Smeb. He finished up with a 8/1/7 stat line ⁠— dying to the Nexus towers in a comical finish ⁠— in a dominating performance.
He combined perfectly with jungler Kim "BonO" Gi-beom to snowball an incredible lead, and although Park "Viper" Do-hyeon on Kai'Sa tried his best to contest Smeb, the Iron Revenant was too monstrous.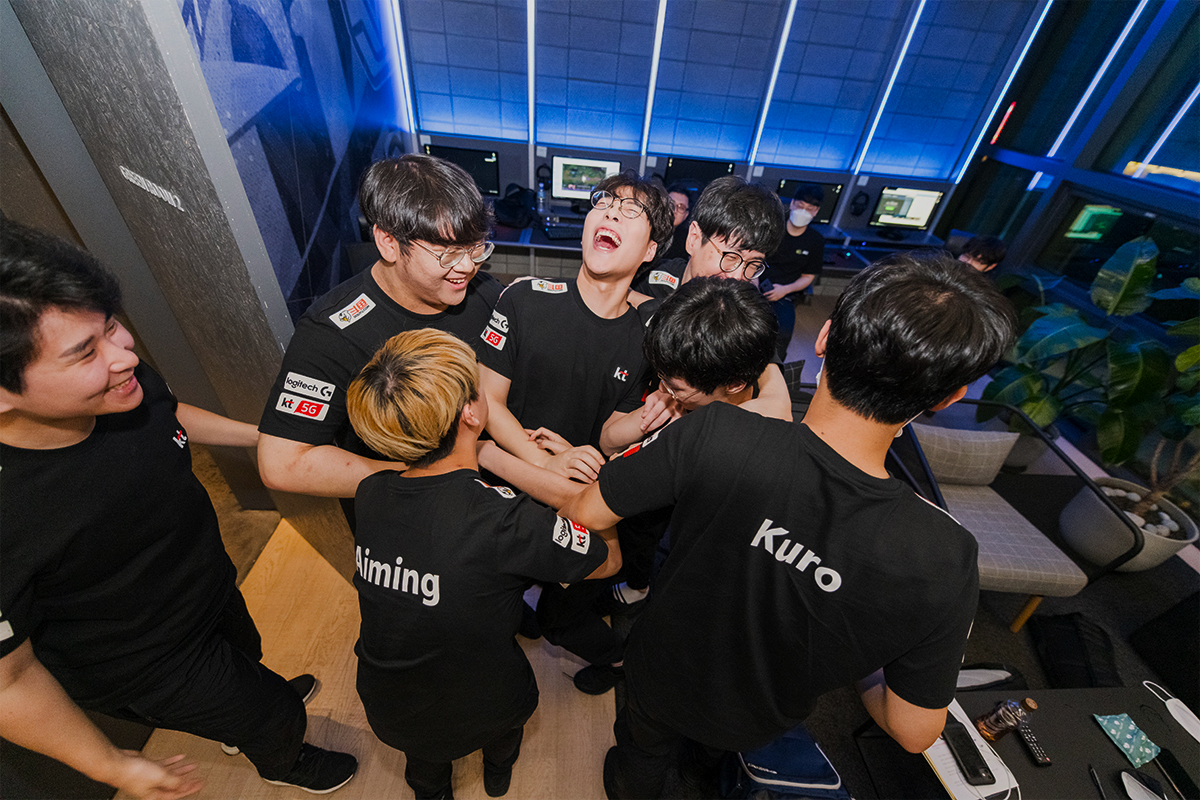 He picked up his first POG performance off the back of that Mordekaiser game, and fans of the ROX Tigers alumni would be hoping it's the first of many this season. Smeb is enjoying his time back on stage too, even joking with the casters about the inspiration behind his pick in Game 2.
"The scrims, the practice, the competitive games ⁠— I just love it, it's so fun. I'm just enjoying everything during my return."
"During my downtime, I actually played against CloudTemplar [one of the LCK casters] in a 1v1, and I was really impressed by his Mordekaiser, so I considered playing it today."
However, the stakes are getting higher for KT. After coming out of the first week 0-2, they are looking to even up their standing on the ladder with a tough match against Damwon on Saturday.
Smeb mentioned that he was nervous heading into the best-of-three. While he has played against many star top laners in his time, he levelled praise onto Jang "Nuguri" Ha-gwon ⁠— the head of Korea's new guard of top laners ⁠— calling him "the best" right now.
"I think Nuguri is the best top laner in the current meta, so I guess I'll have to hold on and try and absorb the pressure [on the top side of the map]. We will have to sit down to discuss whether we play with the same aggression or more passively."