Joshua "RiSky" Hayward has beaten Sean "Probe" Kempen 4-2 in the final to claim the 2020 ESL DreamHack Summer title and advance onto the global finals held in mid-July.
After four days of tough competition for Oceania and South East Asia's best Starcraft talent, it came down to two to battle it out for the crown and the chance to represent the region on the international stage.
It was a Protoss vs Zerg final which promised so much, with the two playing some incredibly close series last year.
Probe held a 1-0 advantage for coming into the final from the winners' bracket but it was not to matter. RiSky constantly found advantages in macro games to take the title in convincing fashion.
The only high point and map win for Probe came from a cannon rush into immortals and whilst the other maps were close, it was Probe who conceded the series and the championship with a good game and good luck for the season finals.
With the win, RiSky, who represents team Blocksports LionZ, earned himself $3,500 AUD. Speaking to Snowball Esports from Kent, England, he says the win is a shock for him, considering he had pretty much accepted to finish third.
"I'm really happy," he said.
"I'm still in a bit of shock because I really did not expect to win yesterday."
"We're going to be celebrating today, my parents and I are going to have a nice meal, not out but a takeaway because of corona."
With four players included in the double elimination championship bracket, RiSky found himself in the loser's bracket almost immediately, losing to Australian Terran Sheldon "Seither' Barrow 3-1.
It put RiSky on the verge of elimination, but a win against Australian Zerg Ryan "NXZ" Jones saw him one step away from the final, facing off against Seither once again.
With Seither typing a "lul" in the final game of their initial series, revenge was served, with RiSky responding with his own "lul?" in the final game of the return series.
Seither then fired back, saying "ur so cool, a moving zerg whilst I lag my ass off".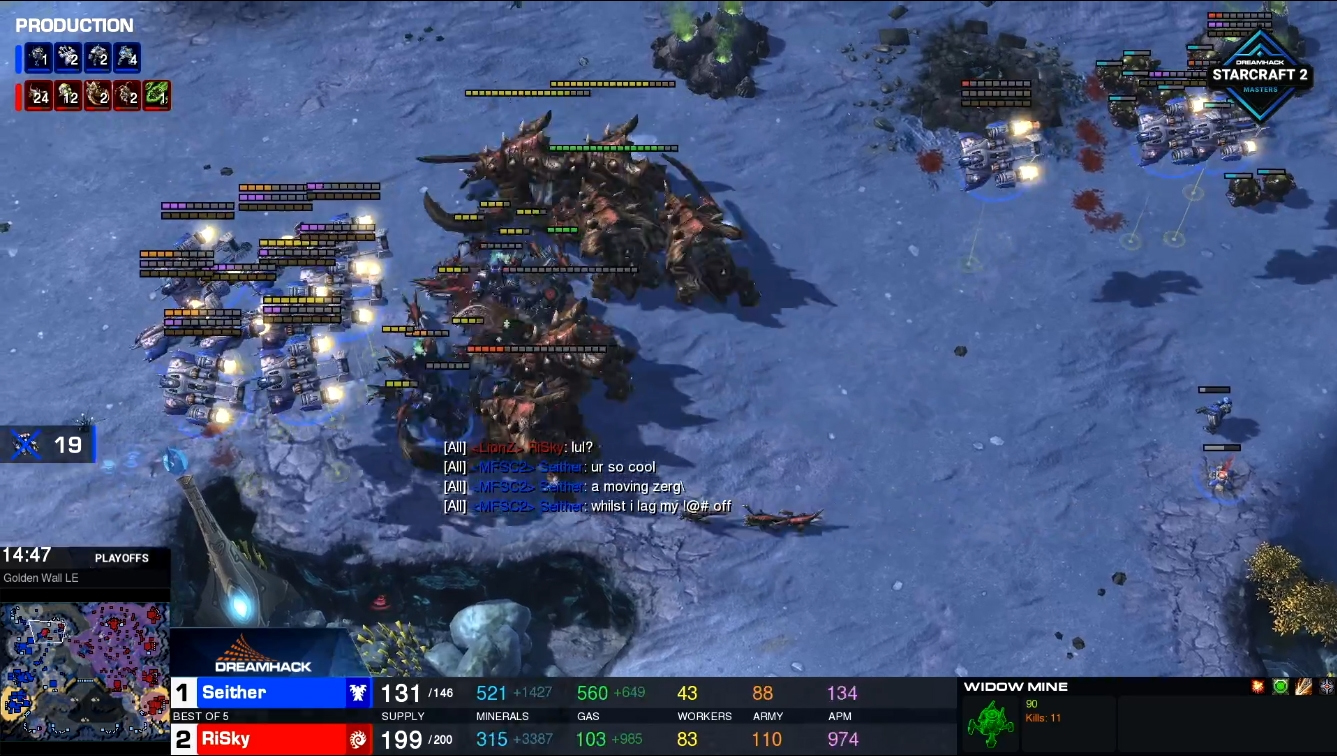 It adds fuel to the fire to a burning argument in the scene, centring around RiSky, who lives in England and is eligible to play in the scene as he has a New Zealand citizenship.
Many players feel that RiSky, having never resided in the region, has no place in the qualifiers.
This is coupled with an aggravated stance that he has used the ruleset to give him the biggest advantage he can have, namely playing from a sub-region that allowed him to force the Singapore server for all matches.
In contrast, in most matches between SEA and OCE, players alternate servers between Singapore and Australia.
RiSky says he has empathy for the frustrated people, but they shouldn't be taking it out on him.
"I do understand where they're coming from but I would only ask you don't take it out on me," RiSky said.
"Any other player would do what I'm doing. A passionate Starcraft player who wants to do it full time will do anything they can to do it as a career."
Despite his win, RiSky does think the rules need to be altered for next season within the region.
"I think there should be some combination of either Singapore and Taiwan or Singapore and Australia for someone like me."
"I should have a bigger disadvantage because I'm not playing in the region. [I'm not] living [there] but I'm choosing to play in the region."

Joshua "RiSky" Hayward
The win seeds RiSky into the season finals in mid-July, where he will face the best players of the other regional competitions around the world, including South Korea.
The prospect of playing such powerhouses like Maru, INnoVation and TY is an giddying thought for RiSky, who says he is excited to rise up to the challenge.
"I can tell you who I don't want to play and that is Has," RiSky said.
"I don't like playing against weird players and he is the epitome of a weird player."
---
The ESL & Dreamhack Summer Season Finals begin on the 16th of July, with the world's top Starcraft talent in action for a prize pool of $57,000 USD.