The L'Oreal Men Expert Gauntlet is returning in 2021 ⁠— but not as a Valorant invitational. The competition has since partnered with REKT to launch a Rainbow Six event spanning across Oceania and South East Asia, with 8 teams fighting it out for $10,000.
After 2020's Valorant event, the L'Oreal Men Expert Gauntlet presented by The Chiefs is back with a new format and a new game.
Rainbow Six will be the flagship title, with eight teams fighting it out for the ultimate prize, a winner-takes-all $10,000 stack of cash, starting November 6.
The squads span across Oceania and South East Asia. Oceanic champions The Chiefs headline the cast, along with rivals Knights. They have automatically qualified for the main event on November 20, with the six others fighting it out for the final two spots.
APAC South competitors Elevate, QConfirm, and Dire Wolves are joining in on the action, so too OCN squads Rhythm and Overt.
The eighth team, Fury, hails from the OCL ⁠— Oceania's second division ⁠— and will be fighting for 2022 promotion in November.
"Originally we had approached all eight OCN teams due to our focus of the last gauntlet [the OMEN Gauntlet in February] being domestic," REKT founder Robert 'Manic' Munday told Snowball.
"Due to teams being unable to compete, we knew straight away that the likes of Dire Wolves, QConfirm and Elevate were teams we wanted to get involved.
"Not only is it a good opportunity for them to compete alongside the OCE teams in another competition, but it also is an added bonus that we will be able to see them in this style of broadcast. Above all, I can't wait to see them smack talk the Aussies."
Fury are the outlier squad in the event, having never competed in a top-level league as a core.
"For Fury, we know they have been performing well throughout the year for OCL, and we felt it was only right to offer them the opportunity as the team sitting on top of the tier 2 ANZ scene," Manic said.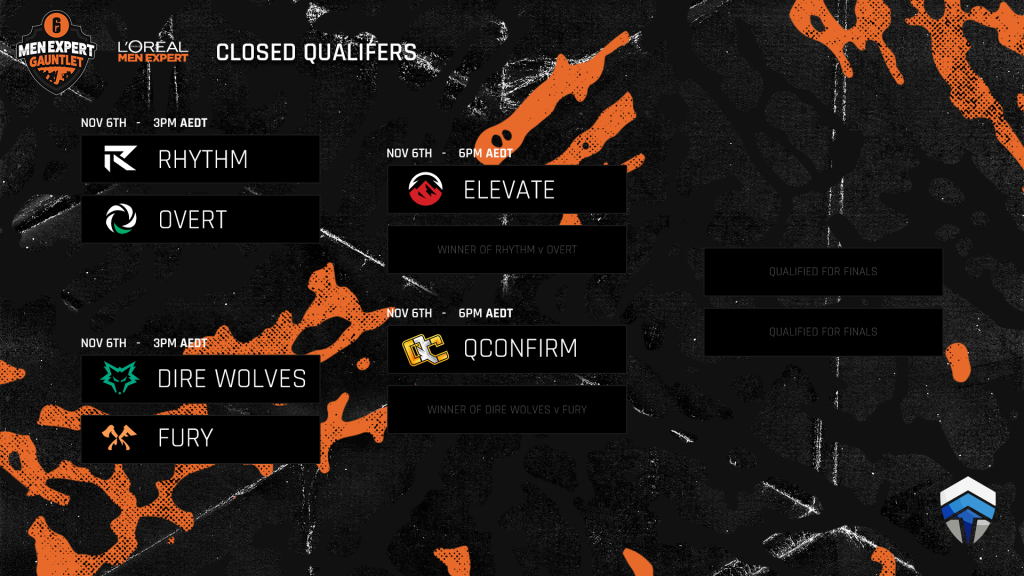 While captain and IGL Jacob 'Presidnt' Kirton has some experience from OCN 2020 as part of Noble, getting the games against international competition is a great opportunity ahead of their promotion battle in late November.
"When we got the call up to play we were pretty excited mainly because it is a chance to show everyone what we can do against some of the top teams in the region," he said.
"It will be a good learning experience for us as we are still a very new and young team and any bit of exposure to higher level of competition will prove valuable.
"Obviously being an OCL team we aren't favoured to even get past Dire Wolves, but in all honesty I think we will put up a very good fight at the least and show the region what we can do."
---
The L'Oreal Men Express Gauntlet kicks off on Saturday, November 6 at 3pm AEDT. Rhythm will take on Overt while Dire Wolves play against Fury in the opening matches. You can catch the action live on the REKT Twitch channel.