The Chiefs have gone from top 4 contender to arguably the best Rainbow Six team in Oceania across 2021. The rapid rise has "humbled" Jake "GodLgn" Harris, but fresh off their Sweden Major campaign, the back-to-back-to-back OCN Stage champions want to finish the year on a high with a Season Finals win.
The Chiefs can look back on 2021 proud, as far as Rainbow Six goes. The squad formerly known as Elevate were on the backfoot at the end of 2020, and needed to find some momentum to catapult themselves both domestically and internationally.
After losing the REKT Gauntlet in February to the Knights, they went on a tear domestically, winning all three OCN Stages. They had two top-three finishes in APAC South ⁠— including a heart-breaking second-place in Stage 3 where it all went haywire on the final playday. However, it was enough to qualify the Chiefs for their first international Major at Sweden in November.
That experience is still at the front of GodLgn's mind as he enters his third week of quarantine back home in Australia (with 10 days left) with OCN 2021 Season Finals on the horizon.
"It was everything you worked towards just finally paying off. It was bloody awesome except for that FaZe game on Kafe," he joked, talking to Snowball.
"Every game was fun, even how hard we got smashed. It was fun in a weird way because you've watched these teams for years and then you go and play against them. You get smashed and it's like 'oh sh*t'. You don't get caught up in anger, it's just 'go next'."
Chiefs did end up matching into the eventual champions FaZe Clan in groups, as well as semi-finalist Rogue. It was their first Major as a team, and for many players, their first international event ⁠— GodLgn included.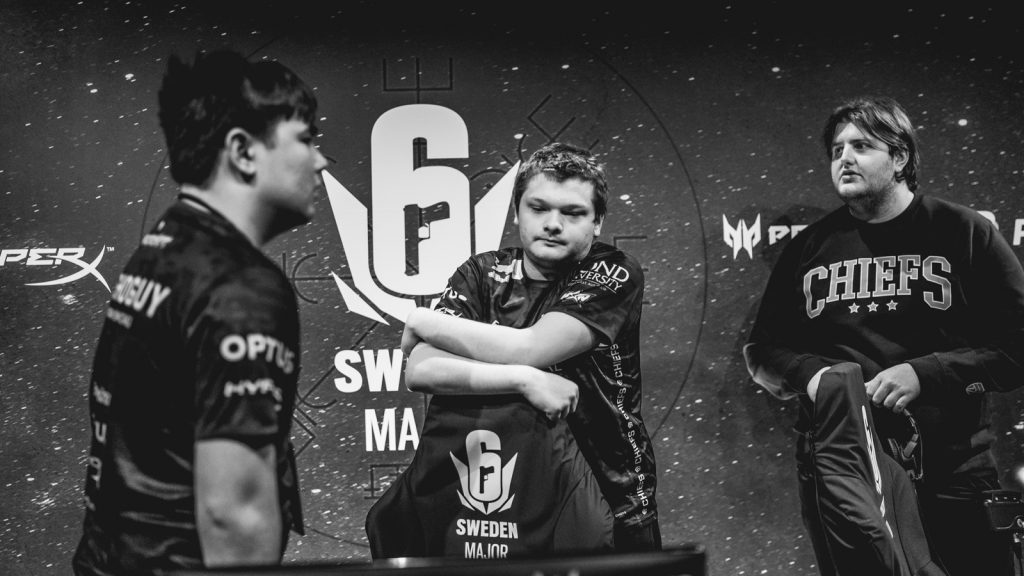 While Ethan "Ethan" Picard's addition in Stage 3 brought some much-needed experience ahead of the biggest tournament of their lives (so far), the team is coming home with that lived experience now shared. Two weeks has given them more than they could have ever asked for, and there's an air of confidence around them.
"Playing teams overseas who are far more experienced and they know what to do in the spur of the moment, we can kind of bring that back home. Against certain teams we don't have to focus on them, we can just focus on ourselves and what we need to do," GodLgn explained.
"The less experienced teams think 'we have to watch VODs, we have to dry run, we have to change everything.' Getting this experience ⁠— you don't need to do that. In a region like OCE which is still pretty far behind from the rest of the world, it's not hard to do that. Us and Knights that can play that way and focus on ourselves.
"There's also confidence. Me and Trent [Worthy] had a chat after the event, and we said going back to OCE is going to be a lot easier. The confidence that surges within us, we're a lot more confident coming back to APAC South and OCN."
The Chiefs didn't get a chance to test that confidence immediately on arrival back home. Quarantine difficulties and tech issues meant they couldn't play in the Six Invitational 2022 qualifiers, forfeiting their one last chance to make the big dance in Montreal.
"This year we ramped it up slowly from Stage 1 to Stage 2, and then Ethan came on in Stage 3 and he really catapulted us ahead."
Missing out stung a little bit harder once they saw the bracket unravel. Unknown Hong Kong team APR stole the show, taking down APAC South contender Dire Wolves in a tight 2-1 final to book a spot in the four-team closed qualifier against Knights, Cyclops Athlete Gaming, and another APAC North side.
There was an upside ⁠— more prep for OCN Finals, the Chiefs' final event of the year ⁠— but there will always be the question of 'what if?'.
"We were able to get a couple more days rest and then prep heavy for OCN Finals, but looking at the bracket ⁠— I don't want to say free because that sounds like I've got an ego ⁠— but we had a better chance than most teams," GodLgn stated.
"It was a BO1 single elim so there's always a bit of mystery with those formats, but the teams with more experience should still prevail. Looking at it, it kind of hurt afterwards, because even given our circumstances we felt like we could have potentially made it."
All that aside, it's now full steam ahead into the OCN 2021 Season Finals, where Chiefs face off against ROFLCOPTER in their opening match. The petrol-powered men have had a rough go of it in Stage 3, and are fighting a bigger battle over in APAC South Relegations.
With roster changes and big opportunities up for grabs, there's more pressure on the OCN teams to show off than the APAC South teams that have made it, GodLgn believes.
"For these OCN teams, they have something to prove. Maybe it's randoms in community looking down on them which adds pressure, and they might want to prove something to us and Knights by beating us. It's some other things as well, but from what I've heard it's a lot of self-pressure which isn't necessary, and that makes them perform worse against certain teams," he said.
"We see it differently because for us, APAC South is the league. That's where we find the pressure. In OCN it's more loose ⁠— we still strat and try, but it's about having fun. We might try things we wouldn't normally try, and winning is fun."
There's still a reputation to live up to, and a record to be beaten. If Chiefs manage to win the OCN Season Finals, they would have managed to go the entire year undefeated in major domestic competition, a feat no team has achieved.
"Winning Finals is great because we'd be undefeated, which no team has done. That would be a nice accomplishment and a great thing to end the year on among our other achievements."
Regardless of the result though, GodLgn now has his sights firmly set on 2022 and making an even bigger name for himself internationally. When he was sitting on that Elevate roster at the end of 2020, he never imagined 12 months on he'd have played at an international Major.
Now, the sky is truly the limit, but he knows at the end of the day, "Siege is a cruel mistress".
"I always think to myself 'where would I be in a year'. Looking back at last year's results, I never would have seen myself in this position because of how poorly we played last year. It's very surreal considering where I was.
"Being at my first international LAN a month ago, playing against the eventual Major winner on Stage, it's crazy. I would have never seen that. It's humbling to know all the work pays off eventually, and sometimes you get smacked but that's even more humbling because it shows you have a long way to go.
"I think Stage 3 really showed if we play like that throughout the three Stages next year, we can make it to Six Invitational 2023. You come first in playoffs, or even in your regular league, you gain a lot of points for SI. If you play well consistently for 12 months, I can see us making SI, but we've got to prove that consistency.
"You never know, Siege is a cruel mistress."
---
The Chiefs will take on ROFLCOPTER to kick off their OCN 2021 Season Finals campaign on Saturday, December 11, at 3pm AEDT. You can watch the action live on the Rainbow Six ANZ Twitch channel.
You can follow The Chiefs and GodLgn on Twitter.