It's the penultimate day of Super Weeks – and one already massive surprise delivered with Gravitas taking the disrespect Peace gave them, shining it up real nice, and sticking it somewhere the sun don't shine.
Order will be looking to take revenge on Mammoth for a game they really would have expected to take against the Dire Wolves.
Peace have hopefully learned their lessons – both in terms of paying their players off the rift, and disrespecting their opponents on the rift – and will look to bounce back against Kanga (heh).
The most appealing match of the day is probably Dire Wolves against The Chiefs, but really that ought to be as one-sided as the others.
But of course, so should my feature match of the day, but let's look at why it might not be.
Perry's Pick of the Week: Gravitas (Oh wow, Really bad) vs Pentanet.GG (About to call the TIO)
It's nearly impossible to do a decent preview and prediction for Gravitas games, as I've got no cursed idea who's playing on a day-to-day basis. It can't be any fun for the players either.
Lachlan "Nobody" Keene-O'Keefe is a dependable, and as we learned yesterday, versatile member of the roster that Gravitas can depend on. I did find it somewhat amusing that the veteran Ornn player somehow managed to just pick jungle Ornn yesterday but the familiarity helped his squad to a famous victory.
Is Blake "Azus" Schlage related to PowerOfEvil? Somebody get back to me on that.
Jeung "DaJeung" Da Woon has so far played every game for Gravitas, which must be a miracle. He's actually been not too bad for them. Not lighting the league on fire, but not being an anchor either.
Reuben "Piglet" Salb has been Gravitas' best ADC for my money, but Chen Yi "Thomas Shen" Shen still gets a baffling number of games. Shen has been not bad, just Piglet has been better.
If they can build a set five that involves these main three, I think Gravitas might actually build something. But hey, Roster Scrabble is way more fun.
Now, Pentanet. Oh, wow. Pentanet.
This is déjà vu. I don't know what it is but every other year, Mark "Praedyth" Lewis forgets how to right click.

On this upcoming Thursday, the 3rd of March, it will be two years TO THE DAY that I wrote this about Praedyth.
AND HE STILL ISN'T AUTO ATTACKING SOMETIME! I haven't seen him since he ran away from a skirmish around 18 minutes into yesterday's game! If we don't see him at his explosive best — and soon — we may have to slap him onto the side of a milk carton!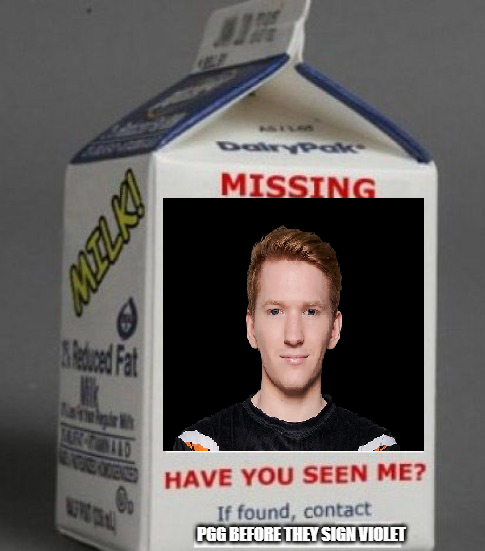 Choi "BalKhan" Hyun-jin and Jake "Rogue" Sharwood spent the game engaging fights that Praedyth refused to follow up on — at one stage saving his flash that would have granted resets and perhaps even turned an entire fight around (I guess we'll never know) — only to burn it defensively approaching a wave and then die anyway!
Pentanet have a major problem with the team not going together. Whether they want to fight slow, or explode, either would be fine, but just do it together! When their team comp basically forces one of these options they look so much better (especially when it's go forward). As a now veteran presence, it is up to Praedyth to display some leadership by deed and be decisive alongside his team, instead of bailing out at the first whiff of trouble.
It's not just on Praedyth, of course, but his role in the team I see as having one that can flow on to the rest of the squad, particularly the comparatively inexperienced Kim "Winterer" Dong-geun and Cha "Yuri" Hee-min.
Now, ultimately it may just not matter for this matchup. PGG have more firepower than Gravitas do, no questions asked. But if there's ever a time where you'd be unsurprised that Gravitas runs back the upset train, it's today.
Oh, and I looked it up. Apparently POE's name is "Schrage" not "Schlage". That's disappointing.
My Pick: Both teams to have fun.
Perry's Week 5 Day 3 Predictions
Chiefs def. Dire Wolves
Order def. Mammoth
PGG def. Gravitas
Peace def. Kanga
---
LCO Week 6 starts tonight. Pentanet and The Chiefs clash tonight from 6pm AEDT. Catch up on all the split details in our ultimate coverage hub.
Follow @stickmansan, @ImHarryTaylor & @Ties_AU on Twitter.