ESL's partnership with new sim developer Competition Company is now in full swing, following Monday's announcement of the ESL R1 series using the developer's new sim, Rennsport.
A highly anticipated media post on the ESL R1 Twitter finally dropped on Monday evening, revealing more details about ESL's latest foray into sim racing — including teams, schedule and prize pool for its first Spring Season.
The ESL R1 Spring Season will run from February 11th to May 8th over eight rounds to decide the 24 drivers that will attend the Spring Major at the Rennsport Summit in Munich.
The Major will take place May 27-28, where drivers will compete for a share in the €500,000 prize pool.
While six of the eight rounds will happen online, ESL R1 will start off with a bang at the famed IEM Katowice, premiering with a double header over February 11-12, with all 48 drivers and 12 teams expected to compete.
The teams that have been selected to compete in the inaugural series come from both racing and esports backgrounds.
From the sim racing side, there's the likes of Team Redline, Porsche Coanda, BS+ Competition, Mercedes-AMG Petronas Esports Team, R8G Esports, Apex Racing Team and Williams Esports.
On the esports side, established organisations FaZe Clan, Furia, Heroic and MOUZ enter the scene for the first time, while G2 Esports makes a return to sim racing following their first outing in 2017.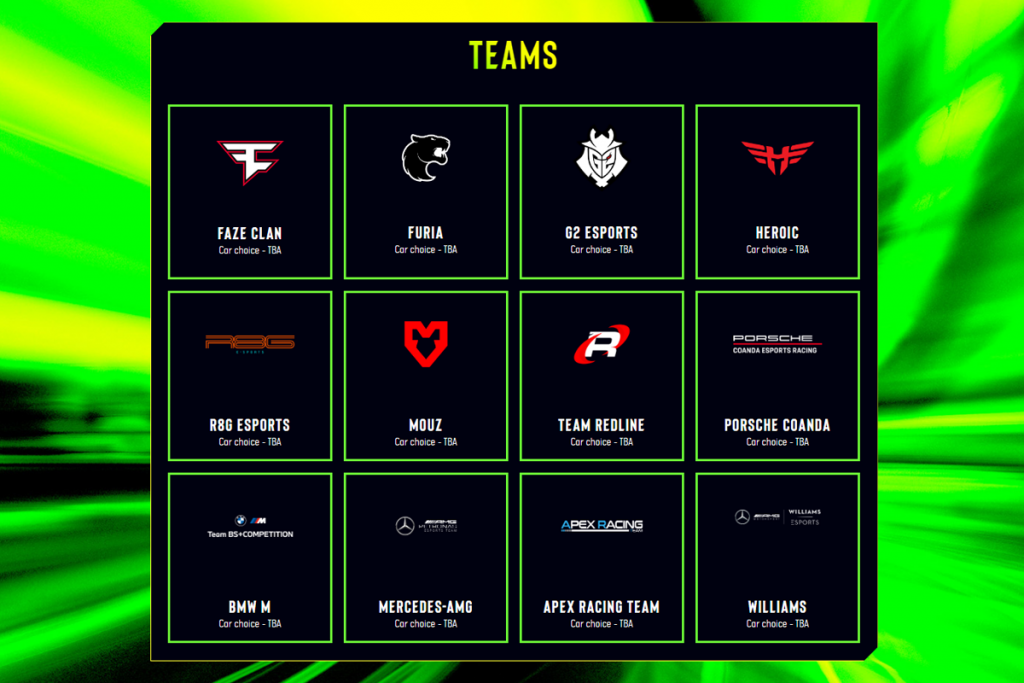 While nothing official has been confirmed by ESL, teams have begun announcing car selection and driver line-ups for ESL R1 via their own media posts on Twitter.
Factory outfit Porsche Coanda will be running four Porsche 911 GT3R with Aussies Joshua Rogers and Dayne Warren joining American Mitchell De Jong and Dutch driver Mack Bakkum, as well as support from reserves Zac Campbell and Charlie Collins.
FaZe Clan's drivers will also wield the Porsche as their weapon of choice for this season. FaZe announced Porsche as a partner on January 20th, just three days before their confirmed involvement with the R1 series. However, no drivers have been announced as of this time.
There will be a minimum of two teams running the Mercedes-AMG GT3. Mercedes-AMG Motorsport confirmed factory support for both their own team as well as the Williams Esports entries. Neither team announced drivers at this stage.
There will be at least two teams running the BMW M4 GT3. BMW confirmed factory support for BS+ Competition, as well as their driver line-up, consisting of team captain and BMW works driver Bruno Spengler, Rainer Talvar, Nils Naujoks, Phil Denes and Ryan Barneveld.
G2 Esports have also confirmed that they will be running the BMW but are yet to announce their driver line-up.
MOUZ have revealed their driver line-up but their car of choice is still unknown. The German organisation has gone with a local line-up headed by Maximilian Benecke. Joining Benecke will be fellow Germans Moritz Lohner and Patrik Holzmann, as well as Dutchman Yuri Kasdorp.
Apex Racing Team are sticking with their iRacing roots. All four drivers have come across from the long running sim to try their hand at something new.
The line-up of Peter Berryman, Jamie Fluke, Yohann Harth and Kevin Ellis Jr will be names all Apex fans are familiar with. The same goes for their car choice: Apex have selected the Audi R8 GT3, the same car that took them to an iRacing Daytona 24 Hours win.
Furia, Heroic, R8G Esports and Team Redline have yet to announce car or driver line-ups but are expected to come soon with the first two rounds less than three weeks away.
The first two rounds of the ESL R1 series will take place at IEM Katowice over February 11-12, held in the IEM Expo.