The LCO Split 1 Super Week comes to a close today. Only three matches remain for each team (two for Peace) to set up ahead of stage two's double-elimination group stage.
It feels like 2022 all over again: PGG not winning the big matches, Kitty girlbossing the desk, Chiefs so down bad for scrims that they won't stop tweeting about it.
But the excitement is in the newfound joy that the LCO in 2023 brings us: new teams, new players, a new menace in the top lane.
As Week 2 comes to an end, we look at our two new teams as they collide in a matchup that could tell us a lot about how the playoff bubble will shape up.
Perry's Pick of the Week — Bliss vs Ground Zero
I have to admit I was worried that there would not be much going for this matchup outside of the two new kids arriving together to see who was going to get bullied. But now I'm tantalized by what this match will mean for the rest of Split 1.
Despite my initial misgivings about the entirety of the Ground Zero roster, it does look like they're carving themselves out a "best of the rest" position.
Team Bliss are serving as the fulcrum of the league, and depending on how Peace have assembled themselves after a debacle of a first fortnight, I have GZ slotting in right after them so far.
Bliss are a mixed bag. We've seen times where the TB on the scoreboard could mean Tom Brady. Other times it means Tom Brady But It's This Season.
The match against The Chiefs looked like the first scrim of the season, but everyone's had a fun offseason playing Overwatch. The first one.
Yes it's been that long since I watched a scrim, but the point stands. The early game was less a game of League of Legends and more "A Clockwork Orange but your eyelids are stuck open watching a montage of really shitty flashes".
Bliss looked the goods early, but were overrun in fairly short order after that. But I think the micro mistakes on both sides meant there wasn't much you could take from that early game.
The short version of this is that on paper, Bliss look like they should be pretty good, but they haven't met those expectations.
In particular, I'm looking for more out of Raaz "Whynot" Alfassi Berman. It might not be fair to set such high expectations on someone who has such a low number of pro matches, but I believe fiercely in his talent, and with that belief comes expectations. Similarly, Samil "leemas" Kip has underwhelmed, especially relative to how well he showed up in the latter part of 2022.
But it's never a bad thing to have room to grow, especially so early in the season.
As I mentioned, GZ's roster did not scream "playoffs threat" to me, and perhaps because of that I have come away with a little more hope for them. They had a brutal week one, and still came away with a few choice moments against what's widely tipped to be, at worst, two of the best three teams.
The clock struck twelve fairly quickly on them, as would be expected, but I thought Alvin "Danteh" Jing Zhe Wong had a good showing and John "mfis" Phan has…something…about him. I can't place my finger on it, yet. But I haven't cast him aside as a prospect.
In terms of what purpose this game serves, Ground Zero also have room to grow on their side – in particular I think Drekani "Bulldawg" Akuhata has been patched out in the enchanter meta, and with the support changes recently put out by newly minted designer David "Phreak" Turley, the Dawg might just get his bite back.
On the other hand, while I'm not out on mfis yet, I think I already am on Jason "Gooby" Nguyen. He looks a few meters off the pace, and I'm not confident that he has too much of a higher level to show. GZ's path to growth may just go through a new jungler, though I hope for Gooby's sake that I'm wrong about that.
With all that said, I do think that Bliss are rightly the strong favourites here, and they're favourites that I am tipping to take this game.
I think Ground Zero should, at this stage of the competition, be looking at this as a chance to play meaningful League of Legends beyond minute 15 – which has so far not been an opportunity afforded to them.
If we can see that, then they'll be able to show us something more of what this teams' final form might be.
Week 2 Day 2 Predictions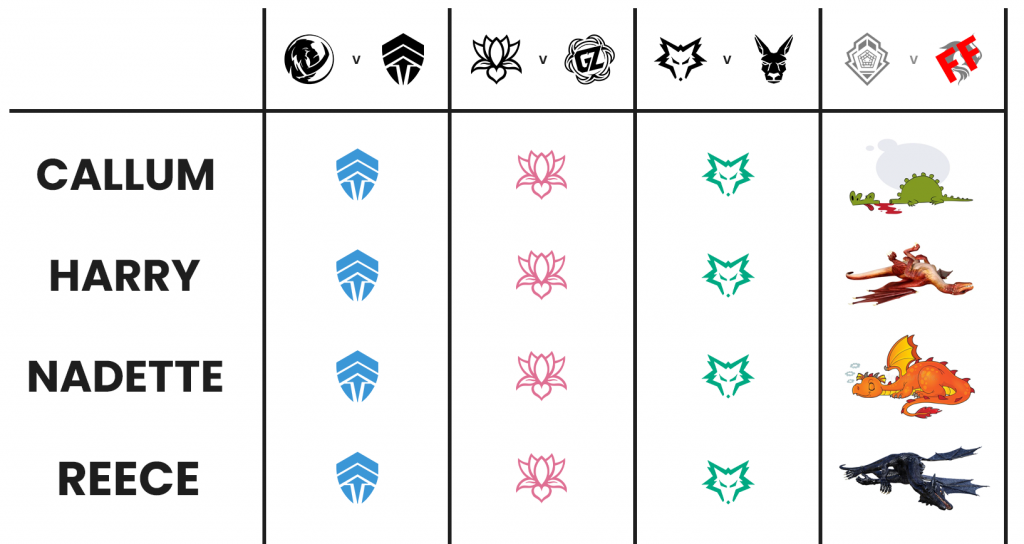 ---
Week 2 of the LCO wraps up today, starting with Mammoth taking on the Chiefs from 6pm AEDT before moving into the Match of the Day. Check it out on twitch.tv/LCO and catch up on all the split details in our ultimate coverage hub.
Follow our prediction team @CDMLoL, @ImHarryTaylor, @NadetteOCE and @Ties_AU on Twitter.