Finally, the LCO continues. We're now up to Split 1, Phase: The Second. It might be playoffs, it might not. We've had three weeks of League of Legends, and three weeks without.
Why wasn't there a second round-robin in those three weeks?
I guess we'll never know, but at least we were spared three more weeks of babbling about the integrity of the league as if the outcome of forfeiting due to visas was any different to CS:GO teams forfeiting matches to play a clashing fixture from a more attractive opportunity.
All I know for sure is that day one of this phase means we've been robbed of seeing more Dire Wolves, and that it is Kanga and Bliss who are set to make up for that now in a best-of-three series.
And I think I know for sure that this series is a blowout on paper.
Perry's Pick of the Day — Kanga v Bliss
Bliss are just better, top-to-bottom. Maybe Hoopa is better than Leemas. But the Bliss bottom lane is stronger collectively, so does it really matter?
From their earlier contest–a match where at the time neither team had an on-Rift victory–it began in utterly bizarre fashion.
Nobody wanted Kanga's blue buff, they just wanted to fight over it and so they postured around it for 30 seconds or so in what was the worlds' least rewarding Baron dance.
Kanga picked a poke comp for some inexplicable reason and trailed early in two of the three lanes, then Whynot secured first blood in the third.
I mean, the bloke's name is Fighto — why is he on Xerath?!
Bryce "Meifan" Zou spent too much of the early game in the sight of Bliss, and it showed in the confidence of how the respective teams played.
All of this recap is to show what I think is a key point of how this matchup will go.
Bliss use Raaz "Whynot" Alfassi Berman extensively to secure their early game. He loves to be proactive, and they love profiting from that.
Kanga haven't shown themselves to be sufficiently capable of defending either their jungle OR their jungler to prevent this.
And I don't have enough (any?) faith in Kanga to beat the likes of Bliss from behind.
In short, I have Bliss comfortably winning this, they shouldn't drop a game, and they shouldn't look like dropping a game.
If they want to prove themselves a good a team as their record shows, then they should smash Kanga. If I've said it once, I've said it dozens of times here — good teams don't win close games, close games regress to the mean. Good teams smash bad ones.
Now, how do Kanga avoid this?
Hopefully, they've spent the last three weeks on their early game, and I don't just mean pure laning. Firstly you have to get out of the blocks on even footing.
That means having a plan, everyone knowing the plan, and everyone supporting it. That plan probably needs to involve Meifan, and it at least needs to account for how Whynot could mess it up.
From there, if they can minimize his impact early, then they can look to fight them on more even terms. Make the game about your carries; Yoo "Daystar" Ji-myeong, while good, has given kills over.
I said earlier that Mong "Hoopa" Dai Phu could well be a better player than Samil "leemas" Kip. Prove it – we don't need to see Eum "1Blue" Ju-hyeok on Jayce if Dmitry "fighto" Botov and Hoopa can deal all the damage.
It's a variation on the "Raes Gambit" that his teams have exhibited in the past. His teams have always had the "Break Glass In Case of Emergency" plan in draft of just making it about the ADCarries and knowing you had Quin "Raes" Korebrits.
If you can build a plan that gets you to midgame at equilibrium, make the game about the matchup that you think you have an advantage in.
It's going to be a long, uphill slog for Kanga. But unless they're prepared to slug long and hard, it's going to be two fairly short games, much as it was when they met in the regular season.
Week 4 Day 1 Predictions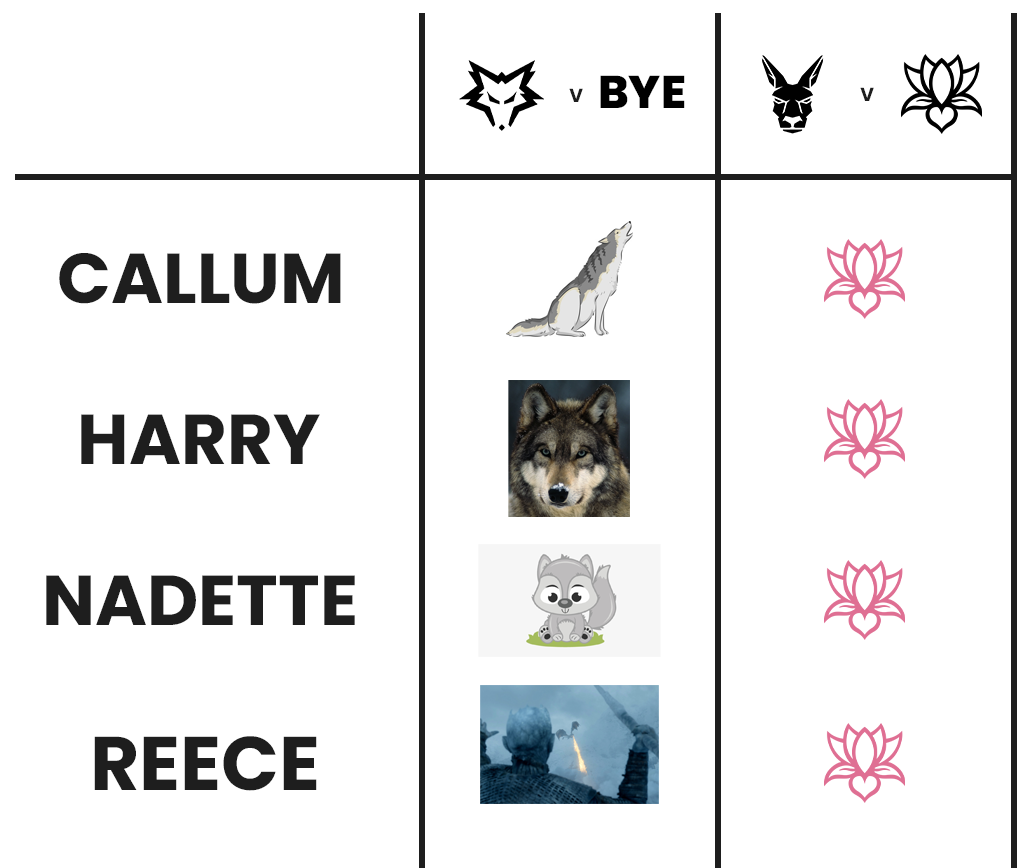 ---
The LCO returns from 6pm AEDT tonight with our single match of the day, then continues this week from 5pm AEDT tomorrow. Keep up to date with the split details on our ultimate coverage hub.
Follow our prediction team @CDMLoL, @ImHarryTaylor, @NadetteOCE and @Ties_AU on Twitter.