The first elimination bracket of the LCO season is here. Monday night's series saw Kanga fall 0-2 against the dark horse of Team Bliss — meaning it's do-or-die tonight against the boys from the west in Ground Zero.
Following a dominant series from Pentanet.GG over Mammoth, Ground Zero and the Chiefs closed off the evening with their own.
After an outstanding performance from the underdogs in game two, Ground Zero managed to tie the series at 1-1. 
Game three saw a strong draft from the Green Team; however, unforeseen hardware issues led to the series being forfeit as Ground Zero was unable to field a team.
Following Peace's removal from the LCO, Mammoth does not have an opponent for the losers bracket within their group and will automatically proceed to the next week.
This sees Ground Zero and Kanga Esports as the first formal elimination of the split, competing for their stake at the Split 1 title.
Will Ground Zero be able to continue their momentum from last night, or will Kanga put them to a halt?
Nadette's Pick of the Week — Ground Zero v Kanga
It feels surreal to have the second first elimination of the split already, falling right on the first day of autumn.
Although, I suppose it's a bit fitting for the day — for either Ground Zero or Kanga, this is their last showing for the split.
During their last run-in, Ground Zero found victory against Kanga, largely facilitated by Tron's terrifying Olaf in the top lane. 
Plus, if Tuesday's game two was any demonstration, they're not going down without a fight.
Although unfortunate circumstances prevented them from completing last night's series against The Chiefs, I believe Ground Zero will return with Danteh's new GPU and a vengeance.
On the other hand, Kanga's had an upset of their own against the Chiefs during their round robin. Unfortunately, it just couldn't be replicated in their losing one-sided series against Bliss earlier this week.
That being said, when their backs are against the wall, fight or flight is bound to kick in for both teams.
The question then becomes: will pressure serve as the key ingredient for success, or will they choke before having the chance?
Despite promising talent showing on both teams, I believe that Ground Zero was too convincing last night for it to be taken lightly, and although they weren't able to play out that third game, their drafts are in order.
If hardware issues are all amended on Danteh's end, I believe him and Bulldawg will provide a competitive matchup for their bottom lane counterparts in Hoopa and Shinki. In the case that momentum carries from last night, it'll be a true test of Kanga to prove they still have skin in the game.
Week 4 Day 3 Predictions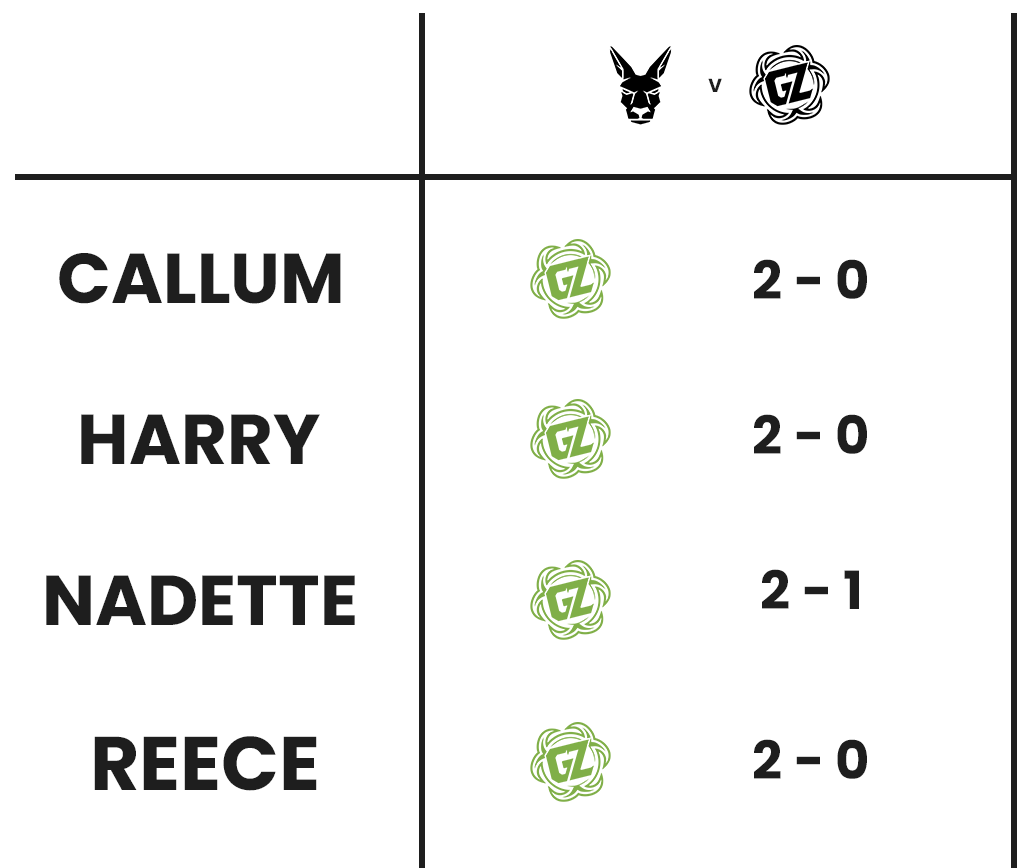 ---
The first elimination of the group phase is underway tonight, as Kanga and Ground Zero fight to stay in the competition. Catch their best of three tonight, live on the LCO Twitch channel.
Keep up to date with the latest happenings through our ultimate coverage hub.
Follow our prediction team @CDMLoL, @ImHarryTaylor, @NadetteOCE and @Ties_AU on Twitter.