LCO Stage 2, final week. Things are heating up in the LCO with each series growing more competitive as our teams tackle the marathon to the finish line.
Last week saw some exciting games as the group stage kicked off, leading up to the first elimination bracket of the split.
Monday saw Team Bliss and Kanga facing off, with the latter being knocked into Wednesday's elimination bracket after a winless series. Following Peace's removal from the League, the Dire Wolves were given a bye.
During Tuesday's first game, Pentanet.GG took a swift 2-0 win over Mammoth. As the group only had three teams, Mammoth didn't have to face elimination.
The second series–the personal standout of mine–saw The Chiefs and Ground Zero in what was predicted to be a one-sided series by our analysts, yet by game three, the score line stood at 1-1.
But due to untimely technical issues and an inability to field a fifth as replacement, Ground Zero had to forfeit, and went straight to elimination.
On Wednesday, Kanga and Ground Zero hung over the fire of elimination. Unfortunately one team had to go — and it was Kanga who finished a convincing 2-1 victory, knocking out the league debutants.
Hot off the tails of the elimination — and with no more second chances left — the action continues tonight.
First up, PGG are posed against the ladder-topping Dire Wolves, each roster with a point to prove to the other.
To round off the day, the two Brisbane-based teams meet once more. It's time for The Chiefs to step up and attempt to contest Bliss' winning streak.
Prior to the split, The Chiefs and Pentanet were both predicted to dominate the competition — yet, Team Bliss and Dire Wolves have risen to the occasion.
Here's how we think the matches will shape up.
Harry's Pick of the Week — Pentanet v Dire Wolves
Both of these teams have their eyes set on the PCS playoffs, and honestly, with the rosters they have built up and their performances so far, they have the right to.
Pentanet has come out of the blocks blazing since the LCO's return; in the sole game for Group A last week, they brought out the brooms as they swept Mammoth in quick fashion, defeating their opponent in under 45 minutes of game time.
The 2-0 included the fastest single map so far this split in game two, seeing Shelley the Herald dance as they crumbled the Nexus in just 19:42.
Bot laner Vincent "Violet" Wong and jungler Shern "Shernfire" Tai were the standout players for the Perth-based team, but it was ultimately a full team victory.
The team has embraced their new internationally-inspired aggressive playstyle and it has led to much success so far.
Dire Wolves will be starting their group stage run today. The teams' successful 6-1 record from Stage 1 netted them an upper bracket bye in Stage 2 due to Peace's removal from the league.
The team has had nearly four weeks between games to practice and hone their strategy as they push for entrance into the PCS playoffs.
This extended time off may also be harmful to the Wolfpack. Whilst they would have been scrimming during this time, it's definitely not the same as an official game — something all of the other teams in the league have at least a couple of under their belts of recent.
They will need to deal with any potential ring rust they might have rather quickly, and it won't be easy.
Pentanet are the only team to have taken down Dire Wolves this split — and that may prove beneficial to them.
They know what works against the Wolves and should be able to deploy it to their benefit. I think it will be a tight three-game series that goes all the way to the bitter end, but I ultimately think that Pentanet will come out on top — just.
Nadette's Pick of the Week — Team Bliss v The Chiefs
Given both of these teams' exciting matches within the first few weeks of the split, it's an understatement to say that I'm excited to see them face off for the title of 'Best Brisbane Team'.
The previous 'Q-Clash' last occured four weeks ago, where The Chiefs found victory in Bliss' LCO debut match.
Now, in week five, one team has a reputation to restore, and the other, a reputation to uphold.
Also, there's an ongoing tattoo bet between org management. This is key.
The Chiefs look a bit shaken coming into Week 5, having dropped a game in their series against the now-eliminated Ground Zero last week.
On paper, their roster is incredibly strong between their shared experience and pure mechanics.
However, continual mishaps prevent them from reaching their full potential and showing up in their best form on game day — a minor example of this being a missed ban last week as it timed out.
Despite kicking off the split as a projected first place super roster, they've failed to demonstrate consistency in their performance.
Yet, when they do manage to pull the pieces together, they are the incredibly dominant team that everyone thought they were.
It took them a couple of games to get settled in, but Team Bliss have been charting an uphill trend since their last standoff, going undefeated from Week 2 onwards.
Across the board, they look incredibly strong.
A roster full of players wanting to prove themselves, and they've put their all into every match.
I had a chat with Benvi the other week, and heard all about how the team managed to come together so far.
They've worked hard to maintain their standing this split, however, they also haven't come across the Dire Wolves or Chiefs again since their initial defeats.
Could this meeting spell the end of their winning streak?
Team Bliss' constant improvement throughout the split leads me to believe that they've got what it takes to beat their Brisbane neighbours this time around.
That being said, I don't believe the Chiefs will be making it easy for them, and if they show up in full force, Bliss will need to demonstrate their best showing when the series comes around.
Week 5 Day 1 Predictions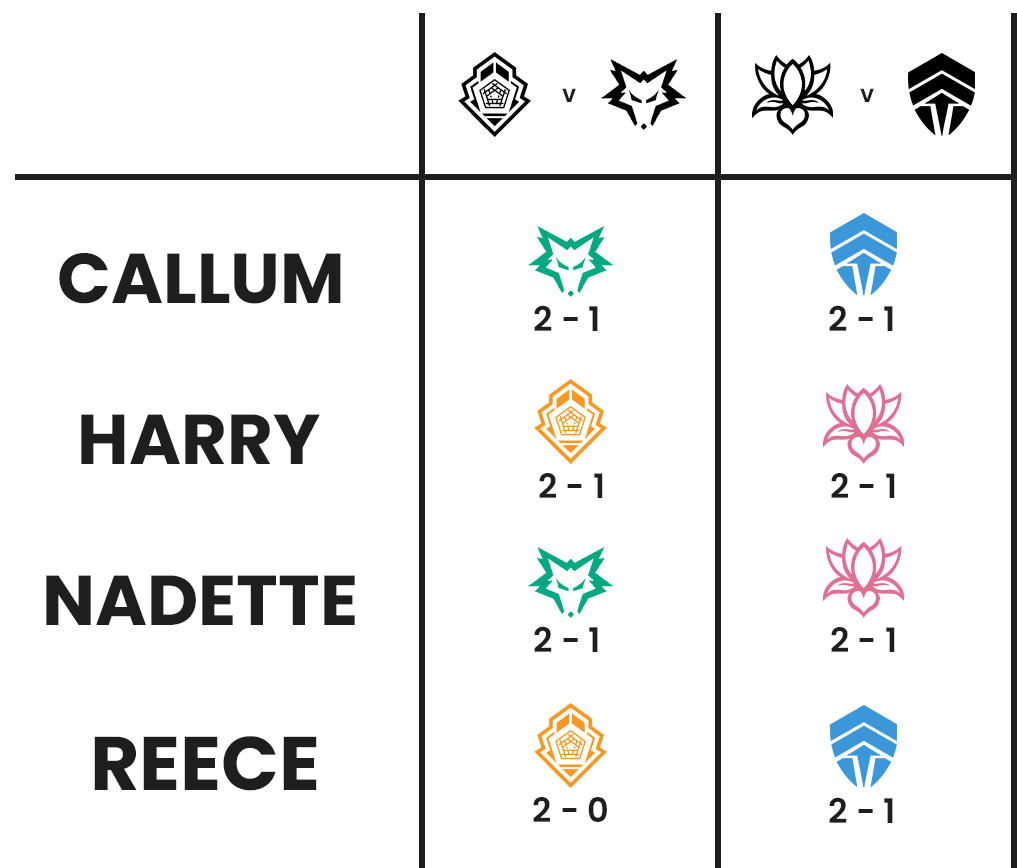 ---
The stakes are ramping up. With two teams at risk of elimination this week, we're in for another exciting week of LCO. Catch these games live tonight on the LCO Twitch channel, starting at 5pm AEDT.
Need a refresher before tonight? Keep up to date with the action with our coverage hub.
Follow our prediction team @CDMLoL, @ImHarryTaylor, @NadetteOCE and @Ties_AU on Twitter.